Album Review
Shellye Valauskas: Songs From The Inner Sanctum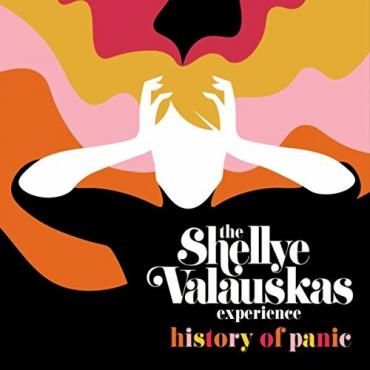 "There's a history of panic here that makes lots of noise," Shellye Valauskas confesses in "Leftover Mistake," a single line that is inspiration for the title of her new album History Of Panic. But the noise is one that's eerily quiet for the song's character who is, by her own admission, without a voice.
History of Panic is like reports from the inner sanctum, the singer embedding herself in a series of relationship chronicles, musing somewhat surprisingly in "Gravity" with the revelation that by now she'd think she'd have it all sorted out. This in short sums up the Shellye Valauskas Experience, the moniker that's emblazoned across the album cover. One imagines the voice inside repeating the admonition, "Shellye, if  you could only get your mind together…."
But Valauskas' melodious soprano and producer Dean Falcone's colorful pop references combine for an effervescent sound, giving the analytical reflections a buoyancy that delight over ten songs. History Of Panic is is a collection of adult love songs and a sometimes primer in power pop psychology.
It takes less than ten seconds to be hooked with a propulsive intro from the lead track "Do Over." Powered by Fairport Convention drummer Dave Mattacks and guitarist Falcone, "Do Over" is like a burst of the Raspberries laced with a little Big Star. And just  as you think Eric Carmen's going to bust in howling in the room, enter the mild mannered and even tempered Valauskas who comes with an olive branch, bearing a peace proposal and espousing the virtues of making up to a lover in "Do Over."
Just as he painstakingly layered the voices of Neko Case, Aimee Mann, Lydia Loveless, Kathryn Calder and Norah Jones in "One Voice," the theme song of the documentary A Dog Named Gucci, Falcone builds montages of sound around Valauskas. In "Do Over," he creates a beautiful bridge around a collage of guitars and background vocals that build a mini wall of sound,  amplifying but not overwhelming Valauskas' warmth and earnestness.
On History of Panic, Valauskas is her own psychoanalyst, weighing in on the pendulum swings in love and romantic wars.  Valauskas comes across as a half-glass full kind of person,  even when she's admonishing an ex-lover in "Cheap Shot" with its hook--laden and deceptively upbeat Beatles/Tom Petty-esque chorus.
"There's happiness and then there's this and whatever's  in between," she concludes in the full throttle of "Leftover Mistake," arguably the album's best song where she and the band take a victory lap. 
Love is not quite a zero sum game and if it were there'd be fewer reasons to dream up beautiful melodies. In "Options," love's travails make for cajoling, The singer repeating don't worry baby while the expansive melancholic outro framed by Matt Pynn's pedal steel says the story's outcome is otherwise.
If there's a litmus test for the name of her band, one might ask the question,  "Are you experienced? Have you ever been experienced?" Valauskas might quote one of her observations in response: "Everyone  thinks they can start over…. I'm not sure they can be trusted." It's the kind of testimonial that says "Well, I have."
The album ends with the playful "Tuck Me In." Having lamented on love's ups and downs and the wrenching earlier personality crisis of "Cracked Up," it seems like a welcome respite. Putting aside her inner angst for a few minutes, this is a time for fun. There's no panic here, just whimsy,  interrupted temporarily at least and maybe a gap on the historical timeline.