Album Review
Shooting Straight with Brothers Osborne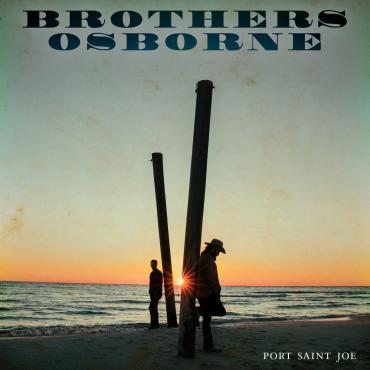 Port St. Joe is a small town on the Florida panhandle, famous more for its fishing and seafood and its laid back beach life more than for its roots music. Brothers Osborne chose the sleepy little town as much for its spaciousness and its never-ending vistas as for its music, though. "We went to Port St. Joe not so much to be in Florida but to be out of Nashville," says John Osborne, whose guitar work on the band's album marries the fret-flying blues of Stevie Ray Vaughan with the never-waste-a-note phrasing of Duane Allman. "It allowed us to get away from home and away from distractions here. We were able to get into that creative headspace."
These days the duo occupies their own space in roots music, carving out their own paths by crossing genre boundaries willfully and delightedly. While Brothers Osborne won ACM awards this year for vocal duo of the year — as well as for video of the year for "It Ain't My Fault" — TJ Osborne clearly thinks that "country music has been a broken genre; it's a product of people trying to define music strictly according to genres. Music is heading into a future where genres are collapsing," he says. Growing up, the brothers listened to every kind of music. "Toni Braxton, Hank Williams (senior and junior), Steely Dan; we didn't even know until later in life that there were genres in music," says TJ.
Brothers Osborne's new album, Port Saint Joe, cuts across every fence trying to pen music up. The opening cut, "Slow Your Roll," kicks off with John Osborne's free jazz runs up and down his guitar frets, inviting us into the spacious rooms of the rest of the album. The gentle murmur of the Gulf lap over Osborne's guitars before TJ's vocals lead into a funky shuffle that urges us to slow down and "take a little break from the rat race/Pour a little heaven on ice … The Lord's been talking through the weather/A Sunday sermon in a sundown sky/Don't think I could say it any better/So, I think I'm gonna take that advice." In the propulsive rocker of a breakup song, "Shoot Me Straight," the singer begs his lover to give him no shit about the breakup: "Make it burn the whole way down/Lay my 6 foot 4 inch ass out on the ground/Yeah, tomorrow I'll have me one a hard hangover/And one hell of a heartache/So, pour a shot of whiskey/And shoot me straight." John Osborne's soaring lead riffs on the bridge recall the scalding, ingenious fretted flights of Ritchie Blackmore on Deep Purple's "Lazy" and Gary Richrath on early REO Speedwagon albums.
"Weed, Whiskey and Willie" is a slow burn of a song that blends the sonic echoes of a blues shout with the ache of a languid country waltz. The genius of the song derives from the canny combination of its melodic structure — the country waltz — with its bluesy guitar lines in the bridge. John says, "I wanted to write a song in 6/8 tempo, and I had that melody in my head. Trying to think of a heartbreak song with alliteration, but really wondered what if what the guy wants after a heartbreak are weed, whiskey, and Willie Nelson songs." The singer's clear about his needs after the heartbreak: "But don't take my smoke, my jug of brown liquor, or my country music … My vices and heroes will hold me together while I'm letting you go."
"Tequila Again" opens with a jangly mandolin and with a melody that recalls the melodic structure of the chorus of Alan Jackson's "Where Were You (When the World Stopped Turning)?" This tongue-in-cheek tune is a nod-and-a-wink to the beauties of tequila and the singer's love for her. TJ says, "we wrote it in about 30 minutes on our tour bus. We started writing this and thought it would be fun to write a love song about tequila." After the opening bars, the singer recalls his first meeting with his lover: "I'll never forget the first time I kissed her … Had a hell of a time, yeah, we went all night/By morning, she messed up my head/I swore her off, but I'll be damned/I fell in love with tequila again."
The album closes with a poignant acoustic folk tune "While You Still Can," which quietly and intently urges us to embrace life while we still have the chance to do so: "Call up your momma on the telephone/Talk a whole lot of nothin' 'til the cows come home/And listen."
John Osborne says that with Port Saint Joe, Brothers Osborne were "trying to make an album you can listen to the whole way through and connect with the songs emotionally and spiritually." They've certainly achieved that goal on the album, for the joys and sorrows of life — even the funnier aspects of them — the little everyday moments that lead to despair or hope, and the celebrations of the power of music to transcend life's little boxes fill these songs with a capacious love of life that pulls us into them and embraces us.