Album Review
Singer/songwriter James Bruce Moore Soars on Poetic Wings on New Album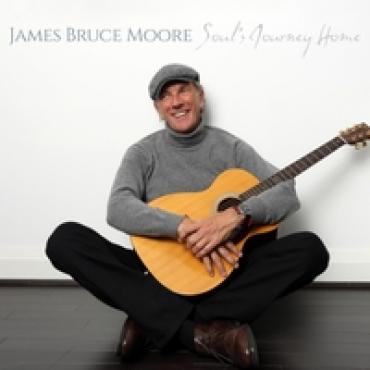 Where do souls go? Toronto-based singer/songwriter James Bruce Moore answers with the voice of experience in his latest album,
Soul's Journey Home
.  Nine fine, emotionally crafted songs in an acoustic-driven, folk-country blend light on the listening yet heavy in heartfelt sincerity.
As glorious strings ease in the beauteous first track, "Soul's Journey," the listener's quest begins. Moore sets the positive tonality with the lyric, "All my wishes come true when I hold on to you." A sentiment stirring a fragment of memory shared by all who have loved and cherished the feeling of oneness.
In "Lovin," Moore yet again tantalizes listeners with the warmth of inescapable familiarity. With words that hit home, poignant in their power, breezily delivered with the elegance of heartstrings. Beginning with words of regret, of not having spoken before all is taken away in a cruel world: "Nothing lasts but words of love."
Yet not all souls yearn for the love between a man and his mate. In "Roy Benavidez," Moore chronicles the tale of a lone warrior fighting for his adopted country in war-torn Vietnam: "Few like him in a world that's gone wrong." True enough, when an encounter goes awry, Moore sings with an urgent tonality that would do Bob Dylan proud. Lines triggering imagery from popular war movies intensely favored by those lucky enough to absorb the horrors of war during peacetime.
"Gentle Witness" is a more upbeat entry, segueing in shining stars, angelic voices and deep blue eyes set in a more recognizable jazzy rendition that would bring some to snap their fingers in tune, or tap their feet to the beat of a cheerier, even lighter mood. Possibly the coolest cat of the bunch. And the end is brought about by a sigh. "Sigh Unto the Universe" paints a palette of a vast, dreamy and ebony sky bedazzled with stars and one man's masterful strokes with his faithful guitar. The echoes resound in the cosmic realization "that love can't be wrong." A fitting ending that's guaranteed to hit left of center.
Moore definitely knows what he's singing about, having lost his beloved wife to a terrible disease. The path to finding one's footing may seem a long, endless one after facing such a devastating loss, but listeners may count on a survivor soaring on poetic wings to glide on all the way home.
Website: