Album Review
The Smell of Burnt Wood, Wet Grass, Mountain Air & Deep Traditional Roots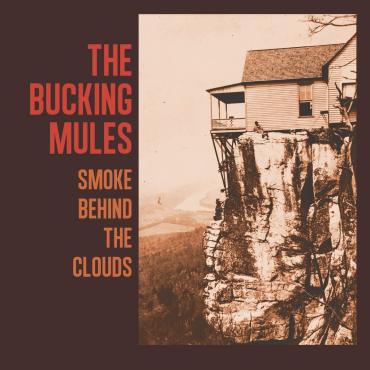 This album sounds as if a band from the 1920's managed to get their hands on 21st-century studio technology. Then, miraculously recorded some old-time traditional tunes with the clarity of a modern-day band.
While this is for selective tastes anyone who can appreciate the novelty and beauty of Appalachian type folk music on 78 rpm records (circa the 1920's) will delight at the sound reproduced by the Durham, North Carolina band The Bucking Mules on this – their 17-track collection of vintage and perfectly preserved songs on "Smoke Behind the Clouds." Now, this will not spark any top ten hits – modern day music popularity no longer allows the opportunity in a musical environment where experimentation and nostalgia could dent the charts.
Back in the 60's despite hits and many songs by The Beatles, The Stones, Pink Floyd, The Doors and The Who and many other great artists Norman Smith (producer of Pink Floyd) managed to issue a minor hit singing a 1920's influenced song "Oh Babe, What Would You Say," and Whistlin' Jack Smith hit with an instrumental with whistling (!) on his "I Was Kaiser Bill's Batman."
But, as I said, those days are over. In an effort to enjoy The Bucking Mules you must appreciate them as a whole – by listening to an entire album and picking the songs that are ripe and sweet for your ears. "Jasper Jail," was the first to interest me and features excellent performances from the band comprising Joseph Decosimo, Jaren Celia Heil, Luke Richardson and Joe Dejarnette. The tune is about the stories of a moonshiner, singer and carnival barker Hamper McBee (who wrote the song) and noted that the price of a night in the Jasper Jail went up over time – or so the description on the CD states. Nonetheless, the song is alive with solid banjo and fiddle interplay and the vocals are successfully from another time. And that's what makes these resonate with authenticity and not hokum.
There's none of the scratchiness of the 78's and while sometimes that lends a little personality to a recording it's a pleasure to hear the nostalgia clearly. It's like looking at a photograph of your grandmother when she was 16. That's a revelation because you never thought she was young and beautiful. That's what happens when you listen to this collection if you enjoy hearing something old become young again.
"Railroad," is a sprightly minstrel tune and it reminds me of the music that legendary guitarist John Fahey (originator also of the old Takoma label) would often dig up and record. This is track has vocals, many are instrumentals and many are quite short. But this is performed with exuberance and color. It has origins in North Carolina as early as 1921 and on this recording, by the Bucking Mules it projects sounds fresh and renewed.
Track 7 is an instrumental that has that drive that gets even the shyest of people up and dancing. "Fire on the Mountain," originates from the Cumberland Plateau and is fiddle-heavy and filled with lots of melody -- and dare I say it, fire.
"More Good Women Gone Wrong," features vocals by Luke Richardson joined by Karen Ceilia Heil and together they punctuate the aged style into a modern ballad. The band consists of Joseph Decosimo (Fiddle, Banjo & Vocals), Karen (Guitar & Vocals), Luke (Banjo, Harmonica, Fiddle & Vocals), and Joseph DeJarnette (Bass). They played with elder statesmen musicians throughout Tennessee, North Carolina, and Virginia and listening to old dusty 78's -- this is what gives them their air of authenticity. Their album was recorded in a fashion where the musicians faced each other in one room in Floyd, Virginia and it all unfolded in real time. Was there some tracking? Certainly….but I won't say where.
From North Carolina comes "Wild Geese at Flight," -- a tune the band learned from Trevor Stuart – a man who fiddles with equal parts of grace and power which I am told -- is not easy. For me, playing anything on a fiddle is not easy. But I have listened to the band Burning Bridget Cleary – a little more in the Irish folk idiom that consists of two girls – playing dual fiddles in a fiery and exciting showcase that displays and exemplifies how this Americana mountain music came from places like Ireland and Scotland to become our own as well. Country music and blues are not the only music styles that formed in the Southern states of the United States. With "Ruffled Drawers," – originally known in East Tennessee as "New Five Cents," the tune becomes more provocative and in the hands of The Bucking Mules their own fiery fiddle stew.
This next track surprised me because I was listening blind and immediately thought of the vocals sounding like the legendary country performer Ralph Stanley. And it is. Karen brought this song to the band from the Carter Family and Ralph Stanley recorded it as well. They have that tradition going for themselves in this version as well. It's done with respect. "Girl on the Greenbriar Shore," – an AP Carter song sustains the spirit of Stanley not only in the arrangement but in the near-perfect inflection and vocal of Luke Richardson accompanied by Karen.
The album continues with a lively instrumental Missouri-born: "Altamont," and it's clear that you can hear the influence of the Irish-Scottish fiddlers as it resounds through the notes and interpreted by the Americans many years later. There's a film called "Songcatcher," that is all about this marvelous way the old folk songs came across the ocean and settled in the southern American mountains. It was there for decades and families passed the tunes down through their generations with hardly a note written on paper.
If you enjoy the music of The Bucking Mules the songs and historical significance of the story in "Songcatcher" will be equally entertaining. It documents how back at the turn of the century America (the 1900's) the music was found by folklorists for publishers who felt this music was important and needed to be written down and transcribed – for prosperity (there is underlining greed in the storyline, however). Veteran actress Pat Carroll was marvelous as the mountain grandmother who knew most of the songs and her granddaughter could sing them all. Folk singers Iris DeMent makes an appearance with Taj Mahal.   
Also, excellent toward the end of the CD are "The Soldier and the Lady," "Climbing the Golden Stairs," (one of my favorites), "My Wife Died on Saturday Night," and "Greenback."  To be honest, I didn't think I was going to find many likes in this huge 17-song collection. It's old stuff, could possibly sound all the same, it's corny stuff without a jug of shine by your side. But I was wrong.
This collection is filled with music that is ridiculously good. It has lift, and in each performance, lyrics that tell little stories and probably true stories. About things that happened to them in real life. Embellished? Probably. But that's part of the charm, isn't it? It helps a person escape all the bad news, all the bills, foul words and all the angry people who surround us. It's like kryptonite. You play this stuff and the world becomes a scab you can just pick off.
"Greenback," is a fine example of how a songwriter/musician can take a simplistic situation, add animals to the mix and invent a song with more substance than most modern hit songs written today that says little about anything. Like I said earlier. It's for selective tastes and it won't impress everyone. Some young people won't even sit through a black and white movie even if the storyline and acting are wonderful. But if you're going to put country music and blues on a pedestal as a wholly American Southern music -- you would be amiss to ignore the traditional mountain music. It's been floating in the air over those southern states in the mountains, streams, valleys, and clouds for longer than country and blues combined. And I didn't even mention how old it is if you take it all back to its origins in Great Britain. 
The only criticism I have of this CD is in the copy. The multitude of abbreviations for who played what and where. Way too confusing. Better to just list the musicians on what songs they played and what general instruments were plucked. I hardly think anyone who buys this CD is going to try and decipher what all the abbreviations mean. After song four I stopped and just enjoyed the performances. 
As for the CD package itself -- it's a nice rustic six-panel foldout that's informative. It documents where the songs come from, and their importance to the band. Packaged and designed by Dejah Leger at Hearth Music. Liner notes and track annotations by Joe Decosimo. All songs are traditional unless noted. Produced by The Bucking Mules.
Website: http://josephdecosimomusic.virb.com/bucking-mules
Facebook:  https://www.facebook.com/TheBuckingMules/?rc=p
BandCamp:   https://buckingmules.bandcamp.com/
Disclaimer: The opinions expressed in this review/commentary are those of the author and do not necessarily reflect the official position of No Depression. All photography is owned by the respective photographers and is their copyrighted image; credited where photographer's name was known & being used here solely as a reference and will be removed on request. YouTube images are standard YouTube license.
John Apice / No Depression / June 2017