Album Review
The Smooth, Sensual Magic of Son Little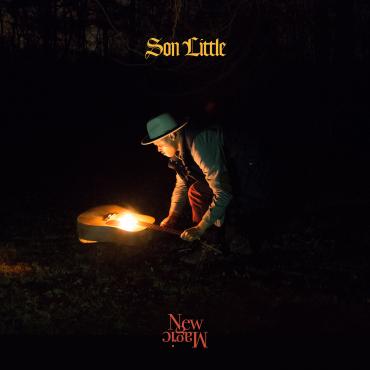 If you've ever had the pleasure of seeing Son Little live, you know how easy it is for listeners to turn to putty at the sound of his smooth, sensual voice. His new record, titled New Magic, is more of that same swoonworthy, soulful R&B with amped-up pop hooks and a deeper connection to his roots. It has a sleek, modern edge with a throwback vibe that conjures up '70s city grit and dancehall grooves all at once. There's a raw, animalistic desire in Son Little's stretchy, raspy vocals, creating a slow simmer effect that spontaneously bubbles and bursts.
Inspired by a tour in the wilds of Australia, Son Little penned many of the songs on New Magic in a hotel room with just a mic and an acoustic guitar. Perhaps because of that, there's an urgency to these songs, particularly "Charging Bull" and "Letter Bound." His energy is palpable on these tracks, like he's just got to get the sounds out. Elsewhere on New Magic, he take his sweet time, building a sexual tension that can only be described as "baby-making music." "Kimberly's Mine" is possessive and carnal, and "Mad About You" uses a vaguely Spanish-style guitar riff to set the tone for a hazy, sexy ode to a woman who can "break [his] heart at the first sight."
The true standouts on New Magic, though, are Son Little's album bookends. "Blue Magic (Waikiki)" opens the record with a jubilant, retro party and "Demon to the Dark" closes it with haunting introspection. The former is one of those songs you'll remember forever and continue to turn to lift your mood and groove to, while the latter is an anthem for anyone trying to find a light at the end of the tunnel. They couldn't be further apart in tone, but both are a testament to the power of Son Little's songwriting abilities and the power of New Magic.