Album Review
So Much Fun It Can't be Legal in 22 States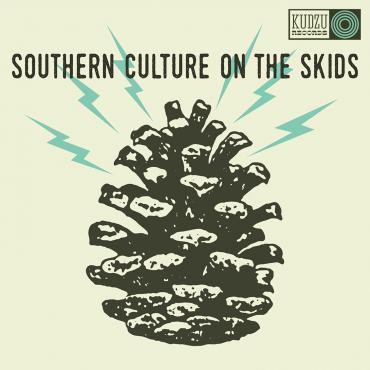 This album is just plain fun; listening to it makes me feel good. The title "The Electric Pinecones" comes from a side project called The Pinecones, which the band describes as "country pysch garage band." Southern Culture on the Skids formed in Chapel Hill, North Carolina in 1983 and have released over a dozen albums. Consisting of Rick Miller on guitars and vocals, Mary Huff on bass and vocals, and Dave Hartman on drums and percussion, their sound to date has been a mixture of rockabilly, alt-country, and punk, with a white trash sensibility, all served up with a good dash of humor.
"The Electric Pinecones" runs just over 39 minutes and is released on the group's own Kudzu Records. I found it at my local record store. Most of the songs are written by Miller; Huff gets co-writing credit on three of them. There are eleven new songs and a de-punked, folksier remake of their "Swamp Fox," originally recorded over a decade ago.
A handful of songs reveal their likely origins with the Pinecones project. "Grey Skies," which also has a video version, has a spacy yet driving sound you might expect if the B-52s took a time machine back to Haight Ashbury in the Summer of Love. "Waiting on You" would be right at home on the Jefferson Airplane's seminal "Surrealistic Pillow," especially with its lyrical call to "relax your mind." "Slowly Losing My Mind" is the other song to share a 1960s sensibility. "Freak Flag" opens the disc; while it possesses an infectious country groove, the lyrical sentiment definitely recalls a very 1960s attitude. 
The rest of the album is in territory much closer to what I expect from SCOTS. "Dirt Road" has a compelling sixties groove, "Baby I Like You" and "I Ain't Gonna Hang Around" show a rockabilly influence. "Midnight Caller" is one of the Huff co-writes and features her vocals on the soulful tune. Humor comes to the fore on "Downward Mobility" and on "Rice and Beans," whose tale of a marriage to a "thrift store queen" includes lyrical gems like "Bought my tux at a Goodwill store/She bought her dress at the one next door/We got married on a discount rate/Had our honeymoon at a Motel 8."
I keep having a good time listening to these songs over and over. If I could change anything, it would only be to move the vocals up in the mix a bit around the middle of "Grey Skies." Crack open a Schlitz, fire up a doobie, or both (or not), kick back and enjoy The Electric Pinecones.