Album Review
"Somewhere" is Right Here, Right Now, and Superb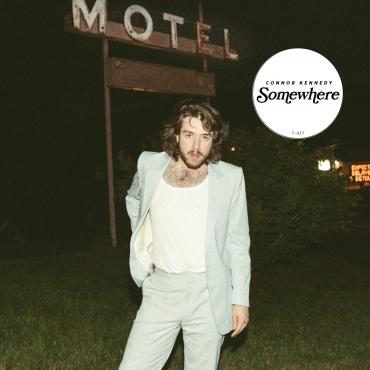 Connor Kennedy's new record is excellent.  There, that's the lede, and it's all you need.  Just go listen, on repeat.
I've been enjoying Kennedy's music since he was a young teenager, playing in the Saugerties-Kingston-Woodstock, New York area where he grew up.  A couple of years ago, I profiled him for ND, as his star was really on the rise.  Since then, there's only more to add to his thick résumé:  touring with the Gipsy Kings and The Waterboys, organizing the lineup for Bob Dylan's annual birthday benefit concert in Woodstock, and setting forth this August with Donald Fagen and The Nightflyers for a tour of America and Japan.  And now, released last night on a beautiful July evening in a historic church in New York State's first capital city, this gorgeous album of Kennedy's original songs, Somewhere.  He is just 22 years old.  Stand back, y'all, and watch him go.
Musicians from his age and up, including the leading lights of earlier generations in Woodstock, join Kennedy to make the sound of Somewhere.  On this record you will find his friends:  Amy Helm, Jay Collins, Ruthy Ungar, Lindsay Webster, Lee Falco, John Sebastian.
The first three songs on Somewhere start slowly, with plenty of sonic and lyrical flourish.  However, from the catchy — and I mean that in the best way — riff and the "Hey, babe," beginning "Summer Days," you start to say to yourself:  I am listening to something fresh, fine, and plain damn good.  The words are simple, but the patterns they make and the way Kennedy uses them to say things are special and new, in unexpected links and loops.
Hey babe, 
Tastes like ruby red
She can wake the dead....
And this, from the title track.
....I used to be someone who got along
But the tired sing the holy one too many songs
About love
And this is one of them
Ain't no hiding from the truth when
It's in front of them
And I, I believe that somewhere, I said somewhere, you and I belong.
The fourth track, "Where You'll Sleep Tonight," is a favorite of mine.  Sebastian's autoharp and harmonica keep Kennedy's guitar and voice good company.
A ballad called "Star," about a girl who is "born in 77 / On a land where nothing should live" and goes for the bright lights and big cities, traces a familiar theme, but in keen words and phrases full of both heart and humor:  "Then they moved her out to the Valley / 'Bout the time that she could read / Ain't no one ever grew strong drinkin' outta Lake Mead."  When you have Amy Helm and Lindsey Webster singing harmony with you, you've got a hit.
Somewhere was mastered by Greg Calbi at Sterling Sound in New York City.  Don't know Calbi's work and art?  You only think you don't.  Among the 7500-plus albums he's mastered are John Lennon's Walls and Bridges, Bob Dylan's Blood On The Tracks, Bruce Springsteen's Born To Run, David Bowie's Heroes, R.E.M.'s Murmur, Fleet Foxes' Crack-Up....and could I ever go on.  This is just to say that not only that Somewhere is composed of ten songs arranged in, to me, an ascendingly fine order, and performed by the singer-songwriter who wrote them, along with tremendously good musicians, but that the sound astounds.  Sure, listen on Spotify and on YouTube, but get a copy of your own.  That is what keeps music like this getting made.  At the old Dutch Church in Kingston last night, local family, friends, and fans joined Kennedy for Somewhere's official release.  Welcome, everyone, to the celebration.