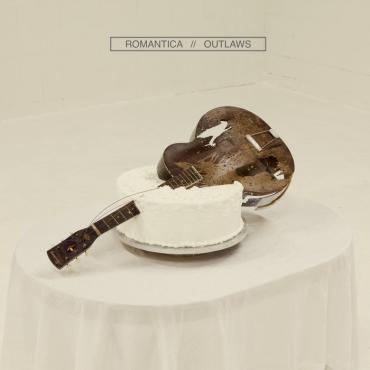 I'm familiar with this Minneapolis band from previous releases and its excellent predecessor. It's a pleasure to hear a band release songs that didn't make the cut originally, or did make the cut but were pulled for one reason or another – exemplify how consistently good their material was/ is. Bob Dylan has had this issue, The Rolling Stones, even Elvis Presley. But this material by Romantica never would have compromised their original winning formula.
So, this new Romantica album "Outlaws" with its image of a guitar stuffed into a big white cake may suggest what we are about to bite into – it's something sweet, and maybe even delicious. The 39-minute album starts with "Love in the Winter," and while the band is not The Beatles the tune does employ a wonderful Beatles-esque feel. The drums, the McCartney-like vocal, and heavenly backup vocals all add up to a pleasurable listen. There's nothing too difficult or even terribly impressive here. It's just what it's supposed to be: a relaxing, beautiful song that has – presence. It has the impression that a song like The Beatles' "The Two of Us," had off "Let It Be," and it features Carrie Rodriguez and Eric Heywood.
Continuing with The Beatles' touch and I may add successfully, Romantica performs "Dear Caroline." Somewhat a cross between The Beatles' own "Dear Prudence," and The Beach Boys' "Caroline, No." It possesses that type of intensity and it's not forced. Still, there is nothing overwhelming here and that may be its charm.
If The Beatles were to use more pedal steel guitar in any of their tunes it may have sounded like this. It chimes but not like The Byrd's. It has a contemporary country feeling and the vocalist is reminiscent of Brendan Murphy, a singer with an early 90's Columbia Records band The Four of Us," ("Mary," "Hymn for Her") who had marvelous songs and a well-tempered gritty lead singer with lots of sincerity. There's something about those gritty, untrained deep voices (Bob Dylan, Jon Dee Graham, Tom Waits, Buddy Miller) that have more sincerity in them than many of the more trained and perfected voices.
There is angst, an underlying posture and the guitars maintain a melodic rich vein as they wind around each other. This tune is quite good.
Yet another cover of the Leonard Cohen classic "Hallelujah," graces an album – there are pained versions, gritty English versions, (even a deep growling excellent version by Italian rocker Eugenio Finardi who recorded an intense version with his dynamic spiritual rock voice and falsetto in good form). This Romantica version leans more country in feeling and kudos for unraveling a new take on a now overplayed and recorded tune. But, I guess we could say the same thing for The Beatles'" Yesterday." The best covers are the ones that don't emulate the original. 
Romantica's arrangement has all the necessary drama but no pretension. Which is excellent. Covers are sometimes dangerous territory. You will indeed be compared to all the previous takes as well as the original and whatever was considered the definitive version. This, if nothing else, is a respectable version. I think it will take its place besides some of the better covers.
Sounding a little like having taken a page from the Atlantic Records' early 2000's band Prayer Boat's songbook ("Polichinelle") -- Romantica explores this song with the same quality as Prayer Boat's vocalist and songwriter Emmett Tinley. It's an airy performance, just floats from the speakers and this was in its day Prayer Boat's signature. Romantica does it equally as well and holds to its ethereal richness, its surrender qualities. It has a soothing approach and even drummer Ryan Lovan just keeps the beat tight and accentuates in a manner – less is more. Taking words from the poet Dylan Thomas and recreating it into "Do Go Gently," – a modern ballad – is quite impressive. Romantica continues in this manner with vitality throughout even with its follow-up tune "Lost in the Cosmos."
This unit impresses not with volume but the sheer beauty of the words and its compositions. Every melody is inspiring and this band doesn't want to start a fire – they want you to savor the potency of their sweet smoke.
This is ideal music for those quiet saloons where people want to unwind and not debate and shout. They want to smoke that ten dollar cigar instead of dance; they want to whisper into a girl's ear and not bellow politics, they want to discuss Hemingway and not James Patterson. They want to look up and see Pabst Blue Ribbon neon and not an iPhone poster. It's all about the ambiance and Romantica has lots of that.
Another brave attempt at a classic cover is George Harrison's "Something," and while this take is not as powerful as Harrison's original – the band dares to compress the song into a cohesive yet fiery version. This is not for everyone who has the original engrained in their tie-dyed stubborn heads but, a nice modern send-up is gloriously offered. The song still has legs. It has some nice guitar moments too.
Returning to a Prayer Boat recipe with a Bob Dylan harmonica tweak -- is "Listen To Your Soul," and with some heavier drums gliding over guitar and harmonica, Ben Kyle's warm vocal is up front and arresting with some well-written lyrics. The song is also dominated by a pedal steel (Aaron Fabbrini) and it flies around like a bird on cruise control – no flapping of wings just gliding.
Many bands and artists perform quite well, but what they miss is that special development of character in their showcase. Romantica has it. Yes, there are reminders of others who have sounded similar – The Scottish band the Blue Nile, Double, ("The Captain of Her Heart"), and the previously mentioned Prayer Boat. But, each band offered, as Romantica does, a uniqueness that lends itself to a special tasteful style. And what it does is maintains the tradition of that style found in those other groups. And those other groups are critic favorites. It's finding an audience that is the hard work. Romantica effectively stands its ground among these fine bands.
"Baby Killed Bobby," is a challenging tune because it isn't as easily classifiable. It's raw, penetrating and gorgeous. Dad will give you some beer when you're young, later he will pass you a half-glass of wine at supper, but the day will come when he will share a whiskey with you. This is Romantica sharing its whiskey after so many glasses of wine.
The final track is a live recording with Ryan Adams accompanying Ben – "The Dark," is not the most polished but it does have texture and the performance assures the listener that we are the ones who will be at a loss if more music like this doesn't continue. This song will be mindful of songwriters who were decorative and provocative in their performances and during their careers: Cat Stevens at his acoustic best, the late Tim Buckley, Tim Hardin and even Jeff Buckley (Tim's late son). 
So, in the end, the "new album" is actually ten unreleased songs and live shows over the past ten years – compiled by Ben Kyle during his two year recovery from Lyme disease. These are songs that were "outlawed" from previous Romantica albums and were a labor of love and not without a struggle. I'm always amazed how some of the best efforts of an artist or band almost didn't see the light of the day. Sometimes the material held back can produce some of their best. Maybe the most optimistic belief is in the possibility that this band will continue and there will be new songs, different perspectives, and no doubt, music that will continue to be…compelling and classy.  
The cover art was created by Chris Larson.
Website: http://www.romanticamusic.com/
Bandcamp: https://romantica.bandcamp.com/
FaceBook: https://www.facebook.com/romanticaband/
Disclaimer: The opinions expressed in this review/commentary are those of the author and do not necessarily reflect the official position of No Depression. All photography is owned by the respective photographers and is their copyrighted image; credited where photographer's name was known & being used here solely as a reference and will be removed on request. YouTube images are standard YouTube license.
John Apice / No Depression / July 2018