Album Review
Songs From The Suck by Randy Steele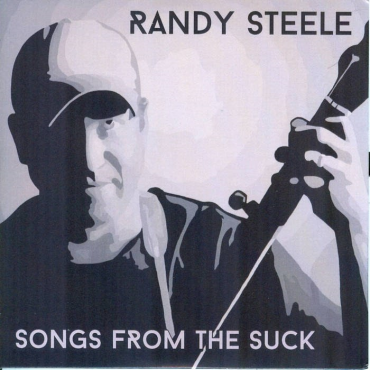 Songs From The Suck by Randy Steele
BANDCAMP: https://randysteele.bandcamp.com/releases
Songs From The Suck, by Randy Steele, is a bluegrass album that falls under some of the easiest to listen to music of its kind that you'll ever hear. This could be because of the diversity of Steele himself, but it's a great effort to combine just the right elements to make an album that has that overall Americana and country appeal but still true to bluegrass and it shows appreciation to such listeners, with a lot of blues to keep it grounded in its roots. The result is a very accessible album for this artist from the Chattanooga, TN area, whose been around and then some, with award winning Slim Pickens Bluegrass. 
The area of Suck Creek by his home is essentially what it's about, and that explains the title if it throws anyone off, so it's the first thing to mention about these twelve songs. The album kicks off with "Northbound 29" and sets things up just right with some excellent banjo playing. And yes, it does come off like a hoedown, but that's the point, although when it's done right, it doesn't matter who is listening, because it's so authentic you somehow feel the spirit of all music coming out of this opening track. It makes it so easy on the rest when an opener does the business this well, it's like riding the gravy train. 
The picking is so clean and sharp that you're not even concerned much about the vocals of Steele, but as the song gets underway the vocals get some female backing that perfectly tops it odd in that department. The strings are so well played you just can't wait for the next track, "Angels With Halos." This is musically more acoustic and a completely different thing, but the vocals keep it together and you hardly notice he's singing another song. It's like noticing a storyline developing already, and Suck Creek tales are the narrative. But the songs all stand on their own as well-written and recorded pieces. 
More fantastic picking brings "Shove The Pig's Foor A Little Closer To The Fire" into the picture, and it's a killer instrumental that makes you visualize his stunning playing. If you're not familiar with bluegrass, this is a great way to get into some and appreciate it for all it is worth, and still feel the country and blues vibes this album is full of. And the stories keep going with "Mobile Soon" being a ballad that Steele delivers with a heartfelt vocal, which is about getting back home from the challenges of the city. It's is one of several highlights on the disc, and shows how diverse this artist in, early-on in the set. 
Other tracks include the almost pop driven "Eliza's Mae" which is another simply enjoyable number which this release is chock full of. And that much can also be said for "Hard Givin'" which is more than likely a Randy Steele fan pleaser. "Drinking To Do" takes it down a notch, but picks it up in the country singing department, and it also has a great slide guitar solo on what is pretty much a fun loving track based around the subject of drinking. "1983" kicks things way back up a notch with a faster tune before it's all over, and you'll clearly hear why this album critically earns top marks. 
Mindy McCall