Album Review
Sonny Landreth Live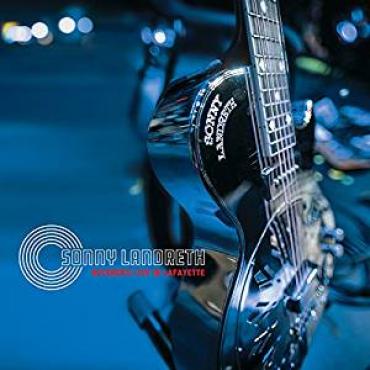 It's a sound few could pull off, a hoodoo stew of psychedelic Cajun/Creole country that feels like somebody's dropkicked you in the chest and set your pants on fire. Sonny Landreth was the first white musician to play with Clifton Chenier. "He just said he wanted some new blood and he thought I had a heavy sound," Landreth says. "Elmore James was one of his heroes, so he liked the slide thing, liked having two guitars and the rhythms you can get through doing that."
But Landreth took the slide to another planet. "It's like a steel guitar, a Hawaiian guitar, in that you're sliding up and down on the strings and they don't touch the frets. But I've got the action high enough to accomplish that, but also low enough so I can reach behind it with the left hand and fret," he explains. "It's a combination of the notes that are floating with the glass. And, with the slide, those are ringing out, then you have enough room to stretch back behind it, and the notes that you fret go underneath the glass and fret just like they normally would, so that the combination of the two that creates the mojo."
Its one of those don't-try-this-at-home things, so don't even fret about trying to copy it, you'll just drive yourself crazy.
Recorded live at The Acadiana Center for the Arts in Lafayette in January, this two-disc set captures both an acoustic and electric set from the three-day residence in Lafayette. The electric set kicks off with "Back to Bayou Teche," Landreth spreading his psychedelic Cajun gumbo on top of laid-back country vocals for a sound like tuning into two radio stations at once with a head full of 'shrooms.
"True Blue" plods along a traditional blues path, if the the path happens to be on Saturn. Once again, Landreth's guitar comes on like an interstellar pulse, wavering and wandering like errant radio waves pushing through deep space.
Ironically,"Milky Way Home," is fairly straightforward, if anything Landreth does can be categorized in  such a manner. It's a bit out there, but you can still feel the ground underneath this one as you're lifted up for a brief glimpse of the stars. "Uberesso" feels like your Uber driver has fueled up on espresso and is determined to launch both of you  starward as fast as he can hurl you along. "Soul Salvation" finally lets the Cajun astronauts touch down, courtesy of a swamp pop vehicle with more twang than thrust. But even grounded, it won't hold still, wriggling enthusiastically with help from Steve Conn's squeezebox. "The One and Only Truth" is Cajunized Chuck Berry, Conn's box hopping around like a shaken and stirred sack of bunny rabbits as Landreth drools molten steel, building sleek rails to slide this thing along at neck-snapping speed.
If you expect the acoustic side to be all nice and mellow, obviously you haven't had much Landreth exposure. "Blues Attack" kicks off the side with a satisfying big foot stomp, Landreth sounding every bit as slippery and steely as he did with his electric, on this hopped up country blues. His acoustic "Key To The Highway" is Ry Cooder-ish, steely, laid-back, Hawaiian slack key, that turns dark and dangerous by song's end. "Creole Angel" is fleet-fingered Cajun dance floor fodder that'll have sweat and feet flyin'.
Landreth takes it out with "The U.S.S. Zydecoldsmobile,"a Creole/Cajun foot-tickler that has more in  common with a freight train than an auto, in rhythm as well as speed,but this baby still gets you there in fine style.
Whether in orbit or firmly grounded, Sonny Landreth always has something worthwhile us earthbounders can tune into.