Album Review
Soul Music is the Best Medicine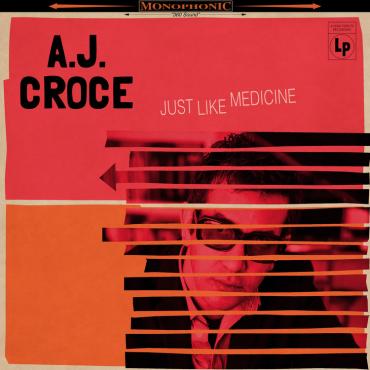 The best prescription any doctor could write would require 30 days of daily doses of soul music (as the Young Rascals knew so well when they gave us "Good Lovin' "). The last couple of years have been great ones for soul music, with the returns of Stax's William Bell (This is Where I Live) and Hi Records' Don Bryant (Don't Give Up on Love) as well as the debut of one of the most dynamic and mesmerizing new groups on the scene, Southern Avenue (Southern Avenue). Soul music streams out of Memphis and Stax, and in Muscle Shoals veteran musicians and songwriters such as Dan Penn, Spooner Oldham, Donnie Fritts, David Hood, and Steve Cropper, to mention only a few, have brought the Shoals back to life.
On his new album, Just Like Medicine, A.J. Croce writes a stimulating, energizing prescription of his own for some of that sweet soul music. He's backed on this album by some of the Shoals' very best, including Dan Penn on background vocals on the New Orleans-style barrelhouse tune "Full Up," David Hood on bass, Colin Linden on guitars, Bryan Owings on drums, and Steve Cropper on the Penn co-write "The Other Side of Love." Vince Gill lends his crisp licks to the title track, Jeff Taylor shimmers on his accordion on "Move On," while the McCrary Sisters turn in some heavenly background vocals on about half the songs and the Muscle Shoals Horns lay the foundation for some soulful strutting and dancing.
"The Heart That Makes Me Whole," which Croce co-wrote with Leon Russell, playfully opens with Croce's barroom piano rolls before shuttling off into a Bourbon Street strut punctuated by the Shoals horns and Cropper's tasty licks. It almost as if Marc Benno, Russell, and the Asylum Choir got back together in the studio. "Name of the Game," written by Croce's late father, Jim Croce, delivers a "Philadelphia Freedom"-vibe, as the singer jauntily shouts that that he's "learned some lessons early/And I learned some lessons hard/But I kept my eyes wide open all along the way." The title track is a classic been-there-learned-the-hard-way-but-gettin'-up-again soul tune shot through with a gospel vibe, underscored not only by Croce's piano but by the McCrary's call-and-response chorus at the song's close. As the song's title suggests, finding the right love "cures just like medicine," and the melody cures the blues.
"The Other Side of Love" may be the most perfect song on the album, with its mournful piano channeling a lover's loss as he looks at love after he's lost it. "Full Up" is a New Orleans march a la Dr. John, while "Hold You" delivers a Van Morrison vibe.
Croce's vocals blend the right measure of grittiness and honey; he delivers an aching ballad as easily as he shouts a jazz stomp, and his voice is the instrument that guides the melodies and other instruments on these tunes. A couple of listens to the sweet soul music of Just Like Medicine will have you cured indeed and addicted to the sounds Croce dispenses.