Album Review
Sparkling, Distinctive Vocals & Songs: First Effort By Singer-Songwriter-Pianist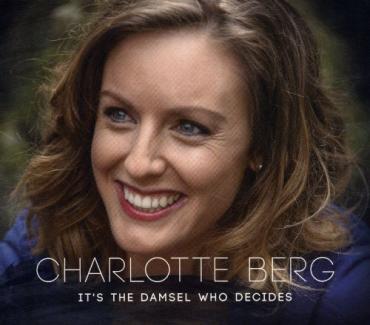 What an excellent sounding collection this is. This is Charlotte Berg's first album "It's the Damsel Who Decides," and obviously it's focused -- this is a pristine recording without being synthetic and homogenized. With the first tune Charlotte's voice is bright like a folk singer, energetic like a country singer and the music has a melodic quality that lends itself to being attractive to just about anyone. It's not dipped into too much sweet commerciality and while some singers give their material an edge, Charlotte seems to opt for distinction and vitality. That's refreshing. 
The first tune – "It's My Life" -- is pumped with lots of melodic layers, it has that chiming contagious pop credibility. The drums (Tim Grogan) lays down some serious, reliable beats. It's not straight-forward but keeps things in check, a little off kilter, a little on target. It's what a marksman does – you have to aim a little ahead of your target if it's moving so you make up for the speed of the object and the time it takes a bullet to arrive at its intended spot. That's the only way I can describe this charging song that is quite good. In my ears, anyway.
What does Charlotte do next? A piano driven ballad. It sounds like there's a little touch of echo on her voice, but if there is it's to add a little gloss on an already bright picture. "Right Through You," is a powerful song -- but, not in a dramatic manner. More in a way that vitamins give you a boost. Charlotte sings with such ease and confidence and her vocal tonality is confident and attractive. No shrills, no showboating, no exaggerated inflections. She holds her notes on "you…" open and colorful. Charlotte's piano never just plays the basic melody. She constructs passages and she sings around them. At first, they sound like chords, but she builds on them wonderfully and the accompanying acoustic guitar of Elliot Ryan is quite complimentary in this song.
What is equally comfortable is how Charlotte does not emulate the standard female vocalist of today. Yet, her voice is very much today. Lead guitarist Bobby Holland adds some crunchy notes in "Let It Burn," and Berg is following an upbeat path with her supporting cast of musicians burrowing deep into the splendid music of this track. Travis Vance sets up solid bass lines and Charlotte's lyrics are laid out in a creative vocalizing manner. Few clichés that I can hear. It just may be her innovative way with words but, she does use common words in phrases that just bounce along in an ingenious manner.
What I would like to hear from Charlotte is a more rock and roll piano approach on at least one song. She should approach in a manner similar to Charlie Giordano -- who enlightened Genya Ravan's cover of John Cale's song "Darling, I Need You," (on YouTube) from her 1978 album "Urban Desire." Why you may ask? Because I think Charlotte can do it, do it well, and add yet another notch in her belt of solid state music. And hell, she would get her audience up and clapping their hands. 
None of these songs are too jazz-oriented thus far but, Charlotte sounds like she could pull off a good jazz tune as well -- in a Peggy Lee, Anita O'Day style and with ease. In the fourth song, which starts off as a plain, fairly good song, she proceeds and the song unfolds like a flower at dawn. "Under the Same Stars," has dependable energy, very good lyrics, and an ambitiously driven run as Charlotte sings. She has the necessary zeal that makes it all deliciously magnetic. Then, just as it starts to pick up steam Charlotte goes into another melodic gear at the 2:23 point when she holds notes brilliantly on words you wouldn't necessarily think would be ideal.
The word "stars" has a hard "r" at the end and it's not a vowel (usually what a singer wants at the end of a line, so they can hold a note). Yet, the way Charlotte approaches the difficulty she achieves it excellently and without ever getting locked up in the hard "r" of stars.
If no one has told Charlotte yet, let me be the first: this is a professional. Her storytelling in her lyrics, such as this one, are not like other singer-songwriters. She has style, she has a rhythm to her phrases that are used equally as you would a musical instrument. Very impressive. I like this alot. 
Another slow song, "You and I Won't Fade," is heavy on mid-range register piano notes that add dynamics. Between the banging of the viable piano notes and Charlotte's bright voice and its impeccable inflection and phrasing -- the song elevates to a poignancy with its solid melody. This is quite an enjoyable tune.  
The collection has finesse and the ten tracks were produced by guitarist Bobby Holland and drummer Tim Grogan – and they did a remarkable job. They included the lyrics in the inside spread, but the error they made here – and it should have been caught by their designer or printer – is that you can't use KO type (knock-out) on areas where sunshine and clouds may be. You can't read the words. As nice as the image is on two panels, the image should be eliminated and let the words read clearly. They are worth having on the CD package because the words are important.
Charlotte Berg a Connecticut native, currently works out of Nashville…and righteously so. With her unique sound – she has maintained it in a style that is virtually all her own. But, for those who need a point of reference (and I am well-known for the artist comparisons), Ms. Berg is up there with early Judy Collins, and the brilliant Judith Durham (famous for the 1960's hit "Georgy Girl," the brilliant "I'll Never Find Another You," by The Seekers) – in the case of Durham you have to listen and set aside her English accent. It's the purity of her vocals, her innocence and ability to take simplistic lyrics and make them sound artistic. That's what these two female vocalists share. 
I am not stretching either – even though Charlotte is not a full-bodied folk singer in her songs the quality of her voice is nestled in the traditions of these women. I could add another two surprising names. The first: would be the early mid-60's Marianne Faithful. "Summer Nights," "Wild Mountain Tyme," and "As Tears Go By," are splendid examples of vocal purity that Charlotte is filling our ears with on this collection and in the same respective manner as these inspiring women.
Susan Osborne (with the Paul Winter Consort) is an excellent American female world-vocalist who sings with the same richness Ms. Berg has exemplified in the spiritually enticing "Lay Down Your Burden."
Some of these singers may have a little warmer voice, a deeper approach, but the attractive pastiche is evident. Charlotte Berg is a seed from these flowers. Anyone who enjoys and respects these female artists would find a wealth of happiness listening to the songs of Ms. Berg. "Tell Me Why," opens with a great musical hook – a tad more commercial in flavor and Charlotte's voice is warmer. The tune has a drive to it that is steady and sure and it sparks. It proves Charlotte has the ability to sing stronger songs and at the same time has the recipe for more commercially sweet songs that are not lame by any measure. This song could easily attract other female vocalists to the Charlotte Berg songbook.
The album closes out with "Our Hearts," and it's another diamond in the rough. Cohesive songwriting and performing. While "Tell Me Why," appeals to me as a possible plug side for radio, this song is a close second. It has a jaunty approach, attractive arrangement and again, Charlotte wraps her talent around a fairly easy song and frames it beautifully. Quite a talented woman and one to keep an eye on.
If there's more Charlotte Berg in the future it will be worth waiting for. And there will be I am sure.
Website: http://www.charlottebergmusic.com/
FaceBook: https://www.facebook.com/CharlotteBergMusic
Soundcloud: https://soundcloud.com/charlottebergmusic
Disclaimer: The opinions expressed in this review / commentary are those of the author and do not necessarily reflect the official position of No Depression. All photography is owned by the respective photographers and is their copyrighted image; credited where photographer's name was known & being used here solely as reference and will be removed on request. YouTube images are standard YouTube license.
John Apice / No Depression / January 2017