Album Review
The Steel Wheels – Leave Some Things Behind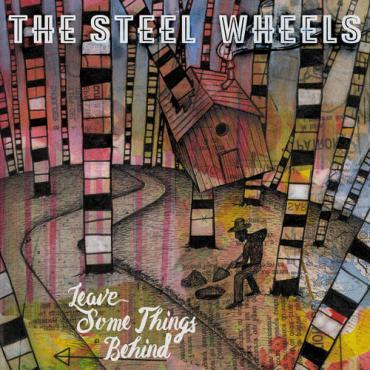 Coming out of Virginia The Steel Wheels, a four-piece band formed in 2004, has released its fourth album of soulful mountain roots music. With the opening notes you would think you purchased the wrong album. Lots of gritty voiced shouting and then suddenly some real energetic clean acoustic guitars, mandolin and fiddle and you relax. Everything's fine there is moonshine, the aroma of barbecue, peanut soup, shoofly pie and rich soil in this.   
"We've Got a Fire" – Singer Trent Wagler's vocals will take some getting used to. So what? So did Bob Dylan, Joe Cocker and even Willie Nelson's pipes. What his voice has in this collection is personality, and lots of style. I don't want to listen to fourteen songs that sound like another George Jones, George Strait or Travis Tritt. And people would say why? They're legendary artists. They indeed are, but they are too smooth, too trained and I am more of a Buddy Miller, Jon Dee Graham, Townes Van Zandt and Lyle Lovett type admirer. But that's me. 
I like something different, challenging and this is definitely what this collection is. By the third song or so, Trent's vocals will become that second glass of wine – your face won't squint anymore, instead your taste will adjust and become familiar – with authentic rural eloquence.  
"So Lonely" – as the song progresses you will hear strains of "In the Pines," with backup vocalist Sarah Siskind gently assisting and threading these melodies. It's ingenious. Trent's vocal is wonderful here – balanced, intimate and authoritative and most importantly -- in a sincere manner. Quite beautiful.  
"Heaven Don't Come By Here," – is a mood saturated piece, light on instrumentation and heavy on vocals. It's almost like a prison song shuffle and something that could be easily sung acapella. When the instruments do surface, they are appetizers, morsels like the whining sound of the Resonator guitar and the moaning fiddle. But what's to be savored are the vocals and the lyrics. Back in the 60's what made many bands/artists interesting was the uniqueness of their material and how it was presented -- vocally..
After all, John Lennon and Paul McCartney didn't sound like the Dave Clark 5's Mike Smith, and Smith didn't sound like The Kinks' Ray Davies and Davies' didn't sound like Roger Daltry of The Who. Gary Brooker of Procol Harum was totally in a class of his own and so was Mick Jagger and Jim Morrison. It could be said that Joe Cocker was in Ray Charles' class – but, not entirely.
As the decades passed, many singers emulated others and even when grunge came along I had a hard time telling Kurt Cobain from Eddie Vedder in Pearl Jam. They didn't sound the same but there was a sameness. Then when the hair bands were going full throttle everyone sounded the same and there was a lameness to it. But, even hair bands had moments of brilliance, I will admit. Loverboy's "Lady of the 80's," and "The Kid Is Hot Tonight," were almost Rolling Stone in nature. When the boy bands took their turn they all sounded exactly the same. Then falsetto singing was taken to new heights. It was all in vogue. Oh, how far the acorn has fallen from both the Elvis Presley tree and the Beatles and Rolling Stones bushes. Rock music lost its identity. But, this is not rock music that we're examining here. But it is true, that even some roots bands are getting samey. Throw a banjo, a fiddle and a dobro into the mix and you have an Americana band. Well....not if your vocalist sounds like Trent.
Music capitals can make country music more pop oriented and use country singers who sound like they had way too many singing lessons – but smart people know the difference between instant grits and real grits. Therein lies the truth. Trent Wagler's vocals are real grits. It's what makes this collection earthy with lots of nutrients and not just dirt.   
"End of the World Again,"  starts with vivid descriptions in the lyric. This is the best melody thus far – a memorable, and impassioned performance. The balance of instruments -- perfect. The fiddle and acoustic guitar are spirited. The vocals are sincere and poignant. The unorthodox Trent Wagner vocals trudge on, because of its quirkiness, it's what makes the song charming. It doesn't come off sounding like some Julliard-trained vocalist, it's not Michael Buble or Josh Groban. Actually, in roots music, this is a fine example of what it's supposed to be and not. It's not supposed to be manicured, it's not supposed to brandy that's sipped, it's Americana and in order to enjoy it you have to slug, taste, swallow, cringe and then and only then smile from ear to ear and belch. That's The Silver Wheels. 
"Milo,"  is a delightful instrumental and a nice intermezzo between vocals. Short, to the point and readies your ears for the next adventure. "Help Me," is a rural tale that starts with spare banjo plucks and the tune unravels like a fable. Fiery little flourishes of fiddle accentuate the melody. It slows to a crawl at one point, and the musicians begin to rethread the melody. Wagler's vocal radiates during the slow passages and continues so when it unleashes a folk-drama torrent at the conclusion.
"Old Guitar," – finds Trent in a slightly higher register but his signature sound is reminiscent of Buddy Miller. Hard to compare Trent to any other vocalist because he has a nice timbre to his unique voice and approach. There's a little vocal salt sprinkled into this song -- similar to John Haitt's voice. There's an old Appalachian folk song called "Mountain Dew – A New R&B Version," that I have often cited in some of my reviews. The song was released in the early 60's on the New Time label by Johnny Fox and the Foxes. Trent's voice is remarkably the same as Johnny's on this song. There are words and tempos that share the same musical DNA. Then there's also New Jersey's Billy Falcon – a singer performing for decades and was once backed and supported by Jon Bon Jovi and Bruce Springsteen. Falcon's voice runs the same exciting vocalizing current down the wire as Trent -- burnished in the same way. Just listen to Falcon's masterpiece "Heaven's Highest Hill."
These are reasons I am thoroughly enjoying Trent Wagler's vocals – he has that magical tone that only a few have – and he's a member of a real exclusive vocal club. I find the singing appealing because its brick and mortar and not plaster board. For some reason a less than polished vocal seems to emanate far more realism than that Julliard trained voice. Roots music is not opera. Authenticity is what is scrubbed away when perfection is sought. Now some may say "what about latter day Elvis Presley? Or Brook Benton?" Well, theirs was a voice rooted in blues, and spirituals. They had the grit and their voices were powerful – not perfected. Just listen to Elvis' early 60's blues on "Reconsider Baby."
"Promised Land,"  -- not the Chuck Berry song -- is the most spiritual and gospel-oriented tune on the album. It almost sounds like they are backed by The Fairfield Four. But they're not. "Mountains Quake," is another interlude instrumental that bridges the songs together in a nice organized way.  Heavy fiddles – incisive and filled with feeling.
"Find Your Mountain," – oozes with what sounds like counter melodies between the bowing of the fiddle and the banjo and acoustic guitars. The song is arranged excellently. Slowing down, building up, adding instruments, subtracting instruments, picking up the tempo, singing low and then escalating words with emphasis. The musicians play like water over rocks in a stream and they adeptly smooth over every edge.
"Winter Is Coming,"  another memorable melody faithful to the genre both in lyrics and music. Vocals are passionate, disciplined, and as the song progresses it becomes dramatic the way good roots music should be. The tale being told is sophisticated for an Americana song. These men don't rely on clichés, but they do have their feet steady in the firmament of sophisticated folk music. Woody Guthrie and Hank Williams would be proud of their word play, their ambitious colorful language in their story. It strikes a responsive chord. This may be a ballad but the notes in this song are strung with wires as intricate as a spider's web.
"Worn Wool, Soft Leather,"  a good time tune that is a page torn from Johnny Fox's "Mountain Dew" song book. The band may have never heard of Fox but there is a fine thread of camaraderie here. Too bad they didn't exist at the same time. This is song has both a saloon fervor to it and a back porch stomp with a jug. Easily likeable.
Closing out the album is a pensive ballad "Every Song Is a Love Song."  You would think this song, and the album was written and performed by veteran musicians. But The Steel Wheels is a young band. I have to tip my baseball cap to them for absorbing the richness of a bygone era's spirit in their music. Now that's not to say that it's retro, vintage or old style. I am saying these musicians understand the ballad, the poignancy, the importance of writing a song that tugs at the heart.
The Steel Wheels doesn't sound like many artists, they seem to encapsulate a little spoice from several artists and once Steel Wheels pastureizes it, it's theirs exclusively. And therein lies the attraction. Why would anyone want to sound like someone else so much that the reason anyone is buying it is because it sounds like their other favorite band. I mentioned a few artists that it sounds like – but they aren't mainstream commercial artists. The Steel Wheels should be enjoyed because they sound like no one else in roots music. That's the appeal I focused on.
The album was Produced by Ben Surratt with The Steel Wheels // The album art is marvelous and was produced by David Kendall. A six panel die-cut fold out with illustration and on the inside a full color image of the band. No lyric book but full credits of all musicians throughout.  
The band:  Trent Wagler – Lead Vocals-Guitars-Banjos-Percussion // Jay Lapp – Mandolin-Guitars-Vocals // Eric Brubaker – Fiddle and Vocals // Brian Dickel – Bass & Vocals // With Additional Musicians: Tim O'Brien – Fiddle // Sarah Siskind – Vocals // Travis Whitmore – Drums & Percussion // Ethan Ballinger – Hammond B3 Organ
There are eight special musical guests listed on the inside spread.
Photography on CD: Keesha Dickel at RubySky Photography // Live on stage top image: Aaron Johnston Photography
Live on stage bottom: Brian Blauser - Mountain Stage 
Website:    http://www.thesteelwheels.com/
FaceBook: https://www.facebook.com/thesteelwheels
Disclaimer: The opinions expressed in this review / commentary are those of the author and do not necessarily reflect the official position of No Depression. All photography is owned by the respective photographers and is their copyrighted image; credited where photographer's name was known & being used here solely as reference and will be removed on request.
John Apice / No Depression / August 2015