Album Review
Stinging Blades Clock In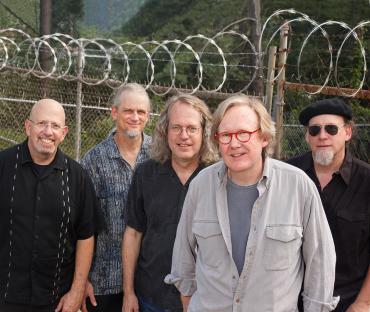 Left to his own devices, Joe Bell will try to convince you he's a no-count, enigmatic hippie. But when he starts yodeling like Tarzan in the middle of Van Morrison's "Cleaning Windows," flopping around onstage like a puppet with its strings cut, its easy to understand why Bell and his band The Stinging Blades boast a career spanning nearly 30 years.
Bell and the Blades are a show and dance in one loose-limbed unit. Bell's boneless lower appendage antics are enough to make James Brown jump up from the grave, howling in envy. The Blades blast away with an eclectic setlist encased in a rattly down to earth wrapper that lurches magnificently from Southern rock to old school, throat rippin' soul to gut bustin', hellhound howlin' blues and bottle bustin' bar band rock.
Bell's covers bring out a covey of free-from dancers, a loyal entourage who cavort shamelessly in homage to Howling Wolf's "Killin' Floor," Tyrone Davis' "Turning Point," or Bell's tonsil acrobatics featuring an Eddie Arnold yodeling impersonation during Jessie Hill's "Ooh Pa-Pa Doo." But Bell's been working on an impressive set of originals over the years as well, and he's got a brand new double CD full of 'em.
"Here To Play" is the Blades statement of purpose, N'Awleans second line swagger with Fess echoes courtesy of Blades keyboardist Lindsay Rosenbrock.
Bell and company have long been the best regional interpreters of early r&b and soul, but they demonstrate their hard core rock prowess on "Sarah Sandwich Queen," an ode to a beauteous sammitch slinger in a favorite eatery in their native Pittsboro stomping grounds who "spreads mayonnaise in the smoothest fashion," nudge nudge, wink, wink. The Blades continue their culinary expedition, worshiping at the hawg altar for "Allison's Barbeque," advising Northern visitors there's no need to bring a fork for the fall-off-the-bone pig picking goodness served up at the venerable Q establishment. Although the lyrics are secular, "Enchanted" sounds Sam Cooke inspired, crossover gospel soul. "Whitfield Mozingo" takes the band into Hank III territory, hardcore-backwoods justice for a meth-fueled terror with a laugh like a chainsaw and the disposition of a rabid rat dog.
A Muddy ode to brown likker, "Whiskey Drinkin" Man" is the saga of a man who's found everything he needs in one beverage. Co-writer Dick MacPhail says he had a bricks and mortar imagery in mind when he sent his ideas for "Hammer and Nail" to Bell for finishing, but Bell, whose day job is a finish carpenter, reconfigured it into a tirade against warped politicians undermining the foundation and knocking down the walls of the structures built by working man.
Set on an Eric Burdon and War framework, "Blues For Dave" is a nostalgic backward glance at the joys of a misspent youth, cruising in daddy's Buick with the windows rolled down to dissipate the telltale aroma of wacky tobaccy. "Churnin' Up Trouble" is a Southern Rock update of Steppenwolf's "Born To Be Wild," with a black leather clad, amphetamine-fueled rider, burning eyes aglow, blasting through broken glass and gasoline on a blocked road, leading the way to salvation or destruction.
Bell gets a bunch of unlikely suspects together for "Winding Timeless," channeling Roy Orbison wailing Van Morrison's lyrics operatically over Tom Petty's guitar.
This is the Blades' masterpiece, a body of work they can use as a performance bible for the rest of their career. They won't do that, of course- they're too ornery and rambunctious to let themslves off that easily. But these gems'll show up from time to time from now on, sprinkled in with Van and Jessie and the Wolf and Bell's other alter egos for the evening. Stay tuned.