Album Review
The Stray Birds - Magic Fire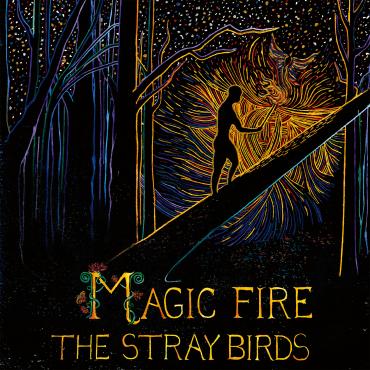 One track in and I'm sold, sucked in by the high wailing vocal harmonies straight out of the mountains and overlaid on a bed of solid rock. "Shining In the Distance" is as good an example of roots music I have found recently, a good song made great by a mix of old and new which is as much Goose Creek Symphony as it is The Dillards and a whole string of rock and country-rock and what used to be called newgrass bands of the past few decades. There is mountain in the voices, heads-back-and-reaching-for-the-sky voices, and when The Stray Birds throw in old country-style fiddle on the break it is hard to not soar with the highs. I hear the ghosts of The Stanley Brothers and The Delmore Brothers as much as Goose Creek and Heartsfield and Doyle Lawson and Seldom Scene in the music, the rock side dominant, and what an excellent combination it is.  
The backwoodsy "Shining In the Distance" is a great choice for an opener, too. I could imagine The Amazing Rhythm Aces doing this, or early Nickel Creek, or even better, The Original Bluegrass Band which was among the best of the bluegrass/country hybrids back in the eighties, Ricky Skaggs handling the high harmonies. Country but not country, if you will, and barely skirting the edges of bluegrass. "Third Day In a Row" is a choogling soft rocker, again with that Rhythm Aces feel, and "Sabrina" is rock 'n' roll with country instruments. If you like the soft side of rock, "Radio" is a beauty, the chorus not only catchy but arranged to perfection. I truly cannot imagine anyone who loves harmony and vocal arrangement not liking it.   
I mean, The Stray Birds have it down. They wash, rinse, repeat--- all songs at the very least pleasant, the best among the best there are. "Fossil" is as catchy as songs come these days, a country/pop gem, the chorus offsetting verse the way it should be. "Somehow" is straight out of the Felice and Boudleaux Bryant songbook, sounding as close to the later Everlys as it can without being the Everlys. There is a mix of gospel, soul and rock in "All the News" which works very well, possibly due to the Staples' funky guitar sound mixing with the organ. And you couldn't pick a closer better than "When I Die," the melody very reminiscent of later Pure Prairie League, the country rock ruling.
The cool thing about The Stray Birds is that they balance the roots well enough to hide them. Every song is fresh and my favorites ("Shining In the Distance," "Radio," "Fossil," "Somehow," "All the News," and "When I Die") are as good as it gets. Yep Roc signed these guys. Doesn't surprise me a bit. One of the best labels going.