Album Review
The Strengths and Subtleties of Singer-Songwriter Lorkin O'Reilly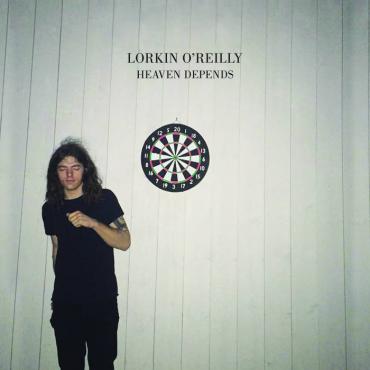 The release day for Scottish-American singer-songwriter Lorkin O'Reilly's debut LP Heaven Depends came and went without much fanfare. It's not a bombastic record, by any means, but rather one of soft folk music made with a quiet pride. It might have been easy to miss in the mess of rich August releases, but Heaven Depends is a complete folk record that's as strong as it is subtle.
O'Reilly, who is now based in Poughkeepsie, NY, recorded the 11 songs comprising Heaven Depends during late nights after working a daytime construction job. But the record eschews the crunching of metal-on-metal for whispering, natural acoustic guitar works. Most songs just feature O'Reilly finger-picking solo, occasionally accompanied by a droning harmonium or fiddle, not unlike English singer-songwriter Alexi Murdoch's work in the mid-to-late-aughts.
Although O'Reilly has lived in the US for about four years now, the pull from both sides of the Atlantic seems especially apparent on Heaven Depends. There are songs with names of places — the traditional-inspired "Ireland" (an homage to his mother's roots) and the more harmonica-accented piano ballad "Poughkeepsie." But the contradicting pulls are most apparent in "Huckleberry Finn." Although its name is an homage to one of the great American tales of adventure, O'Reilly uses most of the lyrics to spin a tale that, as the chorus concludes, "leads to Ballantrae." O'Reilly paints this tiny town in southwest Scotland in shades of nostalgia, choosing to focus on the sad-smile childhood memories there than those that drove him away to America.
Still, an appreciation of open spaces (and the boundlessness to move through them) remains constant, regardless of country. "Landscapes" and its reprise trace the journeys, "From the foothills of the highlands to the borders I've run," as O'Reilly sings. The verse continues: "Under dark clouds my father blew wild / On my shoulders I've anchored a little sail boat / For Lord you see I'm a runaway child." But whereas the first version of "Landscapes" is a two-minute acoustic meditation, the penultimate "Landscapes (Reprise)" is an extended celebration that hearkens back to Scotch-Irish traditions with roaring fiddles and hand claps. This duality of conflicting identities and urban and rural communities rages throughout Heaven Depends. But O'Reilly's pensive, yet soothing ruminations keep that sailboat anchored on his shoulder even-keeled.