Album Review
Students Play a Myriad of Stringed Roots-Oriented Instruments With Stunning Proficiency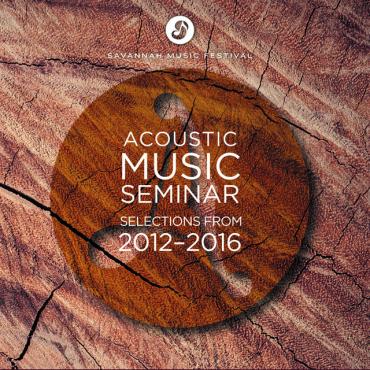 Recorded live at the Savannah Music Festival this collection provides a glance at some of the wonderful music and artists featured at this event. Primarily traditional instrumentals with originals the assemblage is educational and available to young string musicians in the United States.
Up first is "Expatiation," by banjo leader Matthew Davis who leads five fine young musicians through a mesmerizing set of violin, mandolin, banjo, dobro, guitar, and bass all threaded tight and comfortable into a colorful musical blanket. Quite an impressive little tune.
Mandolinist Matt Witler from 2013 leads a group that performs "Gas Station Caviar," and this constitutes some heavy deep bass by Ethan Jodziewicz. While not as melodic as some tunes in this collection, you can hear the expertise of the musicians marvelously and though there are only six – it sounds almost like an orchestra.  Mila Phelps-Friedl's cello adds to the bass and Matt's mandolin is aggressive and clean. This tune offers the full sound of two violins – the copy with the CD does not go into detail about what type of violins are played and I am not adept with the instrument to suggest one is tuned differently from another or is larger. I am certain there is a tonal difference between the two violins. It's hard to believe, though it shouldn't be, that these musicians are students. Students do excel when they love their instrument and the music they play.
"Legend of the Ear," features "a female vocal" but her voice is used as an instrument and not as a vocal per se. This style of vocal is popular in European recordings and some Bossa Nova stylings. Maeve Gilchrist (harp) assembled these musicians and this too features some nice deep cello strains supported by a fluid acoustic guitar, violins, and mandolin. It's a dramatic piece of music and it buzzes like a beehive. These types of songs certainly would help a dried-up lyricist to become inspired by the melodies.
Sam Armstrong-Zickefoose (2015) is a banjo player who performs with four musicians – violin, mandolin, guitar, and bass. His banjo playing is bright and inspiring. "Mona," is the song and it savors a bellowing sound that you would think is a cello but it's probably a bass violin (an early ancestor of today's cello). Joe D'Espositio plays this marvelous instrumental that has warmth in its wood and sting in its strings. The dueling mandolin and banjo performance is absorbing and uplifting. These musicians could have played with groups as diversified as Seatrain, the Grateful Dead and definitely the likes of Jerry Garcia and David Grisman.
Track five features the first real vocal on "Paradise Fell." This one is a powerful song and features banjo soloist Kaia Kater who always sings with a glorious tone. Kaia has several albums and is no longer a student but an artist who is respected in her circles. On this track, she performs with Julian Pinelli (violin), Thomas Cassell (mandolin), Bryan Sutton (guitar) and Zachary Brown (cello). This music has presence only made more interesting and poignant with the addition of Kaia's voice.  The musicians who back her with their voices are powerful.
Catherine Bowness' banjo is featured on "Bubbles," and she's accompanied by Chase Potter (violin), Dave Benedict (mandolin), Xavier Foley (bass) with Julian Lage & Molly Tuttle (guitars). The tune is meticulously played and well-recorded. All the musicians are articulate and play with great fluidity.
"Seaweed," by Erik Alvar is powered by his deep bass and could remind one of Jaco Pastorius (who played with Joni Mitchell). Again, the majority of the band is the standard violin, mandolin, guitar and lever harp. But its how each instrument in a different hand brings out the personality of the player. Featured prominently on this track is violinist Chase Potter who ignites his strings. The laid-back jazzy guitar of Mike Marshall wonderfully supports the other musicians. David Benedict's mandolin solo is solid and strong. Overall, all the musicians perform clean and with exuberance. The audience each time applauds with gusto and that's reassuring.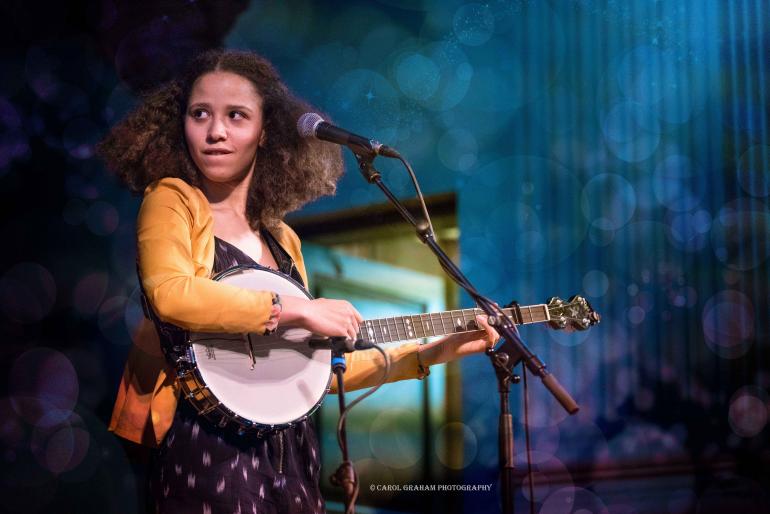 A jazzier take comes from "Bourbon Barrel," (2012) featuring Adam Chaffins' bass. This song is rough-hewed with lots of things going on simultaneously. The melody has a vintage Henry Mancini type lift to it. Simon Chrisman's hammered dulcimer sparkles, the dual violins of John Mailander and Jenna Moynihan are stable, resounding and are quite convincing as jazz-violinists. Kyle Tuttle provides some generous banjo and at times the banjo notes sound like piano notes -- as Chaffins dazzles with his bass strings. This is tune succeeds with its shadowy old movie noir mood. You don't drink whiskey to this music you have a Vermouth martini. This is a dynamic piece.
Many schools in the nation no longer have, sponsor or encourage music classes. But one listen to these students and how they have come along is startling and they have lots to be proud of. None of this comes off as amateur. These are dignified, integrated and professionally played pieces. Music has its future stars in this program. These people now, not tomorrow, have a place with many of the veteran greats of the stage who play anything from classical, jazz to bluegrass.
"Mr. & Mrs. Wilson," by lever harpist Mairi Chaimbeul is fiery. Supported by the violins of Wilhelmina FrankZerda and Chase Potter, the mandolin of Sterling Abernathy and the solid deep bass of Royal Masat – this tune's invigorating. If I were a musician looking for instrumentalists -- I'd be going home with many names. And it would be hard to pick. Each has a style, a presentation, and soul that the other doesn't – and it all becomes a blur of a well-learned and executed craft. This song smokes.
Violinist Joe D'Esposito who played on track 4's "Mona," returns to lead his ensemble with "Ill at Ease," (2015) and it begins with his violin and the light touch of dual mandolins played by Jake Howard and Gordon Neidinger. Over their strains comes Joe's deep violin. Joe Vilardi provides guitar and Jacob Warren bass. This music is a little closer in tradition to Celtic and maybe Appalachia. The violin soars nicely once the song takes off and the tone of the violin is sweet. The car was a great invention, the TV was wonderful too, and the lightbulb was a miracle. But an instrument that you can play alone and allow some melody to slide out of your fingers and into someone's ear and they smile? Wow…that's a gift.
"Dislocation," starts with banjo notes from Caleb Dostal and deep bass lines (Nate Sabat). It segues into warm violin notes (Gabriel Terracciano) that play steady and sure within this sad melody.  Clean mandolin supports the performance by Jake Howard (also on previous tracks) and Mike Robinson on guitar. There is some fiery violin playing as the song progresses and I am talking inspired and fiery. Not just wild abandon. This song features just some interesting interplay between the strings on a banjo and violin and it comes with a built-in jubilance.
The bass guitars are very impressive on this entire CD collection. Ethan Setiawan is featured on the final cut -- "Untitled 8" on mandolin. Along with Ethan is a retro style performance of music by Gabriel again on violin, Caleb on banjo, Mike Robinson on guitar and Noah Harrington on bass. The song simply carries with it a nice 50's Euro-instrumental feel. A little Parisian nightclub and though there's booze and fine ladies present there's also hard French bread and some cheese. It's a really cool feeling to have on a late Sunday morning. The marriage of violins and banjo is refreshing.
The CD includes a 14-panel fold out with color pictures and details about the program. A little more information about each performer would have been nice. Overall, the CD is a handsome 6-panel fold out imitation wood-paneled aged design which represents the music enclosed admirably. The package was designed by Maria Birba and the AMS logo was designed by Larissa Davidson.
The 12-song collection was produced by Mike Marshall, Rob Gibson, and Ryan McMaken. Executive Producer: Richard Zirinsky, Jr. The credits state that the entire concert was recorded live at the historic Lucas Theatre for the Arts in Savannah, Georgia between October 2016 and January 2017. This includes tracks from the first five years of this program.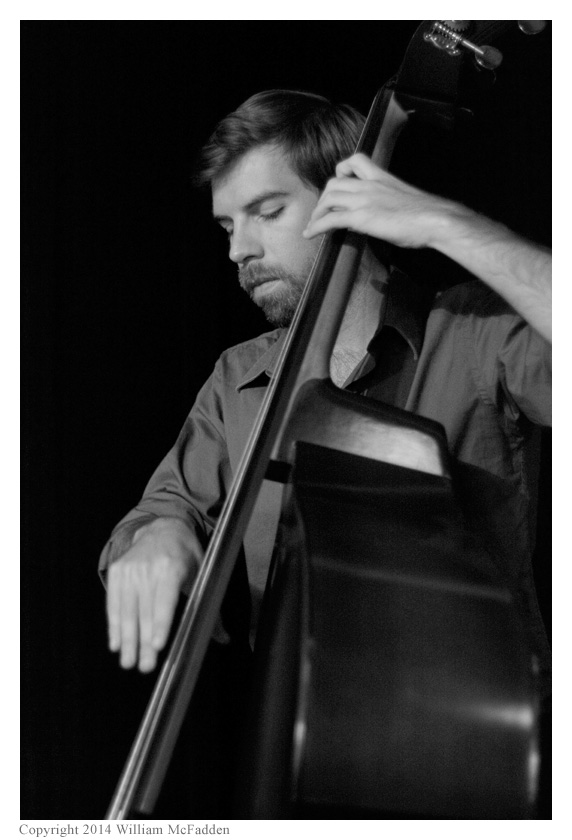 All songs are originals written by the respective musicians listed & featured.
Website:  http://www.savannahmusicfestival.org/product/smf-acoustic-music-seminar-selections-from-2012-2016-cd/
FaceBook: https://www.facebook.com/SavannahMusicFestival
Disclaimer: The opinions expressed in this review/commentary are those of the author and do not necessarily reflect the official position of No Depression. All photography is owned by the respective photographers and is their copyrighted image; credited where photographer's name was known & being used here solely as a reference and will be removed on request. YouTube images are standard YouTube license.
John Apice / No Depression / May 2018