Album Review
Sue Foley's Royal Solo Return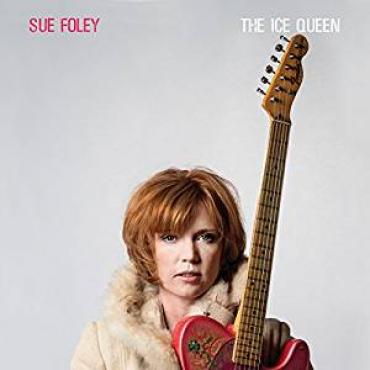 Her passport says Canada is her country of origin, but her sound is pure Texas. Sue Foley relocated from Ottawa to Austin at the age of 21, pink Telecaster in hand, signed with Antone's Records and has been cranking out twangy Texas-style blues-rock ever since. Foley honed her style worshipping at the altar of Texas guitar legends Jimmie Vaughan and Billy Gibbons as well as Charlie Sexton and Derek O'Brien, all of whom guest on her latest release, The Ice Queen.
Foley echoes Bonnie Raitt vocally and instrumentally on "Come To Me," with Charlie Sexton on slide and vocals, fueled by a backbeat like Bo Diddley stompin' thru a muddy Texas cow pasture.
"Run" sounds like it was ripped from the back pages of the Jimmie Vaughan-era Fabulous Thunderbirds catalog, but its all Foley, from composer to guitar to vocals.
Vaughan jumps in on "The Lucky Ones," shuffling along on a duet that recalls his work with Lou Ann Barton on the Tilt a Whirl Band outings. Foley doesn't twang quite as hard as Barton, but enough of the spirit and a good chunk of the accent show up to make it a strong contender.
The organic burbling B-3 underlayer is courtesy of Mike Flanigin, who orchestrated and produced the project, Foley's first solo album since 2006's New Used Car. Flanigin was instrumental in gathering a bunch of Texas guitar legends including Vaughan, Sexton, and Gibbons for the Jungle Show, presented at Antone's for the last couple of years. When Sexton couldn't make last year's show, Foley stepped in, then was coaxed by Flanigin to do the album a few weeks later while all the artists were still in town, recording with everybody in one room.
Billy Gibbons gets his Jimmy Reed on with "Fool's Gold," sounding like he's inhaled a few shovel loads of graveyard dirt after rummaging through the cemetery all night looking for a mojo hand with Foley wearing borrowed Barton vocals like a shroud.
Fletcher Henderson's "Send Me To The 'Lectric Chair" was a showpiece for Bessie Smith in 1927, but most people know it from David Bromberg's Dixieland Jazz take on it from 1974's Wanted Dead or Alive album. Foley's rearrangement struts fonkily alongside the same rails Smith's slithered on, fortified with a stiff injection of honky-tonk twang and thump and fiery interplay between Foley and O'Brien's guitars.
Foley shows off her fingerpicking skills on an exquisite acoustic version of the Carter Family's "Cannonball Blues."
No matter who she's paired with, Foley stands out while blending in with the scenery, a match that makes artist and listener feel equally at home.