Album Review
Sue Sheriff's Versatility and Vocal Skills Shine on New Album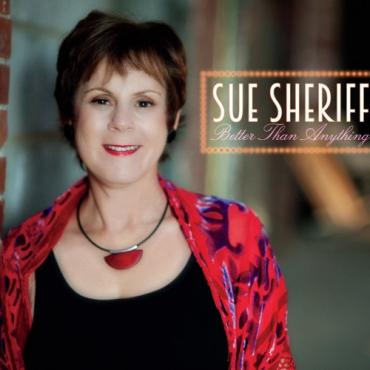 Sue Sheriff's melodious voice is so enchanting and fluid that it almost hypnotizes you. Her ability to render slow songs with such emotion and fast cuts with such glee makes her both versatile and unique. Sheriff's distinct tone is both mellifluous and inviting. Her new album Better than Anything showcases her effortless lilts in classic jazz and ballads. It is a well-balanced collection with melancholic songs countered by upbeat ones, making listeners appreciate Sheriff's ability to shift comfortably without losing her authenticity.
"Can't Get Out of This Mood" starts out slow before it turns upbeat à la '50s jazz. "Can't Get Out of This Mood" is all about experiencing something so good you know it can't be real. Sheriff sings, "The thrill should've been all gone by today in the usual way," with such dreaminess that you can almost tell that she's smiling. But she also knows that these things don't last so she makes the bold declaration: "heartbreak, here I come." This song not only highlights Sheriff's soothing voice but also her flawless low register.
At the onset, you would know immediately that the title track is all about light-hearted fun. From the fluttering percussion, teasing trumpet, and soft piano ripples to the first line, "Better than cream cheese and bagels, better than honey on bread," the tune describes anything that's better in life except for being in love. Here we are given a glimpse at how Sheriff can adapt her calming voice to a playful tune, making it even more delightful to listen to. A charming song coupled with blissful imagery and a captivating voice, this track is truly Better than Anything.
One of the melancholic songs in the album, "Where Did the Summer Go" shows the evocative side of Sheriff's vocals. The song questions why summer flies by so fast. It starts off slow with a poignant piano intro before Sheriff sings with her soothing vibrato. It may evoke sadness as "days by the seashore/they're gone as fast as castles in the sand," but it also gives a sliver of hope knowing that summer, just like other seasons, will come again. In this song, we see how Sheriff is capable of singing with empathy, her voice tugging at your heart, making you feel ever so deeply again.
This album isn't a roller coaster ride of emotions. Instead, it's a cruise that allows you to embrace your feelings. It allows you to soak in sadness and submerge in happiness. It's a peaceful journey that transitions with ease, allowing you to experience every emotion with Sheriff's voice, moving you like the calm and iridescent current that makes the trip worthwhile.
Website: http://suesheriffjazz.com