Album Review
Sun Kil Moon: A Tour Diary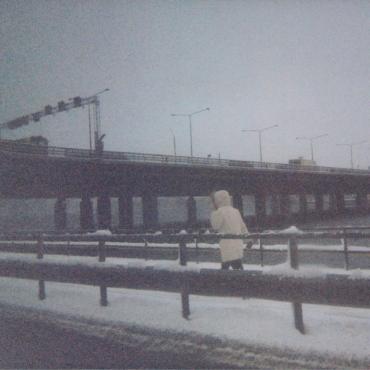 There is something meta about making a record all about the experience of being on tour, while on tour. It is making art about making art – the complications, the hardships, the adventures, and the breakthroughs, however big or small. This is the concept of Sun Kil Moon's new album, This is My Dinner, recorded in Copenhagen on the band's 2017 European tour. A detailed, diaristic account of being on the road with his band, Mark Kozelek relays the heartbreaks of setting down too many shallow roots around the world. His voice, somehow both detached and longing, sad and unaffected, conveys neverending restlessness and miscommunication. Created alongside Tony Scherr, Jim White, Scott McPherson, Ben Boye, Ramon Fermin, Chris Connolly, and Jordan Cook, This is My Dinner is at times brutally dark and melancholy, comical and slapsticky, or some bizarre mix of the two.
Aside from a handful of nostalgic covers, including AC/DC's "Rock 'n' Roll Singer" and The Partridge Family's "Come On Get Happy" (two of the album's best moments), Kozelek mostly chronicles a frequently depressing, lonely life of random sexual encounters, memorable (and disappointing) meals, and regretful feelings about missed opportunities. But still, amidst the blur of life on the road, there are depths to explore here. On the album's title track, Kozelek gets anxious about the possibility of being absent for the death of a beloved pet back home. The idea of being forced to mourn from far away, compounded with aggressive fans and a lack of sleep, keeps him on the verge. All the while, though, he has a genuine love of Norway, the place where he's stuck when all of this happens. He has cultivated a true sense of place there. It's love and hate, frustration and adoration.
The stream-of-consciousness memories Kozelek conjures up across the 10 tracks of This is My Dinner are accompanied by spaced-out guitar and robotic keys, particularly on the oddball track "Linda Blair." Samples of Blair's iconic throaty growl from The Exorcist are treated the same as a beautiful piano melody. The harsh recollection of childhood traumas in "Copenhagen" contrasts with the hypnotic and homesick "Candles." It's weird, but it works. And that's Kozelek. This is My Dinner can be a slog – even a little self-indulgent sometimes – but trust that its heart is in there somewhere, beating strong.