Album Review
Sun Records Red Hot Tribute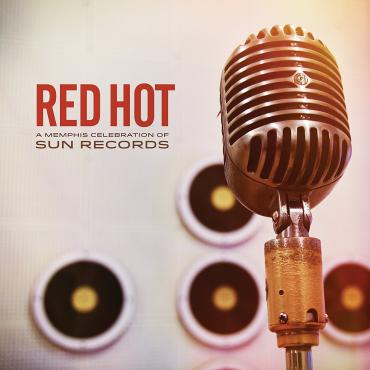 Take a pinch of Sun nostalgia, update it with some musical folks totin' a bundle of Memphis DNA , record it at the legendary studios where Elvis and them got their start, and let 'er rip. Red Hot celebrates the legacy of Sam Phillips' Sun Records, the birthplace of rock and roll that launched the careers of Johnny Cash, Carl Perkins, Elvis, Jerry Lee, and Charlie Rich.
North Mississippi Allstars siblings Luther and Cody Dickinson have the Sun/Memphis DNA, courtesy of Daddy Jim, who recorded "Cadillac Man," one of Sun's last singles, in 1966. That one didn't make the cut here, but there are plenty of updated goodies to keep you satisfied. The Dickinson boys are the core of the backing band here, along with John Paul Keith on guitar, Amy LaVere on bass, and Rick Steff on piano. But they get plenty of help from notables including Shawn Camp, Jimbo Mathus, Alvin Youngblood Hart, and Bobby Rush.
Jerry Douglas, who recruited singer/songwriter Shawn Camp for his Earls of Leicester band, says Camp sounds like the love child of Hank Williams and Lester Flatt. Camp nails that unlikely feat of vocal gymnastics covering Charlie Rich's "Lonely Weekend," Dickinson bouncing nasty, low- down honky-tonk riffs off the walls.
Two-time winner of the Best of Memphis Songwriter award Bryan Hayes takes a run at another Charlie Rich song, "Ways Of a Woman In Love," sounding more like Hank than Charlie.
The cast of the Sun Records TV show takes on Billy Emerson's "Red Hot," recorded originally by Billy Lee Riley in '57. Former BR549 lead singer Chuck Meade has his young impersonators well schooled, with Kevin Fonteyne as Johnny Cash, Drake Milligan as Elvis, Christian Lees as Jerry Lee and Jonah Lees as his cousin, evangelist Jimmy Swaggart. 
The cast recreates the original with youthful rockabilly exuberance.
Jimbo Mathus' recreation of Jerry Lee's "High School Confidential" is spot-on, the vocals virtually indistinguishable from the Killer's amphetamine-fueled original, Rick Steff sloshing the required JLL keyboard bloodletting all over the cut.
Alvin Youngblood Hart gives "Folsom Prison Blues" a wake up call without doing a Cash impersonation, just a country flavored rendition that honors Cash.
Luther Dickinson's re-creation of "Moanin' at Midnight" is the most powerful cut on the record, with Lightnin' Malcolm's guitar injecting a hill country feel into Wolf's classic misery ode. You get two versions, with Dickinson, LaVere, and Keith swapping lead vocals.
The originators of this music probably never dreamed that their efforts would reach much farther than the ears and feet of gaggle of teenage admirers, much less impact the lives of future generations of kids with life-threatening diseases. All the proceeds from the resurrected roots music captured here go to St. Jude's Children's Research Hospital. Sun never sounded so good.