Album Review
Sunny War's Haunting Poetry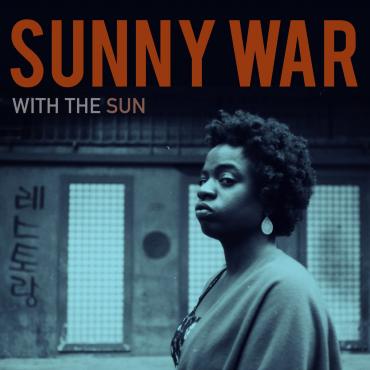 Sunny War's new album With the Sun exposes vulnerabilities, masks toughness, peels off layers of wanting and hope, and reveals glimpses of a ragged humanity that's by turns broken and whole. As a songwriter, she combines the poetic genius of Laura Nyro with the raw, unflinchingly open musical bravura of Tracy Chapman. The rootlessness of Sunny War's nomadic childhood drove her to search for her roots in music, and growing up in Nashville she learned to play Robert Johnson's blues on guitar. She eventually made her way to LA, where she became a regular street performer in Venice. On this new album, fiddler Nikita Sorokin, guitarist Milo Gonzalez, and percussionist Micah Nelson join her as she delivers emotionally crystalline poems wrapped in the spare, haunting rhythms and riffs of her chamber folk music.
"I'm Human" is the starkest and most poignant song on With the Sun. The song opens with a lead riff reminiscent of "Ohio," but a chorus of voices soon join Sunny War's vocals, along with a shuffling blues, that plea for the police to recognize that the person they're about to shoot is human, too. The haunting refrain, sung as almost the reverse of a gospel chorus and delivered as a blues chant — "I'm human/I'm human/I'm human" —captures the agony of being marginalized for one's race. The song demands that we all look into each other's eyes so we can see clearly that we're each human. "I'm Human" should certainly become an anthem of protest sung wherever the injustice of police killings occurs: "I'm human don't shoot/they want us all dead or in a cell/the ones who kill us never go to jail."
Sunny War's gorgeous fingerpicking guitar, and her vocals that mimic her guitar notes, provide the shattering beauty of the album's opener, "If It Wasn't Broken." As with many of the songs on the album, "If It Wasn't Broken" cannily revolves around the themes of blindness and recognition: How can you feel if you're empty, how can you love if you don't have a heart. "Many will hurt you/you'll hurt them too/you'll leave them high and dry/and they'll leave you blue/but the love you shared/was worth the world and more/how would you know if you had a heart if it wasn't broken." The album's happiest and jauntiest song, "To Love You," scampers along at a breathless pace, mimicking the breathlessness of falling in love; Sunny War sings note-for-note with her guitar licks, providing the urgent, excited feeling of having found a lover. "The Change You Make" opens with children's laughter, introducing a catchy folk tune that affirms that the singer's child will make her own choices about her life in this world as she grows older: "you won't get your lessons from school/you won't trust your leaders or their rules/and you many find a new road to take/the change you see will be the change you make."
Sunny War's With the Sun couldn't come at a better time in a society that's more and more divided. She promises no easy solutions to healing or hope, for her lyrics viscerally reveal how difficult healing and hope and love can be. That's the beauty of Sunny War's album, though; each song is a gem that reveals a brightness shining through the roughness.