Album Review
Super Saturated Sugar Strings Prove They're More Than Just Another Stringband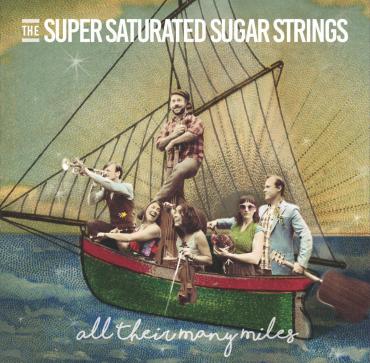 With all their many alliterations, the Super Saturated Sugar Strings are not actually a stringband in the traditional sense. The format was recognized as early as the 19th century with fiddle and banjo duos. In the realm of old-time music, stringbands later expanded to include a combination of mandolin, guitar, and/or double bass. And in jazz, string groups reinterpreted genres with these types of instrumentations and bolstered them with percussion and sometimes even scat singing.
Yet, the very first sound on the first song of the Alaskan's band's independently released debut LP is a wavering trumpet prologue led by a brass player Logan Bean. The rest of the band — a sextet comprised of singer, guitarist, and keyboardist Kat Moore; singer, guitarist, and percussionist Carlyle Watt; cellist Theresa Watt; violinist Miriah Phelps; and bassist Kevin Worrell — sidestep and tease their individual entrances until everyone comes elegantly crashing in together by the time the chorus hits. The song's outro, which features all six band members singing, harmonizing, interjecting each other, and clapping, epitomizes the band's joyful juxtaposition of styles and voices and personalities.
Throughout All Their Many Miles, the Super Saturated Sugar Strings traverse a wide range of musical territory. Almost a third of the album falls into a progressive pop-vocal category led by Moore's shining, yet smoky vocals ("Precipice," Amplified," "Long Road"). Another third, which features Watt's gruff, almost Tom Waitsian singing, harkens to traditional folk songs. The rest of the LP includes a range of instrumentals that could fit as well in feature-length film scores (the tension-ridden "Crocodile"), Broadway musicals (the uplifting "Float"), or high-paying television commercials (like the bouncy end to Watt's vocal song, "Love Cocoon").
In some ways, this works to the band's advantage, showcasing their versatility and virtuosity. However, taken as a complete, 41-minute piece of art, All Their Many Miles can also feel disjointed, like a series of EPs might have been a better way to package the songs with stylistic similarities. Still, for an unsigned band from the furthest reaches of these United States (even if they do have their own beer!), the Super Saturated Sugar Strings offer an exciting debut that proves they're more than just another stringband.