Album Review
Superior Lead Vocals & Surreal NYC Blues That Lives Up To Their Name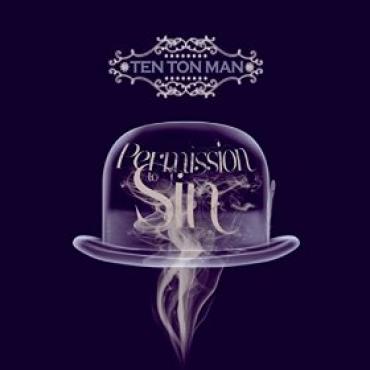 Some great music continues to come from Brooklyn, NY and though I am familiar with Ten Ton Man's music I must say they have made a sharp turn into some even more interesting music. Last year I compared them to singer-songwriter Tony Powers, Brecht-Weil, The Tiger Lillies and other dark artists.
This time, out of the gate Ten Ton Man has six invigorating, stimulating and compelling tunes that were planted, and came to fruition in the tradition of singer-songwriter John Hammond -- especially when he sings Tom Waits covers -- as well as, former X members turned Americana artists John Doe and Dave Alvin. Ten Ton Man also have a tinge of Marc Campbell of the other great New York-based band The Nails. Ten Ton Man's lead vocalist Paul Livornese continues to experiment and possesses one of the best vocals I have heard in years.
On their latest EP "Permission to Sin," the vocals are like a commanding Jim Morrison or John Hammond baritone and on the slower songs Paul never loses control, power or effectiveness. As good as their previous album was, this is an improvement. Not an improvement suggesting that their previous work was weak -- an improvement that solidifies the fact that Ten Ton Man have found their comfort zone. Songs linger in the mind longer and the up front addition of harmonica, trumpet and other varied instruments that don't always dominate this kind of showcase do invite the ears. The lyrical storytelling is also sharp.
The first track is a dirty juke joint blues with a down in the mud harmonica that snakes in and around Paul's deep vocal. This song – "Crazy Theory"  is the one that reminded me of Marc Campbell's deep vocals on songs with The Nails (famous for the song "88 Lines About 44 Women") but – The Nails were not an Americana-blues-roots band. They were darker. Paul is in full command of his song and it is pure Ten Ton Man. It has a creepy melody that sounds like the "devil himself may have written it." Paul's guitar and Hugh Pool's blues harp are like two separate strings tied into a tight knot.
"NSA"  is a slow crawl song but Paul's voice burns slow and efficiently. The song still has a nice blues singe and it's arranged in a manner that recalls the old country-blues tradition. The lap steel cries in the back ground and this is a blues-ballad that is wonderfully intense. "That Man," begins differently -- with a warm Spanish-style trumpet courtesy of Carter Crichlow and then Paul's resonant vocal which sounds a little sinister. It's infused with a deep penetrating Jim Morrison type vocal. The lyrics are superior and the seasoning is the subtle shades of brass that are beautiful. "Much More Sinning To Come," which is in the lyric -- would have been a better title for this newly discovered classic.
Another slow song sung over a nice drum-brush shuffle and harmonica is a bravura ballad: "Morning Break (Up)."  A simple, reflective and emotional tune where Paul sings about leaving someone but is feeling – or presumes he's feeling – more optimistic about it. "Life's getting better since I left you..."  -- there's a different take on a love song.
Percussion opens the following track with a banjo and then Ten Ton Man really develops into a first class Alt-Americana-roots band even if they rake the fine hairs of the underbelly of America. Isn't that usually where the most interesting songs come from? The addition of brass and an aggressive arrangement on "A Bone To Pick," showcases Ten Ton Man's more sizzling side. Paul has a talent to know which words in the lyrics require more emphasis than others and this is what makes his entire vocal approach appealing. This song returns Ten Ton Man to the style of The Tiger Lillies without being too "out there"  like The Tiger Lillies are. In this song, the funeral-dirge type finale is penetrating and it was a little surprise. I like surprises.
The brass, the deep tuba notes and crispy banjo plucks in the final track "Ashamed,"  is a musical gourmet delight. In the tradition of  The Proclaimers, Stackridge, a little mid-career Beatles, and the theatrical rock band Deaf School – this song is eccentric, arty, old-fashioned, vaudeville with Salvador Dali in the mix -- a surreal circus type jaunt. However, Paul's sincere vocals and honest approach maintains its power and appeal. A nice slide that is surprisingly rewarding. Twenty-one minutes of excellent escapism – Ten Ton Man create a musical nesting place to unwind and sink into.
And finally, Paul is one hell of a rock/blues/Americana/Roots vocalist and he deserves to be heard because the band he fronts is first-rate, they're original, and they say what they need to say through their music in an entirely creative manner. Hats off to the entire band who propelled this music exactly where it belongs and made it attractive to the ears in a six song EP. How about a full-length album next?
The CD art was designed by Jay Lathigra at Man Called Mate Design – a great, eerie derby filled with smoke and LP title – great logo. They should license that for all their work just like The Rolling Stones have their tongue, and King Crimson had that Celtic insignia. It's a great band logo – just change the copy as required.
I have to say it again – great things coming out of Brooklyn, NY. The other band I reviewed that recorded in Brooklyn was Dubl Handi and they too, were marvelous. Americana indeed.
Produced by Ten Ton Man and Gary Atturio at Studio G in Brooklyn, NY.
Website:    http://tentonman.com/
FaceBook:    https://www.facebook.com/TenTonMan/
Reverbnation:    https://www.reverbnation.com/tentonman
Disclaimer: The opinions expressed in this review / commentary are those of the author and do not necessarily reflect the official position of No Depression. All photography is owned by the respective photographers and is their copyrighted image; credited where photographer's name was known & being used here solely as reference and will be removed on request.
John Apice / No Depression / December 2015