Album Review
Swampy Soul Meets Western Swing, And It's Perfect Country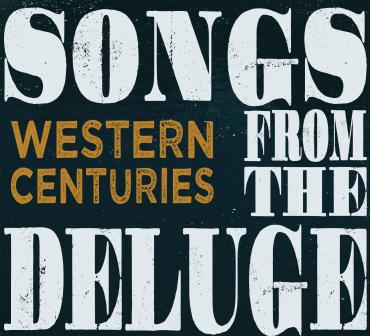 Western Centuries is the three-headed songwriting monster of Cahalen Morrison, Ethan Lawton, and Jim Miller drenched in pedal steel, meaty bass licks, greasy B3 organ and Wurlitzer, and a smidge of bayou gold. Flooding with witty prose over simple yet complex rhythms and melodies of all shapes, sizes, colors, and orientations comes Songs From The Deluge, as refreshing as sweet tea with the good ice on a sweltering Louisiana eve and their sophomore effort on Free Dirt Records.
Label the sound what you will, aesthetically these dozen songs are cloaked in individuality. Each a substrate to the next but very different sonic hues that all meld at the perfect time, an impeccable organ solo dying in the arms of a steel guitar run as in "Rocks and Flame" can be seamlessly tied to Lawton's gem of a honky-tonk rave up on "My Own Private Honky Tonk," a theme song to those of us who like to turn the records and bottles up, all by our lonesome, until it pisses the neighbors off. "Three Swallows" is an instant favorite, organ and pedal steel hugging Lawton's lyrics, Morrison's backbeat and Nokosee Field's low end like a child on mother. Jim Miller's lead guitar work is definitely no slouch either since we're on topic.
These city slicker Americana country and western vets teamed up with Joel Savoy of the legendary Savoy Family Band, and a Grammy winning producer at that, down in Louisiana to helm the production. It's not surprising how much Cajun and Creole Soul vibes seeped into the tapestry. "Borrow Time" is a prime example of that, featuring accordion giant Roddie Romero on the squeezebox and Miller on the lyrics.
The irony here is Miller calls New York City home, whereas Morrison and Lawton reside in Seattle's South End, yet they're the purveyors of endless minimalist western boogie and solid country dust-ups. It's a great record that won't leave the jukebox of a neon lit establishment or your own one-man party if there's an ounce of justice left on this Earth.