Album Review
Sweet Creation Is A Sweet Creation Indeed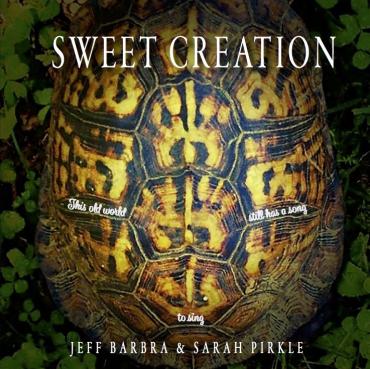 Mention music in the same breath as Tennessee, and chances are Nashville or Memphis will immediately spring to mind. However those who are familiar with the totality of what Tennessee has to offer will quickly affirm the fact that the eastern portion of the state has always been a breeding ground for great music as well, from its earliest offerings in Appalachian tradition to the current crop of superb singer/songwriters that call Knoxville and its surrounding environs home.


Husband and wife Jeff Barbra and Sarah Pirkle have always played a prominent role in that fertile arena, both as musicians and as hosts of "Behind the Barn," a program that places an emphasis on East Tennessee talent and originates live weekly from Maryville Tennessee on i105 WFIV. In that sense, they been supporters of the scene in multiple ways, not the least of which is the mark they've made as accomplished artists for well over 20 years. Nevertheless, it's been a lengthy wait for a new offering from the duo, making the arrival of their seven song EP Sweet Creation all the more anticipated.
Happily the record proves the wait was worthwhile. A listen to any of its offerings suggests that Barbara and Pirkle more than measure up to the competition, no matter where that competition happens to reside. Skilled songwriters and superb singers -- Pirkle, who also plays fiddle, has a voice for the ages, finding an easy fit between Emmylou Harris and Gillian Welch, while Barbra, the duo's guitarist, sings with a resonance and authority that grabs attention from the get go. With multi-instrumentalist and skilled producer Dave Coleman behind the boards, the music boasts both clarity and craft, making this one of those rare efforts that possesses commercial credence along with its pure down home delivery. Inevitably, these tracks make an emphatic impression collectively and all on their own. The sheer drive and defiance of Barbra's cowrite with Thom Jutz,"You Will Not Break Me," recalls the rebellious refrain of Tom Petty's "Won't Back Down," while Pirkles' ringing vocal on "Living Blood, Song for Omran" echoes with an embrace honed from the best folk tradition.
The fact is, every single song here reflects the sincerity and spirituality so fully engrained in their MO. A stellar achievement, Sweet Creation fuels the hope that the wait for the next offering won't be nearly as long.