Album Review
Syd Barrett shines on new Pink Floyd '1965-1967' box set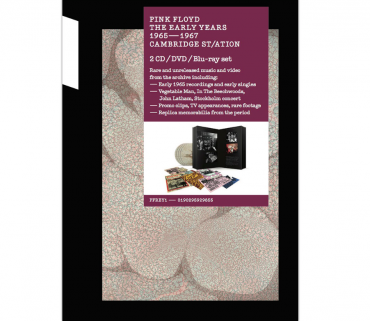 An audio-visual companion to Pink Floyd's "The Piper at the Gates of Dawn" album, "Cambridge St/ation" sheds light on a masterpiece, and a misunderstood genius
Roger Waters got it all wrong. Roger "Syd" Barrett, founding member and guiding light of The Pink Floyd, was never a "Crazy Diamond." 
He was a supernova.
Syd Barrett was the original lead singer, guitarist, and chief songwriter in The Pink Floyd. Talented, innovative, charming, and handsome, Barrett was the band's main creative visual and musical focal point, the centerpiece of the band. As a recording act, this lineup lasted a very short while, with only one album, the masterpiece The Piper at the Gates of Dawn (recorded at London's EMI Studios while The Beatles were down the hall recording Sgt. Pepper), and a few other scattered tracks, released during their tenure. What the new box set, Pink Floyd: The Early Years 1965-1967 Cambridge St/ation, does is compile most of the essential non-Piper material - much of it previously officially unreleased - and gather it on audio and video (2 CD/1 DVD/1 Blu-Ray). The point of Cambridge St/ation is to flesh out the rest of this exciting and innovative phase of the band's career, one which they never really overcame after Barrett's departure. However, the remaining members, with additional guitarist David Gilmour, managed to turn Barrett's breakdown into a perpetual cash 'atom heart mother.'
Originally released as part of a massive box set last year (available now in individual volumes), 1965-1967 is the holy grail for Syd Barrett freaks. If you do not already own Piper, this set may confound you. (If this is the case, stop reading now and immediately immerse yourself in all of its psychedelic majesty). However, if you've been raving and drooling over the prospect of an authorized - and cleaned up - version of rare Syd-era Floyd, this box is for you. While some of this material has been bootlegged as far back as the 1970s, or more recently as a project distributed among fans as Have You Got It Yet? (initially on CD-V!), great pains have been made to gather the best of the rest in superior quality.
Audio
The first CD begins with six songs recorded in 1965 by the original line-up of Barrett, drummer Nick Mason, keyboardist Rick Wright, and bassist Roger Waters, plus fifth Floyd Rado Klose on guitar, and on one track, Juliette Gale on vocals. At first, there appears to be little of the trademark Floyd sound to be found here with the band's material not obviously much different than that of a lot of other early British Invasion beat combos. However, after repeated listenings, you can hear the seeds of future Floyd material being planted. Most of the material is based on Bo Diddley and the blues, but with the occasional unexpected chord changes mixed in here and there, a hint of the band's future experimental leanings can be detected. Additionally, latter-day obsessions with animals can be found in "Butterfly" and a cover of Slim Harpo's (by way of the Rolling Stones) "I'm a King Bee." Then there's Waters' eerily prescient "Walk With Me Sydney," a sort of prototype to "Vegetable Man" (more later), about a bloke with a Monty Pythonesque list of afflictions, from fallen arches and peritonitis to "a washed-out brain."
Next up is a selection of some, but not all, non-Piper curios, seven in all. Yet the best is saved for last. A rare instrumental track, "In The Beechwoods," finally makes an appearance, followed by possibly the greatest unreleased single of all time, "Vegetable Man"/"Scream Thy Last Scream," where, in the former, Barrett chronicles his own disintegration. This material proves that, at least in artistic terms, his songwriting brilliance was still intact after the myth states he had already allegedly "lost it." (Criminally, there's still room for almost 30 more minutes on the CD, which could have been filled with, among other things, BBC recordings of this lineup.)
The second disc begins with a live concert recording. While two other poorly recorded Pink Floyd shows from September, 1967, have been traded for years, this recently unearthed Stockholm show recorded earlier that same week will probably be the best sounding representation of the Syd-era Floyd most fans will ever hear. In addition to such rarities as the opening "Reaction in G," and an early version of "Scream Thy Last Scream," the recording also captures the band in all of its full improvisational glory. Which is a good thing, since, in an eerily prophetic audio mix, Barrett is a ghostly presence here, with his voice virtually inaudible, while future bandleader Waters' sole lead vocal is far more prominent in his first major composition, "Set the Controls For the Heart of the Sun." It is also interesting to note Barrett's brilliant guitar playing is often more of a soundscape than a traditional example of macho rock star virtuosity, and an equal part of the band's overall sound.
The remainder of the disc is a nine-part, half-hour suite entitled "John Latham." The long, experimental, in-studio creation was named after a filmmaker whose work had been previously used as a backdrop for a few Syd-era live shows. This improvisation was recorded on October 20, 1967, as a potential soundtrack for a short film by Latham entitled "Speak," but was ultimately rejected. On first listen, "John Latham" sounds like the band tuning up, and then just randomly making stuff up as they went along, with little respect for melody, dynamics or unity. It sounds that way upon the second and third go round as well. However, after repeatedly experiencing the piece, it begins to make sense, especially as a soundtrack. While not exactly a toe-tapper, it is probably best enjoyed with some rolling papers and a gatefold sleeve.
Video
The real pièce de résistance of the set is the hour-long Blu-Ray/DVD collection of miscellaneous television, film, and promotional clips. This material is most impressive, much of it breathtaking, and comes closest to capturing the early days of Pink Floyd. It presents the band in several different guises, from a typical British Invasion band making silly music videos, to long improvised instrumental freakouts, to being the subject of scrutiny by a perplexed establishment, trying to understand this dangerous new psychedelic phenomenon from the outside, some more sympathetically than others.
The Floyd's May, 1967, appearance of the BBC's The Look of the Week is essential viewing. It not only features some live performances but the interview of Barrett and Waters by a howlingly condescending and pretentious classical music critic, Professor Hans Keller, has to be seen to be disbelieved. Other highlights include the long lost but recently unearthed and (as best as possible) restored version of the Floyd on Top of the Pops, miming their second single, "See Emily Play," and a clip of the band performing their (soon to be canceled) third single, "Jugband Blues," a song eventually included on the band's second album, A Saucerful of Secrets. An appearance on Dick Clark's American Bandstand during Floyd's aborted maiden voyage to the States only slightly hints at Barrett's troubled mind. Perhaps fortunately, the band's disastrous appearance on The Pat Boone Show has apparently been lost to the ages.
After exploring Cambridge St/action, fans will hopefully get a more realistic picture of Syd Barrett and his importance in the early days of The Pink Floyd. Often dismissed as an acid casualty, many decades of speculation and research point more accurately to mental illness, and a disenchantment with pop stardom, as the root of his erratic behavior. It is now, with the release of Cambridge St/ation, and the other volumes of this series, Barrett's tenure with the band can be compared to later incarnations of Pink Floyd, and one can finally decide what exactly is a dream, and what exactly is a joke.
CREDIT: Pink Floyd packaging artwork by Sony Legacy/PINK FLOYD RECORDS
 Buy Pink Floyd: The Early Years 1965-1967 Cambridge St/ation: