Album Review
Taking the Side of Relationship Songs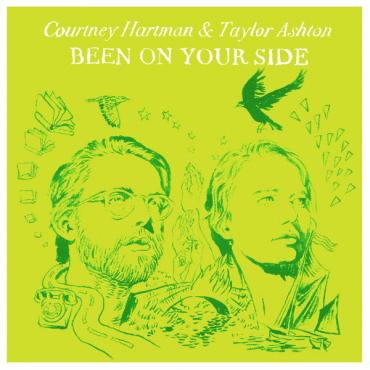 Been On Your Side is a collection of songs Courtney Hartman (previously of Della Mae) and Taylor Ashton (Fish & Bird) created together and apart over the last five years with New York City as their home base. These are quiet folk tracks that are inhabited by sparse instrumentation and the duo's tender voices, which nuzzle together and drift apart like partners do over the course of a relationship.
Fittingly, Been On Your Side is a record about relationships. Throughout the album Hartman and Ashton search for connections. They consider facets of relationships, romantic or otherwise, and magnify small gestures of love. On "Meadowlark," the simple pleasure of sitting together holds a weighty significance, and later, to close out the album, Ashton, through a Bill Withers song, urges "Liza" to rest her head on his shoulder. Emphatic love illuminates the affable title track, a standout song that's a celebration of an unbreakable bond: "I was a bridge that you couldn't burn."
Listening to Been On Your Side feels like walking into a room that two people haven't left for a few days — the air is close and sweet with emotions. The sentimental "Loving Hands" sounds like it was written at a kitchen table and possesses an endearing homemade quality. On the album's drowsiest track, "Hold Still," Hartman and Ashton's voices are at the forefront and the only additional noises are the faint toll of a bell and the creaks of the room they are in until jagged notes from an electric guitar jolt you from your slumber.
But Been On Your Side is not just about the good parts of relationships. Midway through the album, this sweetness turns sour as Hartman and Ashton deliver back-to-back tracks about broken relationships. Minus the wintery backdrop, the cutesy miscommunication of "Dead to Me" is reminiscent of "Baby, It's Cold Outside." Here, Hartman and Ashton represent two sides of a failing relationship, and their conflicting perspectives are both cringe-y and laughable: "I hope you stay cause I'm in love with you" / "I'm done with you. I want to love my life but living isn't fun with you." On the next track, "Better," a relationship has come to an end but hope still lingers — the more cynical will feel that this hope is futile.
Hartman and Ashton's own relationship and the softness that it conjures is the best part of the record. By including a cover of Nick Drake's "Which Will" and Withers' "Liza," it's clear that these songs also play a special role in their own narrative. The two artists exist separately and together over the course of the record, but they're always strongest as a unit. Been On Your Side is about cherishing intimacy — in its various forms — and it gives listeners a look into the lives of two distinct musicians and what brings them together.