Album Review
TAMI & TNT Blow Up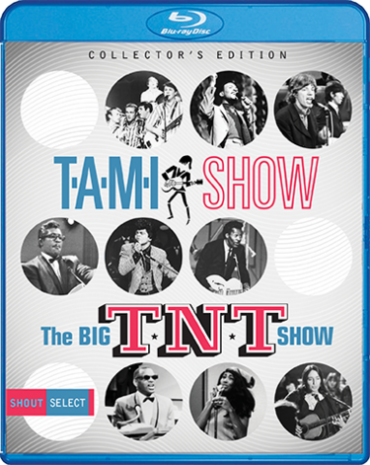 In 1964, the Santa Monica Civic Auditorium hosted the first televised rock concert. The TAMI show(Teenage Awards Music International) was supposed to be a nonprofit foundation funded by yearly concerts that would award teens music scholarship. None of that would come to pass, but the black and white footage became a treasured piece of rock and roll history. The lineup was as spectacular as it was surreal. Leslie Gore ("You Don't Own Me," "It's My Party") and the Beach Boys share a stage with James Brown and the Rolling Stones.
The attendees were undoubtedly familiar with most of the other music from the radio, but at that time its doubtful that few, if any white kids had heard of, much less seen James Brown. This was long before he was billing himself as the godfather of soul and master of the super heavy funk. Although he had a vocabulary of soulful wails and throat-ripping shrieks, he had hits early in his career as a crooner, with songs like "Try Me," "Prisoner of Love, "Lost Someone," and "Think." But as early as '55, he had the set ending, show stopper "Please, Please, Please" in his arsenal. But even if you had heard heard any of this stuff on the air or on record, there was nothing anywhere like Brown's stage show. He played the chitlin circuit to all black audiences. But if you were a skinny,white 14 year year old who snuck out of the house and slipped through a backstage door in 1962 to a JB show at Raleigh's Memorial Auditorium, it was a life-changing (and almost life-ending) ending experience. Brown had an orchestra, but so did Lawrence Welk, whose bubbly schmaltz was piped into our house on Saturday nights. But this orchestra was like getting hit upside the head with a lead pipe. The noise was overwhelming, the beat tribal and hypnotic, and then there was the power and the glory of JB hisself. Who knew a body could propel themselves like that on one foot and make those kinds of noises? The dangerous part was when Brown threw his clothes in the audience. If a cufflink landed at your feet, you were suddenly piled on by a gaggle of screaming girls and grown women willing to tear you limb from limb for a a souvenir, your only hope was a large male who pulled you from the wreckage and vetted your credentials (I've got all his records, I love "Night Train" and "Prisoner," and I wanna see him sing "Please,Please, Please") you had a protector for the rest of the show.
But the Santa Monica High School kids in the audience here had no such luck and they look like they've been in a trainwreck. From the moment Brown shimmies out on one leg in a puff of smoke doing choreography never seen in Southern California before, he's their god. He loosens 'em up with "Out Of Sight" before he slams into a version of "Prisoner" that literally blows their teenage minds. Still movie star handsome and dapper and conservative (for him) in a checkered sport coat and vest, JB starts out crooning but quickly puts some stank on it, doing a full knee drop at the end, screaming like a shot cat.
But that's just the warm up. "Please" is the one that scared Jagger so bad. The Stones were supposed to close the show, but Jagger knew Brown's work from records and had heard of the live show and had no desire to follow him. Brown didn't like the idea either, promising to give the English interlopers a show biz lesson they'd never forget. "Please" fulfills that promise. Brown drops to his already bloody knees time and time again, capeman Danny Ray coming over to drape him three times as Brown, shaking and stumbling, is led off by Flames' lead vocalist Bobby Byrd, getting almost offstage before throwing off the cape, grabbing the mic and once again howlin' like a man possessed by wildcats til he drops once again. He bounds up by himself for the finale, "Night Train," chugging along manfully, rattlin', shakin' and screamin,' doing the good foot shuffle on one leg, breaking into a full split, then a full frontal dive before going off, then coming back to sit on the edge of the stage, sweaty and exhausted face split by a grin, before taking one final bow. Wow. Follow that, white boy!
And the Stones do, and do a pretty good job, looking as young as much of the audience, Jagger even trying a spastic impersonation of the JB wiggle, the band backing him like veteran bloozemen/rockers on "Around and Around," Off the Hook," "Time Is On My Side," "It's All Over Now" and "I'm All Right."
That's the end, and Brown's set is the one that people remember, and rightfully so- it's still one of the best tutorials on showmanship ever recorded. But there's also some great footage of Smokey Robinson dealing out some deep dish soul on "You've Really Got A Hold On Me," working as hard as he can to claim Brown's self-imposed title as the Hardest Working Man in Show Business, and Marvin Gaye, resplendent in a snow-white tux, barely breaking a sweat as cranks out smooth dapper soul that nevertheless packs a punch. Chuck Berry takes a whack at all of his hits, chooglin' and duck-walking his way thru "Johnny B Goode," "Maybellene," "Sweet Little Sixteen," and "Nadine." The Beach Boys also delver excerpts from their sandy catalog including "Surfin' USA," "I Get Around" and "Surfer Girl."
That stuff alone would be a great package. Aside from the original theatrical showings in '64 and a few TV rebroadcasts, it had never been commercially available til Shout Factory put it out in 2010. But to up the ante this time, they made it a two DVD set,  adding The Big TNT Show, shot in '65 at the Moulin Rouge and supposedly a sequel to the TAMI show. Released in '66, it wasn't promoted well and quickly slipped from sight after its initial screenings. But once again, there some great stuff here. Folkies Joan Baez and Donavan do their things,The Lovin' Spoonfull glide in all mellow-like, Petula Clark yowls about going downtown, and Roger Miller shows up as "King of the Road." But the stars that shine the brightest here are the black ones.
Bo Diddley is the first act on the bill you wouldn't want to follow. Bo comes out banging out that classic shave and a haircut beat on "Hey Bo Diddley," alongside backup singers the Bo-dettes and the Duchess, Norma Jean Wolford, on guitar. The ladies look classy in ankle length slinky gowns, but quickly get down and durty, beckoning to the audience to come on and get some as they hunch suggestively toward the footlights. Bo choogles along hypnotically on "Bo Diddley,"doing a modified James Brown wiggly shuffle, sweatin' like man on fire.
Ray Charles showed up with the biggest band he could find, but soon discovered they weren't as attentive as they should be. When he counts off on "Let The Good Times Roll," half the horn section lays out. Ray stops the proceedings with a crash. "Who you waitin' on?" he bellows, before doing a recount and firing it up again. "Lets get widdit," he says, and they do this time, blasting away as Ray pours out a bushel of suave soul. Ray still ain't satisfied with the audience reaction or lack thereof: "I don't think yawl know what I'm talking about," he tells the teenyboppers, and maybe they don't, but they shriek ecstatically anyway.
Ronnie Spector takes her talented tonsils for a trot on "Be My Baby," bellowing majestically on a great version of her signature tune.
But this show belonged to the closer, The Ike and Tina Turner Review. Tina looks a bit more Anna Mae Bullock, a tad frumpier than the sparkly, stiletto-heeled Tina of "Proud Mary" still years down the road. Even though she looks like she's wearin' a tater sack, she still delivers the goods, them taters getting whipped into a creamy froth as she puts her internal blender on full. Looking dapper and dangerous, Ike hovers behind her leading his bassist and rhythm guitarists in some snappy side to side choreography. Tina warms up the crowd with a few bars of "Shake," but "A Fool In Love" really turns up the heat. There were four cameras rolling, and there are some great shots from the side and behind Tina and the band that really draw you into the performance. But Tina doesn't need any help to sell this stuff. She's wailin' like a catamount and Ike's keeping the beat pulsing like he was plugged into a 220 socket, sidling up alongside her to talk back in a gravely baritone to her sassy soul shrieks.
The Turners' version of "Please, Please" has the passion of JB's, and Tina takes it a step farther, walking out in the crowd to take one teenaged boy's hand, look in his eyes and give him a fantasy he can get off on for the rest of his life. Tina ain't doing no splits or knee drops, but she doesn't have to- she's pouring out so much sexuality standing upright that there's no reason to get down.
But she can sure get up, whipping herself and the Ikettes into a lather with an aerobic workout for "Goodbye, So Long" that'd make Richard Simmons burn his shorts. Ike slithers up to the mic to exchange some vocal Ooo-Wahs with Tina and the Ikettes go nuts as Tina does a slick-footed JB impersonation in her knee high swampers boots.
That's it, and it should be. You cant touch this. But it sure is fun to watch, over and over.