Album Review
Teresa James: Bonafide Rhythm Tramp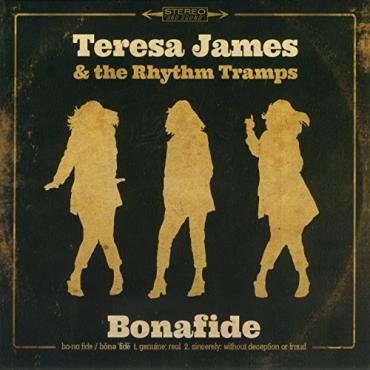 Don't try this at home. Take Wanda Jackson and Lou Ann Barton and sew 'em up in a sack with a bobcat. Shake well,then run like hell. The creature that comes tearing out after you resembles Teresa James in sound and fury.The Houston-based singer/pianist has been raising hell around Texas for decades and is a regular on Delbert McClinton's Sandy Beaches Blues cruises.
She wastes no time getting down to raunchy, rattly bidness on the opener, a cover of the 5 Royales hit "I Like It Like That." The Winston-Salem, N.C. group was one of the first groups to crossover from gospel to r&b in the late '50s with hits like "Come On and Save Me," "Right Around the Corner," and "Dedicated To The One I love," written by the Royales guitarist Loman Pauling but eclipsed by the Shirelles version in '61.
James' version is the same tempo but a lot more feral, the singer yowling like a bobcat with hellhounds on her trail, rippling the keys like Jerry Lee.
She reigns in her howl for the title track, sounding like a wistful Bonnie Raitt on the mellow ballad.
"My God Is Better Than Yours" sounds like a Tom Waits song covered by the Five Blind Boys. But the song was written by bassist Terry Wilson, who also contributes background vocals, the "Oh no, no, no, you're wrong again" response to James taunt about her deity's sovereignty.
"You Always Pick Me Up" sounds like an Aretha Franklin vehicle, a soul-drenched gospel-tinged cut backed with trumpeter Lee Thornburg and saxophonist Ron Dziubla's recreation of a Memphis horns sound that could have punched its way out of a Stax session in the '70s.
John Hiatt's "Have A Little Faith In Me" is a mainstay of James's live sets, and the version captured here is the perfect closer, Mike Finnigan's organ and Jerry Peterson's sax swirling around her soulful screams that fade to a mellow croon as she makes her case for one more chance.
You couldn't follow this, and you shouldn't try. The best thing to do is just wait til next time James decides to unleash her bobcat, find a safe spot to observe from, then sit back and watch the fur fly.