Album Review
Teresa Storch – Come Clean
Yes, I know my reviews can read like a press release or essay but my background in writing was in PR – though decades ago for television and motion pictures. I still believe an independent artist deserves to be assessed in a manner that helps pique a reader's  interest so they will explore the music further.
Recently, while listening to jazz submissions for possible review elsewhere I came across a young lady named Teresa Storch. Originally from Omaha, Nebraska and recording and residing in Colorado – Teresa got my attention because she seemed to bridge the gap between – country and jazz. Yes, you heard me right.
I always thought about this possibility but people would often think: how can you cross Louis Armstrong with Hank Williams? But, if it's thought out, and it would take some work, that possibility would certainly be a challenge. Hypothetically, I am not talking about Duke Ellington playing with Willie Nelson – although after I saw Joe Cocker sing with Pavarotti I knew anything was possible. And Duke Ellington? He probably would have played with Willie if he were in his prime and performing today. Duke was always up to a challenge and Willie always likes diversity – after all he too sang with Pavarotti and Tony Bennett. Sometimes when I hear things like this, I wish Elvis Presley had lived and was able to do things like this with a variety of artists.
That brings me back to the wilds of Colorado and Teresa Storch. While the music I describe was first performed -- to my knowledge -- by a Irish-Celtic band The Moving Hearts with Christy Moore in their tune "No Time For Love," the concept of country-jazz was fully realized in a thrilling manner in this brilliant political song. I thought I would never hear the likes of it again.
But somewhere in the depths of this new album – Teresa further explores this music concept whether she knew it or not. And she succeeds. She may "sound" a little like other female folk-country artists but in reality her approach has her definitely walking down a separate, though parallel road. Not all of her songs are country-jazz – but when she does scrape the edges of this rare genre she is a fine example of what this music could be. She has brass coupled with violins, fiddles, violas, saxophones, trumpets, trombones, mandolins – wow. It's like salty potato chips with dark chocolate. It's like prosciutto on a slice of cantaloupe. It's a cup of hot Earl Grey tea with Irish Whisky.
And while Teresa is in no way copying Moving Hearts – she is following in their footsteps, their tradition -- in her own special way. I sincerely believe as time goes on and she develops her creativity – if she chooses to remain in this style -- she could produce an exhilarating live showcase with the songbook she has already produced.
My only criticism is the album art work. Not edgy enough to represent the kind of music packaged within. "Come Clean" is a fine enough album title – but, more thought would have put a better spin on the title. But that's just an opinion.
The music is where the focus should be: On the first track "Come Clean" – the subdued brass with its subtle touches drive the song subliminally as this Colorado-native sings in a clear, contagiously soothing voice. I was pleasantly surprised -- as mentioned earlier -- to find folk songs with brass coupled with older more traditional acoustic instruments. Vocally, Teresa is similar to the marvelous Michigan folk singer Carrie Newcomer. If you are familiar with Carrie – Teresa is cut from the same ambitious original cloth.
"Still" is another faithful song – a little similar in melody to Del Amitri's "Nothing Every Happens," but, not so much that it would matter. The similarity is complimentary the same way as Bob Dylan's endless "borrowings" of traditional melodies into great songs like "Girl From the North Country."
The focus should be on hearing the brilliance of brass along side folk-oriented instruments in an ingenious manner. The arrangement keeps the music sophisticated and makes it a pleasant curiosity. It's genius lies in the balance of fiddles, violins and acoustics with the waves of trumpet, trombone and saxes blending seamlessly and arousing the ears. It's an invigorating blend of melodic energy.
"Happy Girl" is stunning. Teresa, in a lower, sad and sexy register, trickles her voice down into your ears with compelling words. It's like looking at a painting and every time you return to it you see something you missed. It's poignant -- and though she is singing about being a Happy Girl you wonder by the vocal if she is telling the truth, trying to convince herself and others that she is…really is…when there are moments when she probably believes otherwise. Powerful subject, and a beautiful approach that listeners will relate to if they listen closely. Emmylou Harris would a find a wealth of inspiration in these songs if she listened to this collection. However, Teresa's original version would be hard to top.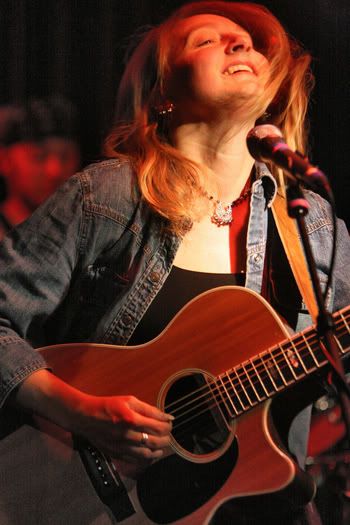 "Abigail" – is a nice shuffle of a folk-pop song. Delicate, story-approach. "Before I Go Home" confirms that someday this artist will be in the league with Emmylou Harris, Patti Griffin, Mary Chapin Carpenter, Shawn Colvin and Roseanne Cash. This has a nice warm Deborah Holland type-vocal. A ballad with a confident country approach. But, Teresa's magic is in how her vocals are supported by little flourishes of her brass section. Non-traditional folk-oriented instruments and arrangements. Balanced on a fence between country and jazz like no other since the fiery Moving Hearts song "No Time for Love," which at seven minutes encapsulated the country-jazz prototype. A new approach at music for certain. Seldom explored by others. Teresa's continuing this here brilliantly. Not as flamboyant, but in that tradition.
"Paris" -- just when a listener thought Ms. Storch was strictly a folk-country singer with pinches of jazz arrangements she explores Euro-jazz Parisian style. A Daniella Nardi approach exemplified on her fine independent album. A method used sparingly by Leonard Cohen on "Dance Me To The End of Love." This is Serge Gainsbourg and Jacques Brel strained through Americana. Quite a concept. Violin and trumpet notes dance together through the smoky Cinzano café air. Teresa quite competent with just about any genre she tries – and with a degree in Applied Physics she is a wonderful example of intelligence married to traditional music -- the result is an LP filled with sparks. 
"Make It Last" a jazzier style doesn't compromise Teresa's folksy vocal approach. The instrumentation is disciplined. Not pretentious or preposterous. It's experimentation that works with two genres of music side by side like milk in a chocolate pudding mix under a low flame and stirred until thick and sweet. All of this from a woman from Colorado? How could that possibly be? It's like discovering your favorite wrestler has a Masters Degree and in real life was a teacher (George "The Animal" Steel).
Teresa's vocals are deeper in this song only to prove that she would be comfortable in lower Manhattan blues clubs, as well as, cabaret clubs in Paris or San Remo. She rides the brass on this tune like an expert surfer. Balanced on a board going into a Pacific Ocean pipeline and playing the wave while making a cell phone call.
"Make You Mine" is a slight down home return. A back porch frolic. Can you say that if you're in Colorado? Fiddles are sharp and the back-up voices run together like water colors. Loretta Lynn perfection. Country-swing at its newest best. The playing is meticulous and has the charm that makes you want the song to keep playing.
"Sympathy" is paced perfectly after the European styles, the country-jazz excursion, the Country-swing assault. Here, Teresa sews together a ballad of intensity. "Opulent endings, faith-filled beginnings, you haven't had for a while – not since the voices, they've cut you to pieces, can't trust your own mind." This is not your dad's country music. Not a single mention of pick-up trucks, beer or horses. Thank God. This is a song Patsy Cline would have been proud to sing. Maybe a little too awkward for Willie Nelson, lots of notes to be held. This is quite the thought provoking song – excellent for late night FM stations. Head on the pillow, last sips of Jim Beam, final drags on the cigarette -- just before sleeping.
"This World" is dipped in a little 60's soulful grooves with a nice touch of Muscle Shoals brass ala Bar-Kays ("Soul Finger"). Guitar is reminiscent of Steve Cropper back on many of the biggest 60's soul hits. Teresa really stretches her stylistic muscle here and proves her mettle. In the future, she may have to rehearse a little more growl and vinegar in places to convince a hard soulful crowd – but, this is first rate otherwise. The concluding touch with the harmonica is a nice finale.
The album is certainly filled with a variety of soundscapes. Instruments offer a mosaic of musical approaches, never up-staging the singer or her message. As a closing number "Let Me Remember It" is classy and reflective. It's when an artist sings this way at the end of a recording that the purity shines. No showboating, just sincerity embedded in the closing presentation. Teresa's vocals are compelling, saturated with angst yet somehow the under current flows quick and optimistically.
It bridges the reason she was a "happy girl" at the beginning and reinforces it. She now believes it. She knows it now. She wants you to believe it. She IS a happy girl. A brilliant tying of loose ends. Coming wonderfully full circle and confident.
While every song, in my opinion, is meat and potatoes, some are fillet mignon. It's a matter of taste. But the musical cuisine here has ingredients that are sure to satisfy many appetites. Teresa Storch deserves attention for the recipes she shares on this platter.
Teresa Storch music can be sampled on MySpace Music, YouTube and her own website.
Front Cover Album Photography by Rebecca Stumpf
Photo Credit: Image at the window: No Photo Credit Available has appeared on LastFM
Photo Credit: Image with guitar: Photo from Listening Room Network 
Website: http://www.teresastorch.com/
Rdio samples: http://www.rdio.com/search/teresa%20storch/albums/
YouTube live performances:  https://www.youtube.com/user/teresastorch
MySpace Music:  https://myspace.com/teresastorch/music/album/stream-of-concrete-19494133
For comparison and reference - Moving Hearts' "No Time For Love"  https://www.youtube.com/watch?v=-hJWGPDr5yI
Disclaimer: The opinions expressed in this review / commentary are those of the author and do not necessarily reflect the official position of No Depression. All photography is owned by the respective photographers and is their copyrighted image; credited where photographer's name was known & being used here solely as reference and will be removed on request. YouTube images are standard YouTube license.
John Apice / No Depression / November 2014