Album Review
Them Dam' Haynes Boys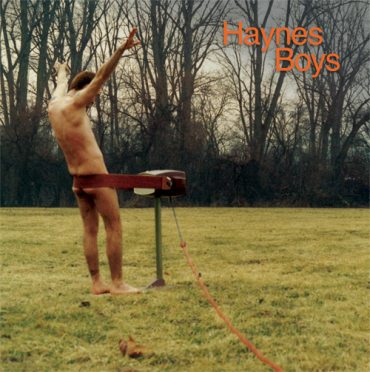 The self-titled and only album by the Columbus, Ohio band Haynes Boys does not sound like it is almost 20 years old. Perhaps it is because great music is always timeless, or maybe there is something more. The hard-driving roots rock music it features is just as prevalent and relevant in 2015 as it was in 1996 when the album was released, but maybe there is something more than even that.
The songs are populated by the kinds of characters who are fun to have around until the inevitable trouble begins. The stories are rich and truthful and heart-filled, and the twangy, punky rock music proves the ideal vehicle for these tales of victorious tragedy and broken-down triumph.
The roots of the music is a natural out-growth of a love of the Byrds and local Columbus legends the Beetkeepers, and is informed by a love of the pop music of XTC and Prince, among others. Fueled by the songwriting prowess of Tim Easton, grounded by the heavy rhythm section of Aaron Rice on bass and Jovan Karcic on drums, and driven forward by the dense yet glimmering guitar of Freddie Free, the album's eleven songs fly by like landmarks along a country highway.
The opening track, "Jackie" tells a tale of inopportune love - in this case for a car or, more precisely, a 1962 VW van lost to a twist of fate and the Columbus police impound lot. "Jackie, I want to have you, but your new man drives a tow truck."   The song is filled with imagery of the road and the machines that drive it and is conveyed via a resounding melody that sets things off on a good foot.
"Guardian Angel" is kind of like a metal power ballad for people who don't really like metal power ballads.
"The New Franklin County Woman" is a snappy rave-up with some punk-inspired vocal moments, and it is one of the standout tracks on the album.
"One Last Question" opens in a hail of feedback before settling into a dynamic roadhouse rocker.
"Murder, Murder" would not sound out of a place on a classic Uncle Tupelo record, and that is by no means a bad thing, and yet the song does not sound imitative or derivative in any way.
The album closer "The Lonesomes" is a heart-breaking country-folk song.  Stick around for a  hidden "bonus track" that is a vivid reminder of the nearly lost experience of the answering machine. Hint: Voicemail is not the same thing.
The album was recorded in Nashville with producers Brad Jones and Robin Eaton with post-production done by Fred Maher, whose credits include work with Lou Reed, Matthew Sweet, and Lloyd Cole.  Due to touring commitments, the band only had a week to record, and the tight schedule seems to add an element of urgency to the album, while the stellar production team assures that the album has the proper balance of polish and grit.  
The most impressive aspect of the record is that it is a once delightly diverse in musical styles while maintaining a cohesive and original sound throughout.  For those who knew the Haynes Boys back in the day, this should be a delightful trip down memory lane and a long overdue appearance on vinyl.  For others, the album will be not only a great "lost" piece of mid-90s roots rock music, but a great example the kind of heartfelt music and strong songwriting that will hopefully  never go out of style.
Haynes Boys
is set for release on June 23.  Visit 
http://www.re-vinylrecords.com/haynes-boys.html
 for more information.