Album Review
These Soul-Funk Drivers Aren't Asleep at the Wheel of this Smokin' Energetic Ride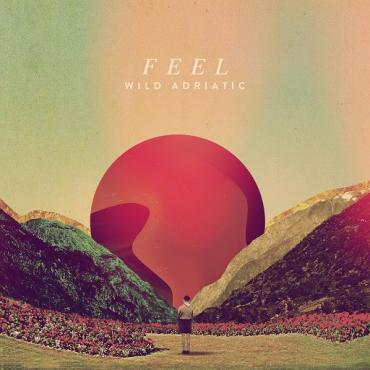 Not exactly what would be considered Americana-Roots-Country-Rock Music in the truest sense but, Wild Adriatic caught my attention because it seems to be a sincere, genuine attempt at revitalizing (not re-inventing) some early 70's funk-soul and fusion styles. That said, it can be considered a "roots" music planted in a different soil. 
The opening song on this collection is "Appleton," and it has that Funkadelic groove smokin' almost immediately and at the same time possesses Sly and the Family Stone energy, and an old jazz-rock brass band Ballin' Jack's – cajones. Yes, you heard me right. 
While I was never a big fan of Earth, Wind and Fire -- a little too repetitious for my taste and falsetto dominant -- I will admit the musicianship of EW&F was always on the mark so I need to throw them into this comparative mix. "Runnin' Thru," has a vocal redeemed by some smart lead guitar weaving through a steady funky beat and danceable turns.
Lead vocalist Travis Gray has that typical radiant soulful high pitched, angst-ridden voice that is planted in the same soil as Sly Stone. What makes this band of interest is that they are only three people (right now) – the rest are all featured appearances by other musicians (who definitely "get it" when they play for this band).
The arrangements are tight, the feel, while derived from those early 70's bands are still smartly performed with a more modern edge which doesn't make any of this sound dated, which is easy to do, or at the least tempting to do. 
"Come Back Baby," is smooth and never loses its funk edge. Nice vocal effects make it interesting, and the horns are like honey. This was obviously thought out and none of the instruments crowd the others. I can appreciate the well played retro guitar and the sound produced -- with its driving tone. Overall – the tune has muscle. This is the difference between an amateur funk band and professionals. 
"Cruel Lovin'" opens with a dynamic intro and Travis starts to sing with his desperate tone overlaid by the driving band. This would have been a great Otis Redding track – it has everything. It prowls like a cat, the bass line by Rich Derbyshire is relentless and Mateo Vosganian's drums are tribal. The lead guitar snakes around like a python and this tune's one of the best. This could easily be the show opener or encore tune. It is designed with a song structure that could easily be jammed on for twenty minutes with embers flying all over. Excellent.
The tribal drums continue on "Chasing a Ghost," and this band's excellence with interpreting the old roots of funk is on target. While I like Travis' vocal style I believe where this band needs a little suggestion is another vocalist, a counter-vocalist, male or female with a low tone the way Larry Graham used to power his way in-between some of Sly Stone's vocals and Sly also had those wonderful female backup singers. It was the perfect frame.
The bass and drum work on this tune is tight and almost simply instinctive. All the ingredients are here for a return to old funk that has been polished to a high sheen. No rust on these rails. The guitar is absolutely beautiful with Travis' voice on this track. And particularly on this song, unlike some funk tunes of the past, it's not silly, inane or just going through the motions. It has depth, it has mystery and at times it has a swampy blues effect. Towards the end, the sounds they inject are numerous and colorful. Another grade-A egg here.
The other musicians involved throughout this performance are Scott Hannay on keyboards, Alex Marrero who provides percussion, Mike Bafundo blows a mean trumpet, Vicky Medeiros bellows nicely on her baritone saxophone, John Mundy plays the "bones" – or trombone to the uninitiated and Mike Oehman simmers on a bright tenor saxophone.
"Same As It Ever Was," is beautifully plodding, and a well-arranged performance piece. Travis provides one of his best vocals. He soars all over the heavens and lays down some guitar that Prince and Stevie Ray Vaughn would approve of. From the opening notes and nice effects – the guitar penetrates with a solid rock groove. Travis again chooses to write a song that is original and creative in the funk annals. He seems to be conscience of writing about different things from what has gone down in the past. And he does so, without losing sight or feeling of what it's all about – being down and dirty.
Travis sounds a lot like he took a page from Ballin' Jack's late lead singer Luther Rabb ("Hold On") from their 1971 first album -- with a furious workout that featured a sensational trombone effected solo during the instrumental break. The tune had an infectious steady hi-hat monster beat. The group overall was always considered a very under-rated horn band that did manage to chart once and released four exciting Columbia albums.
"From the Start," is good but, maybe a little too much borrowed from the early 70's. It has a frantic wha-wha guitar, a great beat, and vocals with solid horns throughout nonetheless. What's interesting here is that Travis sounds like he is singing with himself – asking and answering in two different voices. This song would be improved if he added a female vocalist to do some of the vocal chores with him. The song is a little too rhymed and formula-oriented. But, taken in its entirety this is to be expected. No one can hit the target consistently. I must admit at times, this is what needs to be done to give birth to a standard funk tune. Certain elements must be present to have that dance beat in line and the simplicity is gold. Travis' performance saves the tune because his performance instincts are well-honed and excellent.
Nevertheless, the tune has reliable energy, sincere grooves and even though this is the least of my favorites it's head and shoulders above much of what passes for funk today. Today's funk usually just lays down the proper beat but then the vocalists sing nonsense. They're all over the place with their mindless grunts and wails. Maybe they should listen a little more to George Clinton...or Travis.
The songwriting and arrangement on these songs do veer away from the standard a little. They possess authentic, original detours into funk land seldom visited. Travis' vocals are a wall of sound at times and then BOOM – without notice, the song segues into a real powerhouse tune  and "Hurricane Woman,"  begins: the lead guitar is the star of this tune as the riff is infectious and for rock fans not big on funk this song will stop them in their tracks. OK, it's not Eric Clapton but, as the song progresses it gets hotter and hotter and I am surprised the guitar just didn't melt. Just a tad of fuzz tone and the workout blisters over a steady beat and monster riff. Reminiscent at times of Jon Butcher's guitar.
Typical early 70's jam-type openings – "Blaze of Love," features some heavy bass and precise snare beats. Travis turns his voice into a cross between the mellow but powerful vocalist Angelo Bond, the high pitched funky Jerry Knight ("Good Times") and Terence Trent D'Arby. Once again, Travis' lead guitar injects the funk power.
Remaining with the formula style funk "Some Nerve," has some echo on Travis' voice and it has that wonderful stylistic attack – guitar and vocal together in an effective performance with stability and it's incendiary. Isn't that what funk is all about?
This has that nuclear-powered approach that gets feet to stomp and hands to clap. Lenny Kravitz has to step back for a moment because the future is knocking on the door. If Travis was influenced at all by Lenny then that's a good thing, a reliable thing. The guitar solo in this song dazzles. The problem with it is this: it should have lasted longer. But isn't that the case? The best-tasting piece of pie is often the smallest piece.
At this junction, Travis is wise inserting a jazzy bass heavy slow and zealous tune "Busman's Holiday," that is a perfect tune to conclude the 11-song album. Travis has a winning storytelling tone to his voice – very listenable and when he gets into the song he carries a listener along with him with ease. The background vocals are glorious and again, when the lead guitar enters the scene it's like a second vocalist.
Wild Adriatic is a nice name for the band but it does not exemplify what the music will be.  
I didn't expect the music I heard to come from a band title like that. The guitar heavy swagger is excellent, but the funk and groove stylings are nowhere suggested or implied in that band title. As much as their CD cover art is beautiful – and it is -- it doesn't suggest the music being played in the artwork. In other words, the marketing could fail to attract listeners who are not acquainted with the band. Funk music....black listeners love that type of music. Would a black person pick up this album based solely on the artwork of the CD? Does it suggest a music that a black person would want to listen to? Get my drift? I worked PR for decades -- this is where my commentary really counts. 
I would never have picked up this album if I were a funk enthusiast based on the album art. 
If you look at some of those creative Miles Davis album covers from Columbia years back – Bitches Brew, Tutu, Live-Evil, Water Babies, Birth of the Cool, Kind of Blue – it suggests what you are going to get musically.
Ok, many people knew Miles Davis and that he was an inventive jazz trumpet player. But, the artwork defined the music enclosed. If you are going to play a mix of guitar-heavy rock-funk-groove and soul you need a cover that "speaks" to that very essence. Give the listener or buyer a hint of what is enclosed. Especially those buyers of music unfamiliar with your work. Why am I even bothering to mention this? I was in the graphics, advertising, and marketing business for a long time. Believe me – the package you produce is as important as the music you play. Now…the designer of the "Feel" album is a good designer. They just have to rethink their approach and go a little deeper into the music Travis Gray is producing. Get rid of the spaceman and the planets. It has nothing to do with spacey music or the word "feel." Look at images and art and think about whether they are groove heavy, grit dynamic, funky faburden (look it up) or soulful in its sweep. What image do you want to display? Back in the 50's and 60's the way you looked was what was played (or expected). From what I saw in the CD the three main musicians do look wonderful in a Wild Cherry manner ("...play that funky music white boy..." indeed.) This band should have been more prominently featured somewhere in the cover art. They may not be black musicians but they do look like funk meisters and they are all proficient. Just do not put a bottle of Jack Daniels in their hands leaning up against a rusty field truck. Let's leave that commodity to the country singers. 
I just feel this is where some work needs to be done. Don't get rid of your artist/designer – Wetherbee Creative. They appear to be quite capable. They just need to be guided into another direction and be sure they understand your music and message. Angel Alonzo's photography is good but needs to think a little funkier.
So -- there are two weakness' with nothing to do the music or performance that needs to be addressed at some point: the CD artwork going forward and the band name. Wild Adriatic doesn't say anything about the music played. I gave the title to four of my music associates to tell me what kind of music they thought would come from the album: the first -- something more European in melody – because of the word Adriatic (a body of water that separates the Balkan peninsula and the Apennine Mountains from the Italian Peninsula).
A frenetic fusion jazz band; a lounge band playing cocktail jazz; one even said the title of the album "Feel" was way off. It makes it sound like something that would be between Chuck Mangione and John Tesh. The good news is that after I played the album for them they loved it and thought the packaging needed to be reconsidered, as well as, the name of the album for next time.
Personally, I thought "Chasing a Ghost," would have been a better title because the style is from the early 70's and in some respects the band performs a superior hybrid of that type of funk-groove music which is a credit to the band. Take advantage of that as a promotional edge and don't undermine the fine musical work you produced by using art that isn't savory or representative of your efforts. 
The executive producers were Alana Duglas, Kym & Cliff Diedrick and Ed Lopez who invested in a great project. The CD was produced wonderfully by Chris "Frenchie" Smith with Wild Adriatic and the sound on this CD was impeccable. Smith and Sean Rolie engineered. The album was recorded in Austin, Texas and the band was formed in Upstate New York. I am looking forward to more from these fine musicians. They are keeping a viable American music style alive and well and I could add...interesting. 
Website: http://www.wildadriatic.com/
Bandcamp:  https://wildadriatic.bandcamp.com/
FaceBook: https://www.facebook.com/wildadriatic
Disclaimer: The opinions expressed in this review/commentary are those of the author and do not necessarily reflect the official position of No Depression. All photography is owned by the respective photographers and is their copyrighted image; credited where photographer's name was known & being used here solely as a reference and will be removed on request. YouTube images are standard YouTube license.
John Apice / No Depression / April 2017