Album Review
Time Well Spent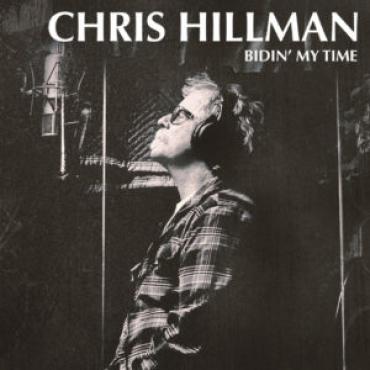 We can be grateful that Chris Hillman has been biding his time. His first studio album in over ten years, Bidin' My Time­, shimmers with beauty, resounds with haunting melodies, and sparkles like a diamond, shining light from every musical facet of his long career. Produced by Tom Petty, with Hillman's long-time friend and musical collaborator Herb Pedersen wearing the hat of executive producer, Bidin' My Time­ rambles eclectically through the fields of rock ("Wildflowers"), folk ("Bells of Rhymney"), and pop ("Walk Right Back"). His voice has always been the staple that gives the Byrds, the Flying Burrito Brothers, Souther, Hillman, Furay, and the Desert Rose Band their distinctive flavor, and Hillman's powerful, moving, and evocative vocals propel this album. He's joined by on this new album by David Crosby and Roger McGuinn, Pedersen, John Jorgenson, Jay Dee Maness, Mike Campbell, Steve Ferrone, and Benmont Tench, Mark Fain, Josh Jové, and Gabe Witcher.
In the original version of "She Don't Care about Time," (the B-side of "Turn! Turn! Turn!"), the Byrds harmonies dominate the song, along with Roger McGuinn's jangly 12-string guitar. Hillman's new version of the song, written by Byrds' co-founder Gene Clark, also features McGuinn's guitar, which launches the song with its singular lead riff, but it's dominated here by Hillman's propulsive vocals that capture the freedom of the song's subject. Clark brilliantly weaves J.S. Bach's "Jesu, Joy of Man's Desiring" into the song's bridge, cannily elevating the tune's thematic reflection on freedom and joy. The pedal steel and piano breaks in the bridge of "Restless" carry the blues-inflected country tune momentarily in a different direction, giving the singer pause enough to embrace the joy in his peripatetic wonderings.
I've been blessed with a good life
Even more than I deserve
Did I really make a difference?
Have I lived every word?
Of the pages that rustle
Every line and every curve
Keeps me restless until I find the right word
I'm in no hurry
Got no worries
Just trying to be the best I can
I'll carry on
Just to rest in your arms.
The album opens with a haunting new version of a Byrds' classic, "Bells of Rhymney," featuring Crosby and Pedersen on vocals, setting the tone for the musical splendor of the rest of the album. "Given All I Can See" asks perennial questions about good and evil, justice and injustice; it's fair to say that it's a kind of prayer asking for the strength, mercy, and grace to withstand the corruption and unrighteousness upon which the singer looks every day ("forever I will seek the mercy and the grace/given all that I can see"). The title track hearkens back to the sound of the Souther, Hillman, Furay band; it's a slow-burn country rocker that counsels the wisdom of waiting for the right moment in life.
Every song on Bidin' My Time­ shines with its own luster, illustrating Hillman's dynamic ability to embrace every song he sings, infusing it with joy or plaintiveness or pensiveness so that we experience those same feelings with him as we're listening.