Album Review
Timeless Conway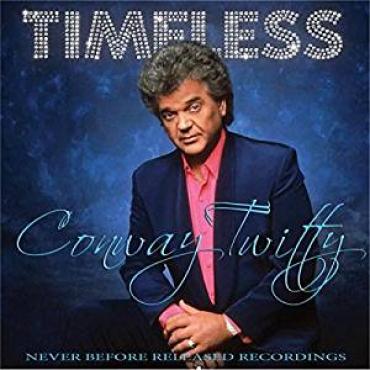 Through no fault of its own, this one almost got away from us this year. It came out in October, but it's too good to have let fade away without mention. Please take a look and a listen.
In 1957, Harold Llloyd Jenkins put his fingers on two tiny dots on a road map to pick out his stage name. For the rest of his days, Conway, Arkansas and Twitty, Texas, got more notoriety through Jenkins then they ever would have left to their own devices.
Conway Twitty had the power and range of Roy Orbison, able to soar from baritonal depths to the other end of the musical spectrum with ease. Since he cut it in '58, not many have had the nerve to try to cover his four million selling original (co-written with drummer Jack Nance) "It's Only Make Believe." Twitty starts off in a soulful croak on the bottom line, easing his way up the staff 'till lesser mortals are creaking like a rusty gate, soaring triumphantly to the top rung, hanging around to stretch out his tonsils a bit more before plummeting back down to the bottom and repeating the climb two more times. And he had it till the end. There's a there's a clip of him performing it in '93, the year he passed away, sounding as strong as he did when he cut it 35 years before.
Recently, new recordings of Twitty have surfaced, unearthed by his daughter, Joni Twitty Ryles, taken from a 1972 series of country singers including Dolly Parton and George Jones promoting Navy recruitment with 15 minute segments to be released commercially to radio stations nationwide. For some reason, these Twitty cuts slipped through the cracks and were never commercially released, the masters bought by Country Rewind Records' Tom Gramuglia. Recorded in Elvis' guitarist Scotty Moore's Nashville studio in '72, the cuts were laid down by Twitty 's road band, the Twitty Birds. Twitty played guitar, backed by John Hughey on steel guitar, bassist Joe E Lewis, drummer Tommy Pork Chop Markham and Pig Robbins on piano. Ryles produced the re-release, augmenting it with harmony vocals from his husband, respected Nashville singer John Wesley Ryles, with a handpicked coterie of Twitty's friends and family adding some additional instrumentation.
Twitty throws a ton of country soul at Joe and Rose Maphis' '"Dim Lights, Thick Smoke," Hughey's guitar weeping a puddle of steel tears on a tune Twitty first recorded on '68s Here's Conway Twitty & His Lonely Blue Boys.
"Hello Darlin'" never sounded better, Twitty doing that bottom to top scale soarin' thing on every line, wailin' like a lovesick soul. This stuff sounds like it was recorded yesterday, and to make it even better ear candy, its available on vinyl as well.
Twitty wraps his tonsils around the rafters and swings from 'em once again on "How Much More Can She Stand," a number one hit for him the year before he recut it here. 
It's one of the best country cheatin songs ever recorded, Twitty confessing that he even though he loves his wife, he has a devil in his body that he just can't satisfy. "I try to stay at home, love only her /Play with the kids and watch T.V. But then my mind becomes unsure/About the kind of love I need," Twitty moans before going out and engaging in the devils' bidness with other women. "My reasons for cheating are as good as lies can be/How much more can she stand, and still stand by me?"
Ray Price's '56 version of "Crazy Arms" set the bar pretty high, but Twitty borrowed it and had a number one hit with it from his '69 release, I Love You More Today. The '69 version leans more towards bluegrass, but the Timeless version is pure country soul.
"The Image Of Me" sounds like it ought to be in George Jones' catalog. And it is, but hardly anybody noticed when it came out on his 1970 release, Will You Visit Me On Sunday? Twitty never partied as hard as Jones, but on this one he sells the image of himself as a heartless,drunken, no-good woman ruiner pretty well, taking a simple old fashioned country girl and dragging her down til she gave up and drifted away. Gram Parsons and the Flying Burrito Brothers took a run at it as well on '69's The Flying Burrito Brothers:The Definitive Collection, but Twitty's take takes home the prize for best audio portrayal of a woman messin'-up bastard.
Too many times these unearthings are disappointing outtakes that should have remained left out, or excruciating rehashes or posthumous remixes of done to death greatest hits. But this collection keeps Conway Twitty alive and vibrant, a real tribute to his talent, a welcome add-on to his musical legacy.