Album Review
This Tin Man Is Well-Oiled & All Heart on this 7-Song EP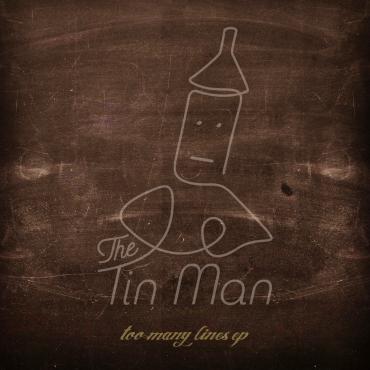 The opening track of this extended play (EP) is a strong spiritual-flavored intro that for nothing else lends an air of optimism to this seven (7) song collection. The intro is short and glides into a powerful ballad with ambitious vocals. Ambitious? What does that mean?
Well, The Tin Man sings in a standard manner, and then falls back on some excellent falsetto and genuine high notes that electrify this title cut "Too Many Lines."  The Tin Man is definitely a hybrid of today's male vocalists but, I am going to dispense with hard comparisons to any of today's new breed of artists as best as I can. That doesn't help The Tin Man at least not accurately. There are some older artists who come much closer to the ingredients that The Tin Man has in his song recipes. It is my suspicion that many of the younger artists he is compared to in other reviews – may have actually taken a page from these older artist's songbooks I cite since these are the artists who have been performing and writing in this manner for decades – and with much success.
Despite some similar approaches in vocal and music The Tin Man has a consistent originality that rises above the fact that these are just seven tunes written by an excellent Atlanta, GA - based singer-songwriter. The Tin Man in actuality is Marshall Seese – shhh…don't tell anyone. Back in the 1960's a group called The Wonder Who had a hit with Bob Dylan's "Don't Think Twice." I don't know who they thought they were fooling but they certainly sounded like The Four Seasons. They were. But, there's nothing wrong with pseudonyms. 
One thing is certain -- Seese has worked at his craft, molded it and shaped it into a style that works for him. From these tunes I think he has found his motherlode. 
"Please Don't Let Me Go," -- is track three of this CD and it rocks a little harder than previous tunes. The Tin Man has a little tint of Peter Himmelman – who has mined these types of songs in the past. Who is Himmleman?
Well, he's Bob Dylan's son-in-law and has been recording and performing since 1980. He was also nominated for a Grammy Award. Not too shabby. He has many albums out, including children's collections -- but twelve proper folk-rock studio LPs. Diversification is the magic to a successful career. 
But, that doesn't suggest The Tin Man is copying a sound…no, not at all.
The Tin Man has his own vein of absorbing songs, lyrics and arrangements and his wizardy lies in his vocalizing – there's nothing boring there.
The songs here share a sound that is from that Himmelman-genre of singer-songwriter and there aren't many – not effective anyway. Greg Trooper ("I Can't Search For You Anymore"), Marc Cohn ("Silver Thunderbird," "Miles Away," & "Walking in Memphis") and Rob Jungklas ("Make It Mean Something"). These are the men The Tin Man is joining in my opinion -- and it is an elite club of great singer-songwriters. 
Many artists who sing, play guitar and then write their own songs just because they are good singers and perhaps proficient on the guitar doesn't mean they can write a great song – or at least, consistently. The Tin Man, at does have a favorable consistency.
Track four – intro to "Already Gone," is surreal and ethereal. This is a nice approach. A little intro to the real song, a little whipped cream before we get to the cake. Some younger reviewers will say he sounds like some band or artist that has been around for a few scant years. In reality many of these new, talented artists, knowing it or not, are seeds from a tree that has been firmly in the ground for decades. Long before these artists they are being compared to in recent memory. Are the younger artists a better reference for a new artist? Yes. But, hey…I'm all about homework. An artist is going to want to appeal to an older, deep pockets audience as well. They have a hunger for new music too, but they need a frame of reference.
Kings of Leon are a good comparison -- if you want to appeal to only those in the audience familiar with this band. But who actually came before and where are the real influences? Maybe you're happy with knowing only your grandfather and gradmother -- but, wouldn't it be nice to see the similarities in their parents too? And maybe, you really look like someone who lived over a hundred years ago? A picture of Uncle Bob taken in 1855. But he looks like you...parts his hair the same too. It's a good thing to know that what you're doing today musically and with accomplishment -- may have come from a deeper well. 
If you are a singer-songwriter, a comparison to Kings of Leon won't carry as much weight as a comparison to Bob Dylan or a Tom Waits. Those are song-writing icons and still are. See and understand where it comes from and why? Decades ago I wrote a blues song that I thought was great. Different subject matter from standard blues, slightly more progressive chord changes. Thought I was a genius. But an old black guitar player mentioned to me that Son House wrote songs like mine. At the time, in my ignorant youth, I never heard of Son House. But, when I listened to some of Son House lyrics and blues, I indeed was writing like that. How can you account for something like this? Instinct? Subliminal? Or, just human nature? 
It's fine to say that Tom Waits is a great singer-songwriter with fantastic lyrics and stories but Chuck E. Weiss came before him, and before Chuck came the author John Fante ("Ask the Dust") and the poet Charles Bukowski. 
Track five on The Tin Man collection is the unsullied "Already Gone," with a nice solid drum beat, righteously fresh background vocals. But here The Tin Man sounds more like vintage Cat Stevens (Yusuf Islam) during the height of his 70's career. Songs like Cat's "18th Avenue," "Bitter Blue,"  and "Where Do the Children Play?" come to mind. The phrasing, the vocal tone, the warmth -- all wonderfully more traditional than even The Tin Man realizes. And that….is a good thing.
It means something is being done right. This has balanced amounts of diversity in the structure. It rocks harder, it's constructed with drama – and not pompous or pretentious drama. The guitar is attractive throughout and the selling point here – The Tin Man's vocal, of course. 
It all adds up to an artist who has something to say and with his own curve put on the musical ball -- throws it back to us with a wonderful signature sound. 
I guess he hasn't gotten the rock bug ZZ Top approach out of his system yet. Track six is "Don't Want to Be Free," and it's more raw, steady and appealing. This song also has a little thread of Peter Himmelman in it again -- ("I Feel Young Today," "Child into the Man," & "5th of August") in the arrangement and vocal approach. This is a great mover. The Tin Man hits the target dead center on this song. Great groove and energy, a winning combination. 
The final track – "I Know I" returns The Tin Man to earth. An ambient ballad with a quiet gentle beat kept on tambourine and mixed in a very, haunting, far off in the background way. It's there – it's not there – but, it is there. It subliminally moves the song along until -- the song kicks into a higher gear. This is The Tin Man that I am beginning to appreciate even more,. This is a great style for his voice, the background singers lend so much additional variety, a value added so to speak, over the crunching guitars and overall sound effects. This ends the CD with power, emotion and it's all in a whirlpool of beautiful music with a stinging 90-proof voice. If this is the type of music that I have to look forward to from the "new generation" -- The Tin Man is making it worth living another twenty years to listen to.
So.....22 minutes of delightful excursions, journeys into the soul and some moderate kick-ass rock. Lots here to recommend it. When is the full album coming? Ah…just kidding. No pressure. The man has a stimulating showcase and there is an authentic air that comes with it. Yes…The Tin Man…he is well-oiled on "Too Many Lines," and his heart is in-between every note he plays.
This latest collection was produced by Billy Hume and the executive producer was Rob Sommers.
Website:  http://www.thetinmanmusic.com/
Facebook: https://www.facebook.com/marshallseese/
NoiseTrade: http://noisetrade.com/thetinman/too-many-lines-ep
Disclaimer: The opinions expressed in this review / commentary are those of the author and do not necessarily reflect the official position of No Depression. All photography is owned by the respective photographers and is their copyrighted image; credited where photographer's name was known & being used here solely as reference and will be removed on request. YouTube images are standard YouTube license.
John Apice / No Depression / June 2016