Album Review
Tinsley Ellis Wins Again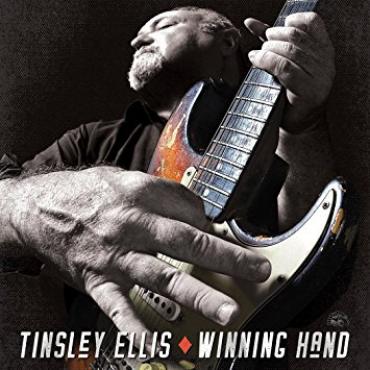 Tinsley Ellis is a soul man who plays the blues. But his blues aren't of the foot-pattin', back porch persuasion. Ellis electrified string work is hard-rockin' stuff fueled on the road and in the studio by his '59 Strat and a '60s Gibson ES-345 that he says was favored by a couple of blues Kings, Freddie and B.B.
Born in Atlanta, Ellis grew up in South Florida, but he came back to Atlanta for college and decided to stay. Starting out in '77 with the Alley Cats, he joined harpist Chicago Bob Nelson in '81 as the Heartfixers, combining soulful vocals with with an aggressive guitar attack acquired from a variety of raucous bluesmen and rockers. Twenty albums later, Ellis is still at it, sounding as sharp as ever.
His latest, Winning Hand, is mostly originals, the only cover the Leon Russell-Chris Stainton composition "Dixie Lullaby."
Lyrically, "Sound Of a Broken Man" sounds like Robert Cray from his "Smokin' Gun" days. Ellis channels Stevie Ray out of Albert King for the first guitar breakout, with the latter half sounding like Hendrix choking a bulldawg with his axe, frenetic wah-wah pedaling that threatens to rip up the floorboards.
"Nothing But Fine" shares a title with Nick Lowe from his Rockpile era, but this one seems like it had some inspiration from Grand Funk Railroad's "Some Kind of Wonderful." Ellis straightens out the laidback lope on the outro, searing the top of this one with some high-stringed heat.
"Gamblin' Man" is speckled with Crayishness, vocally and instrumentally, but Ellis is nobody's clone. His guitar style changes from measure to measure, the holy trinity of Kings – Albert, Freddie, and B.B. – briefly on display before Ellis wanders farther afield, wading through a guitar museum of blues greats, sampling snippets of Collins and Clapton as well.
Ellis gives Chuck Berry some love on "Satisfied," riffing Berrily along on his '96 Tele, McKendree dancing deftly around him on piano like Johnny Johnson on Berry's recordings.
Leon Russell has always been one of Ellis' favorite songwriters and performers. Ellis pays homage to Russell with his version of "Dixie Lullaby" from Russell's eponymous 1970 release, covering Russell's vocals like a blanket. Delaney Bramlett's original greasy spine-tickling slide might intimidate some coverists, but Ellis isn't daunted, taking Bramlett-ism to a higher plane with some wiggly, head-in-the-cloud hot licks. Co-writer and rock and roll piano legend Chris Stainton (Joe Cocker, The Who, Bryan Ferry, Eric Clapton) is honored aplenty by Kevin McKendree, who perfectly captures Stainton's lively, high-spirited embellishments on the original. McKendree is a staple on Ellis albums, playing on every studio album Ellis has done since '97's Fired Up and co-producing on Ellis' later albums, including his excellent 2016 offering, Red Clay Soul.
Ellis' red clay soul roots are exposed once again for this outing. Muddy but sure footed, Ellis climbs to the top of the hill to celebrate bluesy soul, Southern style.