Album Review
Tom Mank & Sera Smolen--- Unlock the Sky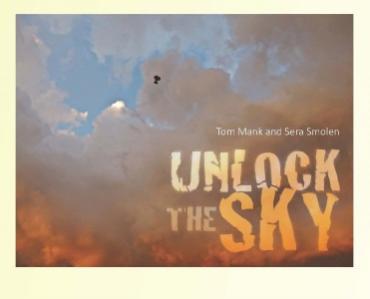 No one writes or sings like Tom Mank. No one. He is historian, poet, and a keeper of pasts and futures. He writes of and for everyman and every man as if every moment matters. In tones of sepia, glancing into the past while keeping topics universal. He lives in a world romantic, simple emotions and truths the basis of life.   
Too few know Mank's music or the brash-to-delicate cello of wife and partner Sera Smolen who is acknowledged by many people as one of the best in the world on that instrument. They have recorded a number of albums which remain under the radar in spite of the excellence and quality of the music. Over many years they have joined with a cadre of musicians which could be defined as a closed circle, though the circle never quite closes. Based in Ithaca, Mank and Smolen's reach spreads as far as Woodstock and even across the waters to The Netherlands and Belgium.   
If they toured, things might be different, but their busy schedule beyond the music and occasional health issues have kept them, on the whole, close to home which, for this album, was a good thing. It is hard enough to gather a clan, so Mank used the time as opportunity to call in favors from a variety of friends and musicians, most notably Julie Last and Kirsti Gholson (voices) and Manuel Quintana (percussion), who have worked on earlier projects. The addition on the odd tracks of Jeannie Burns, Terry Burns, Ron Kristy, Kimberley Claeys, Gait Klein Kromhof, and Amy Merrill caps off a session of which Mank and Smolen can be proud.
On Unlock the Sky, Mank teams with Jeannie Burns (Hardin & Burns) for an upbeat jazzy blues tune ("Harper's Ferry") to kick off the album, the voices light and airy, the slight blues groove the same. "Love In a Difficult World" is pure Mank, Smolen providing the beat and incidentals while Mank, Last and Gholson match voices (their work on previous Mank & Smolen albums has been stellar). Mank again duets, this time with Kimberly Claeys, on "Thunder and Lightning," a song just outside of blues, and again with Terry Burns (Burns & Kristy) on a folk ballad ("Calico Dress"). "Ballad of the Blue Seas" is not about seas at all but the story of the Blue Seas Recording Studio which sank into the Baltimore Harbor under mysterious circumstances (harmony by Last, who also does the honors, and quite admirably, on the following track, "I Left the City."). Mank decided to rework and include a song originally recorded on the Paper Kisses album, "Amsterdam," and again the trio of Mank, Last, and Gholson create their magic.   
The anomaly is Sera Smolen's instrumental, "Unlock the Sky." She has studied the cello for years, worked with David Darling on improvisation, and usually has a solo composition ready when needed. As with past efforts, this is a study outside of genre as she incorporates a variety of movements into a four-and-a-half-minute work. If you want to see something, try to catch her live sometime. She makes the impossible seem easy. Myself, my wrists hurt just watching her.
There is something in the works of Mank & Smolen which is hard to describe. Mank definitely resides outside the mainstream, the music emanating from an inside filled with war, love and conflict, and Smolen--- well, read the last paragraph. The icing on the cake this time around is that Mank, known for reaching out to his peers for musical support, folded as much from as many as he could here. This is a special album, no doubt, and the results show it.
For those who have never heard Tom Mank & Sera Smolen, let me leave you with a few examples of their work. Listen closely. This ain't your Grampa's old folk music.  This is Tom Mank & Sera Smolen. Not quite like anything I have ever heard.
For an overview of Tom Mank and Sera Smolen, click here.