Album Review
Tom Petty - Hypnotic Eye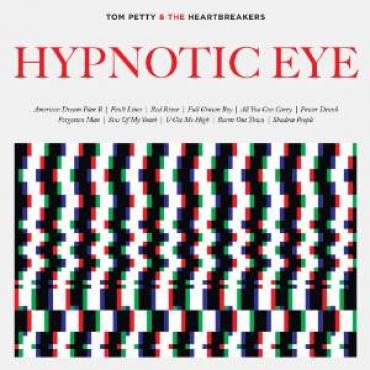 In tone, quality, and attitude, Tom Petty has remained virtually the same since the Heartbreakers '76 debut. For his latest, Hypnotic Eye, he's still plowing the same ground, but given the crops he raises, nobody is complaining. His thirteenth studio album, it's his first ever chart topper, debuting on the Billboard Top 200 chart in the top slot.
The Heartbreakers have always been a group effort. Every band member is an important piece of the whole, but Petty always made it clear that it was his band with his name on it. Everybody but drummer and harmony singer Stan Lynch was always OK with that. Lynch and Petty butted heads over the direction Petty took in later years, leaving in '94, replaced by Steve Ferrone. Guitarist Campbell is a co-creator of lyrics and sound, but has always been content to be Petty's number two, his wing man. Benmont Tench 's keys have been there since the beginning as well, helping to shape Petty's sound, filling in the cracks with the appropriate tinkling or burbling. Bassist Ron Blair held down the bottom line from the beginning, replaced by Howie Epstein from '82 until his death in '94, when Blair rejoined. Except for Lynch, that original group is still together, still tight as ever.
Gainesville, Florida native Petty says he never had a southern accent, but he's got plenty of southern bad-ass attitude. In case you hadn't figured it out by now, "American Dream Plan B" makes it clear what he's about, career-wise: "I'm half fit/ I can't dance for shit/ But I see what I want/ I go after it," he snarls. "I got a dream, "I'm gonna fight til I get it."
Petty continues that fight, proclaiming himself the victor on "U Get Me High," Campbell's guitar adding a psychedelic tint to the Moody Blues/Satanic Majesties Request-era Stones flavored tune. "I ain't afraid of what people say," Petty boasts. "Every bad dream comes my way/Turns to smoke on closer inspection."
But it's not all swagger. "Burnt Out Town" "Shadow People," and "Power Drunk" all deal with social diseases. Not the kind you catch from sharing your privates, but attitudes and situations so out of control that they're epidemic. "Power Drunk" fits any lawman or women too impressed with the power of the badge. "Burnt Out Town" can been seen reflected in the windows of empty storefronts of many towns large and small across the country where the mayor cooks the books and the citizens are reduced stealing gas with a garden hose siphon. "Shadow People" has Petty ruminating about doomsday preppers and gun nuts who join up with the herd and destroy everything they don't understand.
The music is by turns ebullient and sinister, moody and uplifting. Petty's persona ain't always pretty, but he's pretty consistent about putting out quality material. Its often a bumpy ride, but with Petty behind the wheel, the trip is always worthwhile.
Grant Britt