Album Review
A touch of Beauty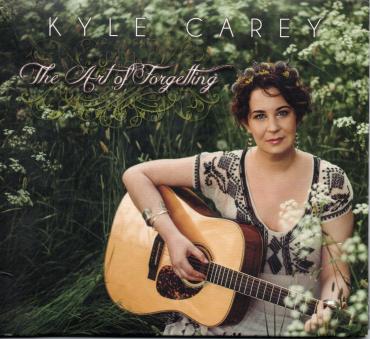 Kyle Carey
The Art of Forgetting
Riverboat Records
This twelve-track release marks US singer-songwriter Kyle Carey's third album in recent years. Carey is a singer with a delicious voice and a keen eye and ear for traditional sounds, music that never ages but which seems to grow ever-more, increasingly important. Her last offering, a few years ago, 'North Star,' was quite simply one of the finest modern roots-cum-Americana discs out there and, with 'Art of Forgetting,' she has again forged a track through the mundane and mediocre modern music world to deliver another true delight.
Produced by Grammy winner, Dirk Powell, a guy who knows his way around the Americana roots scene, Carey is joined by some of the best in the business here: North Carolina's ex-Chocolate Drop and current favourite, Rhiannon Giddens, Louisiana's swampy acoustic guitar ace, Sam Broussard, Irish pipe genius, Mike McGoldrick, English fiddler, John McCusker; all heap the quality on with an album that is firmly rooted in tradition with a twist, taking Appalachian roots music back to its original seminal source in Scottish and Irish Gaelic culture.
Carey turns in a few Scottish Gaelic gems, as usual, but here with a fuller sound than we've come to expect, and a self-assurance that simply sparkles at every turn. Closing with the ever-popular and beautiful 'Trouble in the Fields', from the pen of Nanci Griffith, Carey has come a long way in a short few years and, delightfully, shows no sign of settling down or resting up any time soon. A genuine gem, a true delight, 'The Art of Forgetting' is an album to positively savour.
Iain Patience