Album Review
Traditionally Rooted Potent Performances with Fiery Fiddle & Acoustics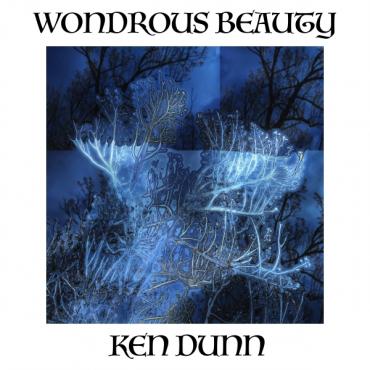 While I am not a big fan of deep traditionally rooted folk music it is nice to sift through a collection of songs closer to their Americana values. Some brief excursions into acoustic folk and even Celtic stylings. It brings you back to earth and cleans out your ears. "Wondrous Beauty" is Ken Dunn's 7th release and while I am not familiar with all of Ken's work this new ten track LP has some moments of "wondrous beauty" for sure.
This is not an album of barnstorming multiple fiddles and mandolins igniting the walls and floorboards. The collection is competent music played by proficient musicians who love this genre. Even if one is not familiar with this type of enduring music it can sneak into your feet, heart, and soul.
Folk music is not a wholly American invention. Many countries, heritages, and cultures have their own folk music. This, while sounding very Americana -- is forged in Canada -- part of North America. So why wouldn't this qualify as Americana? Not everyone has to be from Appalachia in order to perform mature sounding standard rural and spirited old songs. But many of these songs are originals – in the tried and true fashion of yesterday. And that alone is to be commended. 
"Still I Believe," as described on the album inner sleeve describes a song about "the reclamation of faith in response to the inevitable crisis of mature adulthood."  It is evident from the start that the star of this album Ken Dunn has handsomely surrendered a generous portion of his album to the beauty of Tyler Beckett's fiddle.
The gentle background singing of Anna Green is not upfront but it hovers around Dunn's very John Prine-influenced performance. Everything is simplistic and yet, it evokes a peaceful durable little ballad with lots of expressive instrumentation. The fiddle just anchors the tale beautifully with that traditional mountain air. Need to relax? This is where you should start.
Many tracks have vocals but one of the most potent is an instrumental: "Tales of Wandering," is a dark, not too dark, and all the instruments smolder quietly under the melodic flames. Celtic influenced with Ben Grossman on hurdy-gurdy and Tyler back on that ever-present fiddle which is played with confidence and leans a little into that tradition that made the late John Hartford so well liked in this genre a generation before. The instruments are so well-packed it seems that it's all played by just a single person. Quite engaging.
"Hills of Strathavon," is an original of Ken's – about his former Ontario home. The tale is a true story about a pioneer couple and the tragedy they encountered. The manner in which Ken sings is in the tradition of The Clancy Brothers, Kingston Trio, The Men They Couldn't Hang and the old Irish Rovers (remember them?). It's all deep in that tradition those artists sharpened. What makes it special? It's not syrupy or sweet. It has depth and Ken's voice is recorded clearly so the lyric can be deciphered easily.
Drummer Mark Mariash's (Buffy Sainte-Marie) shuffle moves the next track along at a generous clip – "Hold On," (the only thing I don't like about this song is the title. Why? "Hold On" has been used a thousand times ad nauseam in other songs. I would have liked a different title approach to avoid the over-used and played out. But -- it is still a good tune). So, nonetheless, Ken's tune does have substance, Beckett's sawing fiddle, Anna Green's piano, and it's solid. The power of love and its ability to overcome fear…actually quite a compelling subject for a song. It's all performed with what I would like to think is a hat tip to bands such as Lindisfarne, Horslips, Decameron and the late Alan Hull – who often explored these tales.
With a little Goose Creek Symphony feel – Ken sings the crunchy "Crawl on Back," with nice percussion and peppered with Jacob McCauley's bodhran and Tyler's fiddle which continues to be awesome – not fiery – just awesome in the clarity and control in his expressive playing and occasional diversions into grinding strings. It all reminds me of the some of the work of the late Papa John Creach with both the Jefferson Airplane and Hot Tuna. In actuality, this tune is very much in the tradition of Hot Tuna with the way the acoustic guitar adheres to the fiddle. This is a stew of wonderful notes stirred perfectly.
It's probably songs like this that helped get this album noticed and recently charting at #48 Worldwide in the Folk DJ-L charts, and even more impressive at #7 Canada DJ-L charts. That's wonderful news.
"The Goddess Theme," is an extremely short instrumental intro to the most melodic tune of all: "On My Merry Way," which continues with Tyler Beckett's streamlined fiddle, Anna Green's backup vocal just below the surface of Ken's best vocal. This song is closer to the tradition of 70's Medieval-folk-rock band Amazing Blondell with Eddie Baird who explored similar terrain. This is simply something to savor because it's done so well. 
While this is a somewhat fiddle dominant album Ken's vocal and playing does have forays into the stylings of folk-legends like Tom Rush, Tom Paxton, the late David Ackles and of course, the previously mentioned late John Hartford.
"Wild and Free," is a simple plea for peace and justice – and Ken does not stick this plea in your face like a throw-back to hippie-dom. He's serious and has composed the song with significance and with reservation. Instead of being preachy it's haunting in its beauty. It's also a wonderful way to conclude a fine album.  
Link to a live "Crawl on Back" &"Hills of Strathavon"  (with Gypsy Starfish) are below:  
Studio versions of the same songs are available on Ken Dunn's website:   
https://www.kendunnmusic.com/wondrous-beauty
Randy Martin played a prominent bass throughout each of the ten tracks.
The CD runs a little over a half hour. Even if you are not a big fan of this type of music there should be something here that would act as an antidote to your stress.  "Wondrous Beauty," was produced by Ken Dunn and recorded in British Columbia, Ontario, and Toronto. Who will buy it? I know this will be well-received in places like West Virginia, the hills of Tennessee and Kentucky. This is the music most of those people are born and weaned on. The CD packaging is a full-color image four-panel with photography by Libby Hunter.
All words and music: written by Ken Dunn who must have that song catcher soul to have such tradition in his musical mind.
Website:  https://www.kendunnmusic.com/
Facebook: https://www.facebook.com/KenDunnSingerSongwriter/
Music Samples: https://www.reverbnation.com/gypsystarfish
Ken Dunn Music: https://www.kendunnmusic.com/wondrous-beauty
Disclaimer: The opinions expressed in this review/commentary are those of the author and do not necessarily reflect the official position of No Depression. All photography is owned by the respective photographers and is their copyrighted image; credited where photographer's name was known & being used here solely as a reference and will be removed on request. YouTube images are standard YouTube license.
John Apice / No Depression / October 2017