Album Review
The Travelin' McCourys' Decade-in-the-Making Debut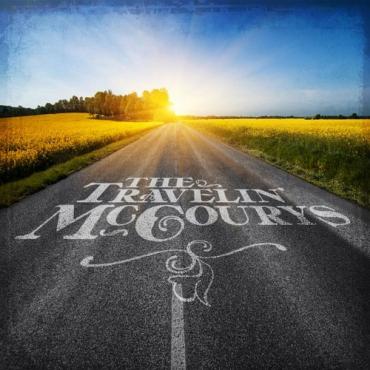 As the name implies, the Travelin' McCourys cover a lot of territory. The band does double duty, serving as daddy Del's backup band and existing as a separate entity with the addition of guitarist Cody Kilby. Mandolinist Ronnie McCoury started in his dad's band in 1981 at the age of 14, and brother Rob started on bass in 1986, when he was 15, and switched to banjo the following year.
Ten years ago, Del McCoury, now 79, told his sons it was time to make a back-up plan for the family legacy so that if something happened to him they wouldn't have to start cold. The brothers, with the help of Del McCoury band members Jason Carter on fiddle and Alan Bartram on bass, took what dad was doing and stretched out a bit, holding firmly to the roots while exploring the structure a bit more.
But the band has not put out an album on their own till now. Ronnie says that part of the problem was that the band had no full-time guitarist, relying instead on a rotating cast of guitarists from Tony Rice to Peter Rowan to Dan Tyminski to String Cheese Incident's Bill Nershi. In all, it's been a total of 25 guest guitarists, all listed on the back of the band's debut CD. Kilby came on board two years ago was a 14-year veteran of Ricky Skaggs' Kentucky Thunder band.
The record kicks off with "Let Her Go," British singer/songwriter Passenger's 2012 pop hit. Passenger's was dreamy folk/pop resembling the output of Cat Stevens. The McCourys' version sounds like mainstream country through the first verse, but when the instruments kick in, it's high speed, kick-ass grass, fueled by Ronnie's ferocious mandolin attack followed by Rob's Scruggs-ian banjo-itis breakout.
The band breaks out a bit farther with a visit to outlaw country on a remake of Waylon Jennings' "Lonesome, On'ry and Mean" from the '72 album of the same name.
Fiddler Carter has the vocal lead, coming pretty close to Waylon's on this rattly remake pricked relentlessly by Rob's banjo, haunted by Carter's lonesome train whistle fiddle.
Nick Lowe's "I Live On A Battlefield" is chuggy, low-key soft rock, a strange little ditty that could be skiffle if not sweetened by a string section and a mellow choir. The McCourys' version sounds like it was always meant to be a bluegrass tune, an anthem that Bill Monroe and his Bluegrass Boys would have cranked out.
The band are all John Hartford fans, and Hartford's "Natural To Be Gone," from his eponymous '69 album, is a straight-up tribute mirroring Hartford's version, a bit mellower with the McCourys' smooth vocal blend.
The Grateful Dead get a shout-out with the Garcia/Lesh/Hunter composition "Cumberland Blues" from 1970's Workingman's Dead, and Garcia/Hunter's "Loser," from '81's Dead Set.
Doc and Merle Watson's "Southbound" is not something you want to tinker with, so they don't, following Doc and Merle's impeccable runs as faithfully as any non-Watson family member can.
Ronnie contributes three songs, co-writing "The Days I Wish I Had" with the Gibson Brothers, "Freedom Blues" with Mountain Heart's Josh Shilling, and the instrumental "Crowhop" by himself.
Ronnie says he's proud that the Travelin' McCourys' success came with the help of his dad, who uprooted the family to Nashville when he was 52 to pursue a full-time a career in music. Now he says its time to see what else they can do on their own. This release confirms what live Travelin' McCourys audiences have known for years — with a product this good, he's got nothing to worry about.