Album Review
Trevor Drury drops new single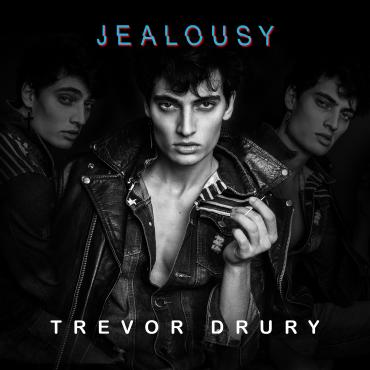 Trevor Drury drops new Single
URL: www.officialtrevordrury.com
When you're truly, madly in love with another person, the mere thought of living life without them is like considering a life where there is no oxygen to breathe. In your mind, it simply isn't possible survive without this person, just like you can't survive without air. But being stripped of your oxygen so that someone else can breathe it instead? This is a rage-inducing notion. Losing your lover and then watching that lover become someone else's is a stinging, destructive experience that will drive any human being to absolute madness if not remedied through the proper channels. With the complexities of these matters being inarguable and not restrictive to one portion of society over another, it takes a brilliant songwriter like indie jazz/pop sensation Trevor Drury to convey these feelings into song. And it's safe to say that he has done just that, as his new single "Jealousy," a delicious slice of anthemic spite.
Drury reminds us of the important reality in his lyrics; that our bitterness can replay over and over like a broken record unless we make the choice to break free of it. The addictive nature of love and lust can skew our sense of direction in moments like these, when all we can focus on is retrieving what we've perceived is lost from us now. But like all of his contributions to the art world, from fashion to filmmaking (check out his music video for the single "Snowy Nights" on VEVO), Drury cuts through the bedlam with his supple swagger, and similar to his hero Elvis Presley.
The draw to "Jealousy" and Trevor Drury in general isn't just his sensational pop vocal. The music here is really amazing, too. The riffs float around in space and get marvelously dream pop-ish in some spots, and there's boldness not dissimilar from Turbonegro's less pompous efforts. The chorus line is made up of a cult like chant that seems to be a mixture of burning bass and some heavy timber from Drury before he reverts his Jack White crooning.
I wonder what kind of music video Drury would make for "Jealousy" if he decided to move forward on one. Would it focus on just him and his singular contemplations, or would it center around the one he's so jealous of, the source of all of this tumultuous energy and pain? Is the moment of jealousy fleeting or is it longer lasting? Is it our ultimate demise or the start of a brand new, healthier beginning? Maybe the lack of a video is for the better, since now we're forced to come up with our conclusions and fill in our own self-created blanks triggered by "Jealousy," both as a song and as an unfortunate aspect of relationships.
If you want to get to know more about Trevor Drury and download "Jealousy," give him a Google and check out his Apple Music and Spotify pages, where you can get more information and music from this exciting up and coming artist.
SPOTIFY: https://open.spotify.com/album/1BsYyWS10F6fqZj3JcWaq7?si=hV3gQLVJTyW94TYWGeI1Pg
Mindy McCall