Album Review
Trout Comeback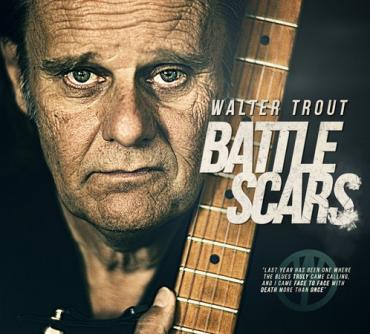 Walter Trout is a survivor. His Battle Scars are literal. Trout survived a grueling bout with liver failure last year, at one point unable to move or speak, slowly wasting away. His life was saved by a liver transplant in May of last year. He made his live comeback at London's Royal Albert Hall this June, for the Lead Belly Festival, and is releasing a new album on October 23 that sounds as good as anything he's ever done. Given his background, that's quite an accomplishment.
Moving to L.A from his native New Jersey in the early 1970s, the guitarist played behind John Lee Hooker, Big Mama Thornton, Lowell Fulsom, and Joe Tex before joining Canned Heat in '81. Then he spent five years with John Mayall's Bluesbreakers before starting his own band in '89. His solo career has gained him worldwide acclaim, and he is revered by the British as if he was one of their own.
Battle Scars is a triumphant return from a near-death experience, and Trout is in great musical health. He allows us a glimpse into those bad old days on the opener, "Almost Gone." Instrumentally, it sounds like early Marshall Tucker -- Trout moaning soulfully as he recalls looking into wife and manager Marie's eyes when he was dying:
I can feel my body closing down
like a toy that has been broken
Laying there in pieces on the ground
I can see it in her eyes
We both know that I am almost gone
The lyrics reek of sickness, but the music is strong. Trout's lean, muscular guitar, howls with vitality.
"Omaha" starts with the chilling wail of an ambulance siren. You can almost hear, buried underneath the band's ominous murmuring, snatches of cop-versation and/or urgent EMT responses . The lyrics recall what it was like to lie waiting for death or a liver transplant at UCLA and in Nebraska Medical Center, while bodies were wheeled out around him day and night. Trout's guitar howls like a vengeful spirit thwarted out of a life, while the band pounds out life-giving heartbeats for Trout.
Sounding like Greg Allman fronting Mountain on "Tomorrow Seems So Far Away," Trout spews out big chewy Leslie West-sized riffs in between bending reeds like pretzels, spitting out salty harp dust.
Trout has always said he doesn't care what labels are put on his music. He's told critics to call his music Fred if they need a label. Well, Trout is into deep Fred on this one, switching styles and influences from song to song. He invokes the spirit of Billy Gibbons with tube-screamin' ZZ injections for "Playing Hideaway," a Top-fueled event about calling out a woman who hides her emotions .
"My Ship Came In" is Trout's account of his illness taking away the hoo-ra from his 25th anniversary of being a solo artist. He was planning on celebrating that with a complete re-issuing of his catalog on vinyl, the publishing of his autobiography, and a worldwide tour, which all fell apart when he got sick. "My ship came in, sailed away again/ I was not on board," Trout sings, underscoring his words with a searing guitar solo that screams in frustration.
"Gonna Live Again" sounds like Joe Walsh vocally and spiritually -- both artists grasping and making the most of second chances they never thought they'd live long enough to see.
Trout's face on the cover speaks volumes: the ravages of his illness carved deep into his face. But what's inside belies that image. It's the sound of a vibrant comeback from a man once again in full possession of his considerable powers, with more yet to come.