Album Review
Truly One of The Best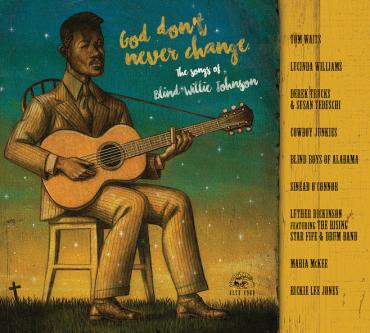 This is far and away the most exciting disc to cross this desk in ages; there are eleven songs here, by nine artists and if you are good at figuring you will realize that 2 singers get to do 2 of his songs.  First off the production on the whole disc is absolutely stunning, kudos to Jeffrey Gaskill for his astonishing and sensational right-on decisions on the songs and how and by who they were to be done, there isn't a sound out of place and though it is basically an acoustic disc the sound is bursting out of the speakers in a fullness rarely heard.  Each of Blind Willie Johnson's Blues/Gospel songs is done by the perfect performer to get the most from the song.  
The disc came as I was on my way to Trader Joes by the time I arrived and parked by the backdoor I was just head over heals in love with the disc.  I jumped out and grabbed some people at the backdoor and said listen to this, more converts.  Those that know the authorof this piece were thinking - "Well maybe he was kicked in the head by one of the horses???" 
How often do you get a compilation disc and say, "Wow!  Every song on the disc is done by absolutely the right person(s)." 
All that said, put the disc on and listen to what Tom Waits and crew do with, "The Soul of a Man."  This disc does not let down from there.  I don't know if I can say it builds because each song is an individual and done by a fantastic mix of musicians, is different, and they all stand alone and yet the disc comes perfectly together.  Normally a compilation will be left at that, yet on this one you deserve to know what to be ready for because some of the artists give such an outstanding performance as to make you wonder where they have been hiding this side of themselves.  Lucinda Williams, Susan Tedeschi and Derek Trucks, The Cowboy Junkies, Blind Boys of Alabama, Sinead O'Connor, Luther Dickinson featuring The Rising Star Fife & Drum Band, Maria Mckee and Ricky Lee Jones.   Yes a diverse group and yet each artist stands out.  Is there a weak cut? I don't think so.  Yes before I listened there was wonderment about some of the choices, i.e. Sinead O'Connor was picked and to be honest she blew us out of the water with her version of the song.  
Outstanding and far and away the best disc to cross this writer's desk this year, oh hell for a few years, for that matter.  
by bob gottlieb
Various Artists - God Don't Never Change:  The songs of Blind Willie Johnson
Alligator Records