Album Review
Twin Fiddles & Acoustic Guitar…Incendiary Celtic Performances by Two Accomplished Sirens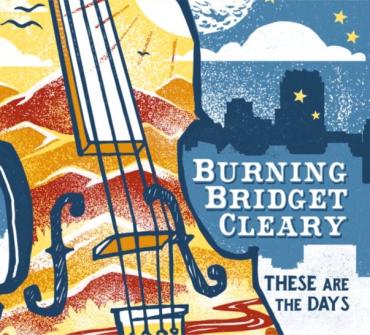 Several years ago I met these ladies at an outdoor music program. For the most part the crowd was appreciative toward the performers. They politely applauded, didn't expect too much because it was a free concert, and this audience always received musicians to these shows warmly. But, when I saw these two ladies from Burning Bridget Cleary come down off the stage as they performed one of their reels and walk through the seated crowd playing their fiddles like machine guns in a blistering, exciting manner and never missing a beat – the crowd came alive. Hey, this wasn't Elvis, Bruce Springsteen or James Brown. This was just one of the greatest high-spirited Celtic bands on the east coast and though few at the time knew it -- Burning Bridget Cleary had arrived. I sensed it that late afternoon, it was inevitable. 
A recap: their second release "Everything Is Alright," was awarded "2009 Album of the Year" by CelticRadio.net in Boston. Following this Burning Bridget Cleary (BBC) broke new ground in 2013 when a fourth CD, "Pressed for Time," topped the Roots Music Folk Charts at #1 – and became one of the most played albums by folk disc jockeys. Additionally, in December of 2013 -- they were nominated "Top Act in a Pub, Festival or Concert," by the Irish Music Association. Quite an honor for a band not native to Ireland. 
Now, with their sixth album – "These Are the Days," – the band continues to perform in their distinctive traditional style -- mixing traditional with originals seamlessly. The fireworks are still there: with their electrifying fiddles the duo of Rose Baldino (who also plays banjo) and Scottish fiddle wiz Amy Beshara will rosin up their bows and capture your hearts with their careening, vibrating strings as they create a torrent of music that will do nothing short of stamp smiles on faces. The girls are still amazingly invigorating and have lost none of their luxuriant performance style. I still do not believe any photograph has accurately caught their "look" as they interact with their audiences as they play. 
This new collection begins sprightly, as an acoustically upbeat traditional song "Madam I'm a Darling," is superbly updated by Burning Bridget Cleary's ladies along with Lou Baldino on crystalline guitar (& doubles on bass when necessary). Peter Trezzi continues on percussion/djembre and drums. There is a lot of Celtic oriented lyrics mixed in with English but the mood, feel and rhythm is all you would need to get your toes to tap and your hands to clap…and clap hard. Sometimes music needs no translation…the body and soul does it all. Guest side musician Brian Buchanan has guest vocals on this track. 
Up next: a nice intermezzo jig. "Chloe's Passion," that includes the melodies of "Skin the Peelers" (Traditional)/ Chloe's Passion" (Angus MacDonald)/ "Farewell to Whalley Range" (Michael McGoldrick). The song combination has that horse galloping stride in its rhythm. Yes, it's an instrumental but, this is what really tests a musician's mettle. They must convey their message through their hearts and fingers with no words, myths, fables and no story. The women manage to play succinctly with magical ambience that gives the allusion that many more fiddles are playing than actually are. Brian Buchanan returns to add one additional fiddle and his touch as well.
Several years ago track 3 appeared on an earlier album and it still has the beauty I heard the first time. "Another Day," is an infectious Tim O'Brien / Darrell Scott melody with expressive story-lyrics typical of this kind of music. The vocals remain strong, with interwoven harmonies. "A Day in the Life of Lou: The Pistachio Nut / The Pizza Connoisseur," are two polkas written by Rose Baldino for her father and while it sounds heavily influenced by gypsy violin it's fitting since her dad had some Gypsy in his lineage (as the press release states). As good as these ladies are when they sing a song or two, their talent really shines when they let loose on their instrumentals – as sampled here. John McGillian plays button accordion and this is filled with so many wonderful musical colors – a real treat for the ears.
Americans without an Irish background or understanding of this ancient language may have a hard time getting into the heavy lyrical words of Scots Gaelic. "Tha mi Sgith" – a traditional tune pronounced "Ha-mee-skee" translates into "I'm So Tired."  This, as beautiful as it is melodically and sung very well – is an acquired taste. But so is fine cheese and expensive wine. Burning Bridget Cleary touches smartly on melodies that influenced them, and is the true roots of their music. It offers an education to listeners. Amy Beshara sings this nugget with sincerity. 
Another inspired, feet-in-the-air instrumental "Portherhead & BBC Set" is a rousing pot of boiling chocolate fiddle pudding – Lorcan Brady joins on fiddle, Liam King adds accordion, Joe Junker strums the guitar, Nate Godshall on bodhran and James Frawley paints with the concertina. This is one of those songs that requires sawdust on the wood floors if you want to dance because sparks will fly. These men are known as Portherhead and they provide the additional value-added instrumentation that fills everything out to a new dimension to BBC. In this conglomeration the melodies include: "Girl of the House," a traditional reel, Stan Chapman's (a Jerry Holland song), and the traditional "Boys of Ballymoat." I'm out of breath just listening to this one. I may need new heels on my boots. 
"The Mountain," opens with some catchy ringing haunting acoustic guitar, pristine vocals and is the most commercially viable tune on the LP. A nice grungy fiddle is a nice change with its deeper tone. The song was written by Dave Carter & Tracy Grammar and includes a typical BBC (Burning Bridget Cleary) instrumental interlude. 
Fiddles fill the air again like a flock of birds with radiance on "Scones of Boxty," and the intertwining fiddles are ever so clear and exciting. However, it's Rose's fiddle that is prominently featured. The contrasting tones is the secret to BBC's attraction. John McGillian returns on button accordion and the instrumental current is punctuated by fine playing by all. A nice "wall of sound." The melodies included under this title are: "Farewell to Miltown" (Junior Crehen) / the traditional "Three Scones of Boxty" and "Reel D'Issodun." 
With the opening strains of "Return of Skelly Shelly," – a Lou Baldino (Dad) original, I heard shades of recent Bob Dylan melodies in my head since Dylan had been experimenting with these types of guitar signatures on his last two original albums. It's a page torn from vintage guitarists such as Les Paul and Tony Mottola. And no, I am not saying this "sounds" like Bob Dylan. Dylan didn't invent this genre but boy, I bet if he heard this tune he wished he had written it. This is a beautiful instrumental that begs for Dylan inspired lyrics. There's a story in these notes and it's a total Lou Baldino showcase on acoustic guitar. Absolutely brilliant. The fiddles are old-timey but filled with vigor. Lou's guitar dominates with catchy notes. The song starts off like an old 78 rpm record, scratchy and retro. But, on this showcase that effect works brilliantly as it "opens" up into this old sound with refreshing style and segues into something that blooms like a flower. This is a favorite. 
Ah…. bagpipes. Such a spiritual, happy and other-worldly sound. Andrew Forbes unleashes his fingers and breath on Scottish border pipes and Nate Godshall adds bodhran. This is so full sounding on my system – something that shames synthesizers. This has hi-fidelity, warmth, soul, and it stirs the inner man. Amy's twin fiddles mesmerize and the dual tunes "Pipe Set: Over the Isles to America and Miss McLeod's" are two beautiful traditional melodies not played on synthesizers but, are a synthesis of music that swells like a helium balloon and takes us aloft. God's synthesizer is the wind and he put some of that power and endurance into man's breath – blowing into a bag pipe. This music has shape and it endures. Jazz musicians have to jam for a long time to find their proper groove and be this intense.
Bagpipes are like a one-man orchestra. Burning Bridget Cleary was wise to close out their album with this song. I'm not even Scottish or Irish – but, this music – it loosens up the knots in the mind and body. It leaves a listener wanting more. This is a fine album. The band has invited guests and these guests diversify this album's sound. Burning Bridget Cleary is a first class band and Rose and Amy continue to push their own musical envelope. Their abilities as musicians is remarkable and they have articulate fingers. The first time I wrote about Burning Bridget Cleary I had to convey their music through comparisons to others. This time out there are few. They're beginning to sound like no other modern band who perform these types of songs and there are many others. They have found their niche and they are accomplished beyond a reasonable measure. All they have to do is hope they never run out of traditional music because that helps keep them genuine, grounded and true. 
By the way, the real Bridget Cleary was "the last witch burned in Ireland" as this band's biography details. But, that Bridget Cleary, as I mentioned before in an earlier review, with all her spells and potions couldn't play Celtic music the way this band can.
The CD was produced in Philadelphia, PA by Jim Salamone and the colorful album package was designed by Sara Turner & Brian Buchanan The album's music was all arranged by Burning Bridget Cleary.
Website:  http://www.burningbridgetcleary.com/
FaceBook:  https://www.facebook.com/Burning.Bridget.Cleary/
ReverbNation: https://www.reverbnation.com/burningbridgetcleary
Disclaimer: The opinions expressed in this review / commentary are those of the author and do not necessarily reflect the official position of No Depression. All photography is owned by the respective photographers and is their copyrighted image; credited where photographer's name was known & being used here solely as reference and will be removed on request. YouTube images are standard YouTube license.
John Apice / No Depression / April 2016