Album Review
UK Band Features Grand Ole Opry Musicians In Absorbing Roots-Alt-Country Collection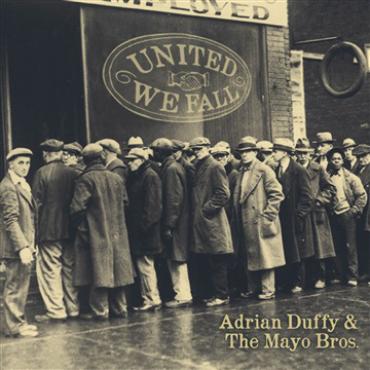 Nice.
This album got out of the starting gate with definitive energy, melody and drive. "Having It All," sets the pace for this absorbing collection of tunes. Instantly hummable, toe-tapping and memorable. The United Kingdom's Adrian Duffy and the Mayo Brothers lay down some slick melodies and tight arrangements set against some pristine instrumental work. The recording is rugged, dynamic and the push forward with an excellently arranged melody in exciting Americana territory -- it's an exhilarating trip. On my speakers, this tune throbbed and smoked. 
"Push Those Keys," continues in short order as the third track starts off with an old-fashioned flavor with a modern touch. Followed by the optimistic "Someone Like You," -- a rare happy, positive performance. It possesses that brilliant 60's type music attack that was infectious on so many AM radio hits.
Adrian Duffy's vocals are quite emotionally confident here and never thin. The guitars, dobro, mandolin, banjo, acoustic guitars and pedal steel guitar all chime elegantly. The band is woven together with freshness akin to the finest of The Byrds and Buffalo Springfield. Uncles Ray and Leo Duffy (mandolin and fiddle) appear and are veteran Grand Ole Opry performers who supported the likes of Johnny Cash back in the 80's. No mean feat.
Supported as well by Melvin Duffy – whose pedal steel and slide guitar graced work by Van Morrison, The Waterboys, UB40 and Squeeze is featured throughout and especially on "Having It All," his presence is definitive and impactful. 
To my ears, however, I hear a heavy musical kinship with the brilliance of bands like the Oyster Band, Spirit of the West, Lindisfarne, Horslips, Big Back Forty, C. Gibbs Band, and the more rural version of The Waterboys and the like. They rollick, they rock, glide and ride the tide of melody with expertise – balanced and sweet with a genteel force.  
"The Innocence of Love," is more poignant than the previous songs with a deeper resounding vocal. The balladry of the tune is quietly sincere with engaging backup. The pedal steel and acoustic guitars seamlessly intertwined. Sounding like one instrument. Excellent late night music.
The title track "United We Fall," is a more unified vocal, warm and like all good Irish tunes -- a little political and very textural in melody. Lyrics are powerful. An elegant version of what the incredible UK band Strawbs did back in the 70's with their "Part of the Union,"  but not as black comedy forceful. Adrian Duffy's tune is more gripping and emotional.
"Gone Are the Days," is a tune I find reminiscent of the wonderful UK band Martin Stephensen and the Daintees. You may not have heard of them here in America, but these musicians have more than ten albums released and they do very well in Europe and are worth seeking out if not for just playing them along with Adrian Duffy.
Adrian grips the reins of cleverness in his lyrics and they drive his tunes. Little stabs of mandolin, steady charge of musical ideas and little colorful notes sprinkled throughout make the songs simply a delightful romp that pours from your speakers. I'm impressed.
Next time Adrian should include a lyric book – some of these songs are just perfectly suitable for singing along. Well, at least I did. 
The album has a traditional flow that runs through each song. The melodies sound like they could have been written decades ago but they have such a clean, nice modern sound that the word "vintage" is not suitable. There are times that you "hear" the UK influence in the music but there are many more times it sounds like it was produced in Nashville with a true Americana-country hand at the helm. They are charming, balanced slices of how musicians can become one as they play together.
There are songs here that are smartly reminiscent as well to the 80's band Eddie and the Tide – but Adrian has a little more soil and oil in his mix. Adrian has that nice deep, rich voice that Eddie Rice possesses -- not over powering but definitely commanding. And Adrian doesn't have any cheesy guitars, keyboards or over blown electronics to clutter his performance. It's all quite natural sounding and easy going.
A little more popish is "Everytime The Loves Strikes,"  which skitters along the edge of Peter Wolf or Southside Johnny and the Asbury Jukes. Well, at least, the song could easily segue into one of theirs and it would fit. This one is probably what they would call the most radio-friendly. Breathy vocals, typical hit record beat, and intriguing little instrumental runs to keep it all interesting. This is not my forte in music but, I know a potential "hit" when I hear it. The hooks are there, the dance beat's solid and it's easy for dance floor aficionados to follow. I like the sound of the tin whistle toward the end because I didn't expect it. Many will probably gravitate to this one.
"Storm Breaking," returns the album to the more organic soulful blend of Adrian Duffy and the Mayo Brothers. They are steady with their blue-eyed soul married to alt-country stirrings. This is a nice strong ballad with fine, fine acoustic accompaniment. I think the song would have been even stronger had their been a more blistering storm-breaking fiddle stuck in or toward the conclusion. That would have been dramatic. The vocals are impeccable. Warm, strong and smoky. This could have been just a soulful knockoff but the musicians just kept it reined in brilliantly with a nice alternate country-roots underpinning to their performance.
"Written In Stone," concludes the album – and it's more earthbound, back to the roots, earthy, spiritually and heartfelt. A nice way to bring things full circle. I found the collection enjoyable because of its diversity. Its layered style. No two songs sounded alike.
This is an ambitious work. 
The album cover is a nostalgic look at depression times, long lines of sepia colored men waiting probably in line at an employment office, or it's next door to a soup kitchen. But, the words on the window are "United We Fall," -- interesting. What's the message? Think. 
Inside spread photography is vintage from many known photographers such as Dorothea Lange. The CD art is laid out like an old photo album – only the back cover fails to compete with the roots' tradition with all its rainbow colors. A barren field, weathervane on a rustic barn or dust bowl image would have been more intense. But, maybe they are just trying to show that there is a rainbow at the end of the dust bowl. If so, then it's in keeping with the album's powerful message. "United We Fall," is a rewarding listen and worth the time to experience.
The collection was produced by Adrian & Melvin Duffy with Matt Kemp. All songs were written by Adrian & Melvin Duffy except for "Let Somebody Love You,"  written by Adrian and Martin van Hoof Jenkins. The CD artwork by: Little Gem Creative – nice job. The package always helps sell the product....and it's nice to have a package that reflects the music effectively. 
The band includes: Chris Duffy (drums/percussion) / Melvin Duffy (banjo, dobro, mandolin, bass, lead & pedal steel guitars) / Adrian Duffy (acoustic guitar, bass, mandolin and vocals) / Ray & Leo Duffy with fiddle & mandolin on "Storm Breaking," and Paul Beavis (drums & percussion on "Push Those Keys," and "The Innocence of Love") / and Vince Martyn with a tin whistle on "Everytime The Love Strikes.")
Website:  http://adrianduffy.com/
FaceBook:  https://www.facebook.com/adrianduffymusic
SoundCloud: https://soundcloud.com/mayobros
iTunes: https://itunes.apple.com/us/album/united-we-fall/id982214361?app=music&ign-mpt=uo%3D4
Photography:  Picked up from Adrian Duffy internet marketing – no single photographer's name cited.
Disclaimer: The opinions expressed in this review / commentary are those of the author and do not necessarily reflect the official position of No Depression. All photography is owned by the respective photographers and is their copyrighted image; credited where photographer's name was known & being used here solely as reference and will be removed on request.
John Apice / No Depression / October 2015