Album Review
UK Singer-Songwriter's Collection of Creative Musical Stories With Sparkling Arrangements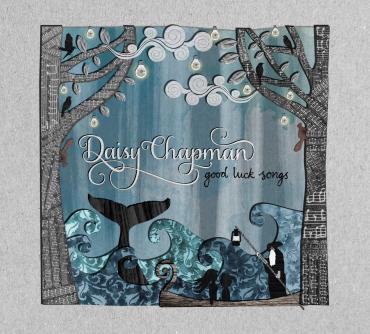 Maybe it's because the UK's Daisy Chapman is from Europe (recording since 2006) – but the originality and creativeness of Americana-roots music contained in this collection -- stunning. That's not to say American and Canadian singer-songwriters aren't turning out great material but it's this European roots-Americana music that I guess is seen and interpreted through different eyes, distinctive lives and culture that makes this special.
The first track arrangement is absolutely artistic -- instruments that American artists of the same genre would not use (often) is what's creative. Americana-Roots-Alt-Folk with oboes, cellos, trombones, viola – used sometimes but not like this.
Daisy's band is tight, and her Euro-showcase, especially the energetic finale of "Good Luck Song (Kila la Kheri)," bristles with imagination and melody. I have listened to this several times already because it's 6-minute length is never enough. I am usually a hard sell on repeated listening.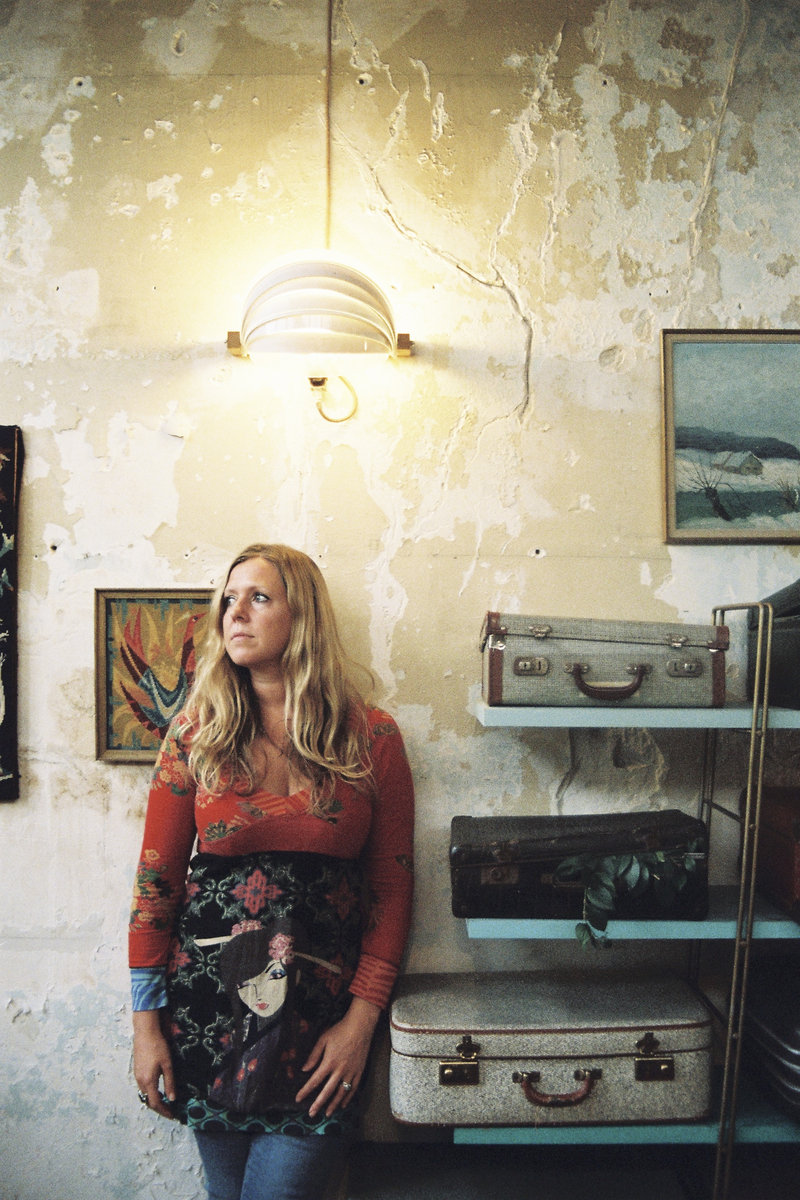 And this is the lead off track of this nine-track, nearly 45-minute CD collection called "Good Luck Songs." The songs' vocals at times suggest Judy Collins in its beauty. But there's more to it…
This is masterful songwriting by Daisy and her vocal is powerful yet somewhat a gossamer. (I like that word and what it is). It spreads out over her musical foliage, fragile looking as it maybe it's actually sturdy. I would love to hear Daisy sing with Judy Collins – because at times in this song Daisy has that Judy Collins tone and strength but with a slight Blondie (Debbie Harry) attitude. Quite good.
Coupled with the oboes and other unorthodox instruments this is compelling. She takes a brave step out -- like the step of faith Indiana Jones took in one of his films. This is such a wonderful experience for the ears. I had to stop writing when the song went into its dramatic finale and just sit back, close my eyes and listen…really listen. This happened in the past -- but it was The Stones' "Gimme Shelter," and The Who's "Overture to Tommy," and Elvis' "Suspicious Minds." 
Daisy, at some point, should try her voice on some blues next album. 
With a beautiful lilting voice that works especially well with strings, fiddles, violins and the like Daisy's "Home Fires," is fable-heavy in its presentation. If Robert Louis Stevenson wrote lyrics this could be the style. "Three noses pressed against the window…" is simple but it's the kind of opening lyric that a serious listener would say – I want to hear more. What are they looking at? What do they see? This is a short song novella. A tight little story with Sue Lord's violin whining brightly and Charlotte Nicholls cello bellowing deep. Daisy Chapman's glorious voice is so colorful telling the tale – if her lyrics get any more serious she would fall into that Joni Mitchell category. But Daisy's melodies, playfulness, and intensity are already planted firmly in the dirt of a Judee Sill ("Jesus Was a Cross-maker," "The Kiss").
With track three "Settle Down," Daisy -- still on the rim of fable-type folk music (Fairport Convention did it brilliantly as well) with melodic piano runs and Beatle-esque orchestration -- creates lovely stuff. Not typical of American singer-songwriters except for someone like Judee Sill – but when was the last time we had a singer-songwriter of that intensity? Laura Nyro comes to mind but Laura was playing when Judee was. This is an excellent song.
Slight change of gears and a little more basic folk – Daisy goes deeper in her voice and untangles a road song in "Generation Next," and it's quite interesting. This sounds more like something folk-singer-songwriter of the 60's Melanie Safka ("Lay Down, Candles in the Rain," & "Look What They've Done to My Song, Ma") may have done. The lyrics in this tune sparkle. If you lived that life back in the 60's and you listen to the lyrics carefully you will feel a small smile creep across your face. It has recollections that are clever and Daisy is good at this. In the song, Daisy goes from Europe to California in her hipster journey. Describes hippies in a respectable and colorful manner. Lyrics like "The swing bridge city's tailbacks, keep hill dwellers from the center, and the taxi queue at Temple Meads, puts off the Welsh weekender…"  Not your typical American singer-songwriter lines. This is what makes it worth a listen, different and exciting. It's not a Woodstock hippie recollection it's a European female's account of what she either remembers or has interpreted from talking to such people. A listener is not getting a rehash of clichés and used lines again with new notes. It's…well, poignant, accented lightly by some nice horns and backup singers. I like this song…I like this artist. Her effort on her material is admirable.
"I Used to Own an Empire," -- wow. This one is driven by the orchestra strings and Daisy's dynamic light-touch on her piano. Despite her wonderful soaring vocals on display in this song, it's the melody itself and arrangement that are the most attractive features. The lyrics, again, are stimulating and have a musical dignity. Again, no clichés, no old stories, everything like a well-cooked meal with excellent wine. There are moments the strings resemble the opening of Procol Harum's Live with the Edmonton Symphony Orchestra's "Conquistador." And that was a masterpiece.
This Daisy Chapman song has now become my favorite -- my body tells me so. The melody just will not shake itself off my mind. This is on repeat already because this is what great music by a young female singer-songwriter should be. If you have to be infected with something…be it music like this. Radio should be embracing this – it's candy for the ears. This is already a classic in my music collection.
Daisy slows the energy down with "Idilia Dubb," and continues to sing with little effort in a delicate and fluid manner. Her piano at times reminiscent of the way Vanessa Carlton ("White Houses," "A Thousand Miles") -- used to record. It's amazing to me how Daisy manages to maintain a full sound with strings and her piano and virtually no heavy-handed drums or percussion. No showboating. It's like a baseball game – she's concerned not with hitting balls out of the park as much as just stacking up one home run after another. And isn't that the point? Each song has a signature, a story, a style and it's all dressed up in the instinctive voice of Daisy Chapman.
Ms. Chapman just knows where the inflection belongs, where the phrasing is required and she adds that absorbing Euro-style to her traditionalist melodies. The album was recorded in England and Germany so it may take some homework to track this album down but if you love this kind of music – this is worth hunting for.
Daisy returns with something totally from another place in her heart and canon. This shows her diversity is sharp and "The Decalogue," is Procol Harum or Strawbs dark. Little clever lines like "haunted by the whisky," "…love no other god but me…" are ushered in with a style that I found a few years ago with an Italian female singer-songwriter Francesca Chiara (her five-star RCA album "Il Parco dei Sogni" – translation: "The Park of Dreams," -- also sings with LoveCrave, which is music a little more Gothic in nature than her splendid solo album.) Anyway, I hear a lot of Chiara here on Daisy's wonderful step-away from the standard style and it shows more teeth.
As for albums like this not having a song to dance to – that wouldn't be true. The most commercially viable song on the album that is danceable: "There's a Storm Coming," and while it's nothing different or stunning it does show that Daisy can get your feet moving and if she wants to slink back into her deep, storytelling mode she is going to whip out the classic "Tom Traubert's Blues (Four Sheets to the Wind in Copenhagen)," from Tom Waits' "Small Change," songbook.
Considering Daisy's voice is quite silky you would think a Tom Waits song wouldn't be work well. But, you'd be as wrong as I was. Her rendering of this old song is sensitive, jubilant, and if nothing else it sparkles despite its sadness. Daisy handles the "waltzing Matilda…" part beautifully.
This is a perfect cover for a Daisy Chapman. It's strings (Sue Lord and Kate Robey) and Daisy's gentle piano maintain the strength of the original Tom Waits tune. Tom would be proud. I am certain. Daisy sounds like his Martha from his "Closing Time" album actually singing back to him after his sad telephone call to her. I respect this cover version – it's one of the best I've heard. I hope Daisy sings another Tom Waits on a future album. It balances her originals and she is above all an artist who is captivating and shrewd. I have some catching up to do.  
The CD package is a pastel-colored die-cut four-panel with a lyric booklet and all credits.
Ali Chant produced Daisy's previous three albums and this new album. The cover of the CD was designed by Scott McIntosh and its design was by Amy Bartlett.
Website:  http://www.daisychapman.com/
Facebook: https://www.facebook.com/DaisyChapmanMusic
Bandcamp: https://daisychapman.bandcamp.com/album/good-luck-songs
Disclaimer: The opinions expressed in this review/commentary are those of the author and do not necessarily reflect the official position of No Depression. All photography is owned by the respective photographers and is their copyrighted image; credited where photographer's name was known & being used here solely as a reference and will be removed on request. YouTube images are standard YouTube license.
John Apice / No Depression / May 2018