Album Review
Universal Oklahoma: Turnpike Troubadours' Songs of Home Resonate Just About Anywhere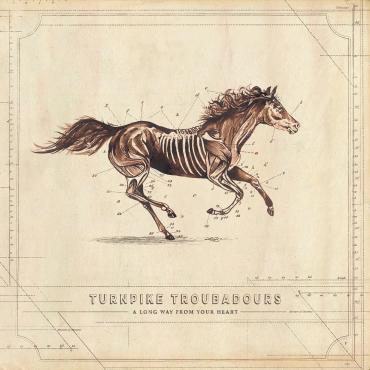 Turnpike Troubadours' 2015 self-titled hit me right where it counts. It was one of those "where has this been all my life?" albums that simply demanded to be played at top volume. It was anthemic and intimate, often at once, and that wasn't the only paradox it navigated with total confidence. Songwriter and vocalist Evan Felker writes music with a very specific sense of place – in this case, his native Oklahoma – that is also universal. This juxtaposition is a hallmark of the best country music, and, frankly, not everyone can pull it off. For a classic example, go give another listen to "Streets of Bakersfield:" much like Turnpike Troubadours' work, that song owes its universality to an incredibly specific setting.
The Turnpike Troubadours' new A Long Way From Your Heart doesn't feel as huge as the preceding record, which boasted an uncommonly powerful opening track, but it's just as nuanced and alive. This time around, Felker and Co. have crafted a record like a small town. A Long Way From Your Heart is an experience you ease into. You spend some time with it, you start to feel at home; you start to recognize people on the street. Soon, you don't want to leave.
You meet the beloved local bartender on "Pay No Rent," Felker's ode to his beloved aunt, which he wrote for her funeral. You get a little salacious gossip about a couple with an age difference on "Unrung." And you meet the volunteer firefighters, too, on opener "The Housefire."
"Can't repay the time they gave / there was nothing left to save / shake all of their hands and wave / they did all they could do," Felker sings. On the surface, "The Housefire" has a deceptively simple premise: A house burns down, driving a young family of three into the December night with little more than their lives. Yet the tune, like real life, doesn't treat disaster as some sort of film-ending climax, but as a particularly jarring bump in the road. The implicitly rural-raised narrator can't seem to decide between adopting a front of good-ol'-boy resilience or admitting how traumatized he is to have survived a house fire. "I can stand up to the test / I can live on so much less / this much I've been learning," Felker sings over a midtempo honky-tonk bounce. "Forgive my cowardice / I'm fearful, I'll confess / how am I to get my rest? / the house I built is burning."
At times, A Long Way From Your Heart feels small, almost private. With its Dobro melody and gentle acoustic character, "Old Time Feeling (Like Before)" feels like a living room jam among friends. And "Sunday Morning Paper" opens with country-blues fingerpicking. "Sunday morning papers said / rock and roll is surely dead / something hit me deep down in my soul," Felker admits. "Lord, I know / it's just rock and roll." And then the song moves into two-step boogie as he spins sincere and shameless tributes to beloved legends like Elvis Presley and Johnny Cash.
The album has its scorchers, too: the Ventures-reminiscent "Pipe Bomb Dream" and the careening breakdown "The Winding Stair Mountain Blues." The arena-huge "Something to Hold On To" has Top-40 potential, while "A Tornado Warning" achieves what the Troubadours do best: it places listeners squarely in Oklahoma, where a universal tale is told. We don't all live in tornado alley, but we have all had tempestuous romances. "Kerosene to feed the flames / your effect is quite the same," Felker sings. "Shadows dancing on the wall / waiting for the sky to fall."
So while A Long Way From Your Heart doesn't wield the sheer power of the previous record, it succeeds admirably in exploring smaller, more personal moments. Most notably, the album finds Turnpike Troubadours yet again nailing that tricky juxtaposition between the universal and the very, very specific. That's one reason these country-rock songs written squarely in and about Oklahoma make so much sense to this writer from backwoods Eastern North Carolina, and likely also resonate with listeners from all kinds of  other places that aren't in between Texas and Kansas.