Album Review
The Unstoppable Candi Staton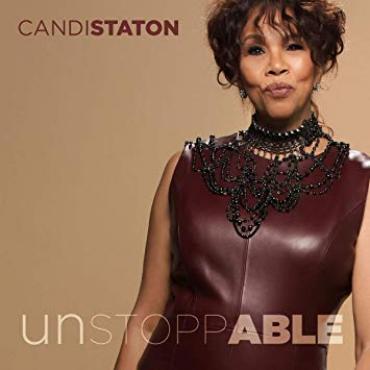 Candi Staton powerfully declares on her new album, Unstoppable, that she's letting no barriers get in her way, that she's stopping at nothing to claim her power and be the woman she wants to be. On her previous album, Life Happens (2014), she let the songs take her wherever they led, reflecting the messiness of her life at the time, but even then she revealed glimpses of an emerging confidence in herself and in her steely, though joyous resolve to move forward from bad relationships and toxic people. On Life Happens she shouts: "I'm here to tell you that bad stuff happens in life all the time, but I'm happy and satisfied to be where I am."
Now there's no stopping Staton, and on Unstoppable, she delivers a fiery, energetic, soul-shouting groove that will have you dancing from the time the needle hits the first groove until the last chorus of the final track fades. The album features a dynamite rhythm section, with Staton's sons Marcel Williams on bass and Marcus Williams on drums, and they propel these songs with a constant funk that animates the lyrics and lifts the music into the stratosphere.
Staton shouts out on the album-opening "Confidence" that she's not looking back and that she's claiming her power. In the first few bars, drums fuel the fever before keys and horns drive the momentum of the lyrics higher and higher. It's a dance song, and Staton dances into the music, boldly declaring: "I walk like it / I talk it / I act like it / I move like it / I fight like it / I got confidence / I got things to do." And she gets busy doing those things on this album. Norma Jenkins' classic "I Fooled You" opens with a spare bright guitar chord but quickly moves to a funky, bluesy declaration of independence when a lover moves out on a man who's mistreated her — "you came home one day / and everything was gone / I knew everything you did / Baby you just couldn't be real / You just can't do a girl like that / She'll always find a way to get you back / I fooled you." The triumphant beat and the crunchy guitars mirror the singer's delicious triumph. Staton delivers a downright beautiful version of her friend Tyrone Davis' "Change My Mind." It's drenched in Memphis soul, with Steve Cropper-like guitars and blaring horns; it dances off the record.
The songs on Unstoppable aren't limited to the personal, though. Several of them focus on the social change. "Revolution of Change" is a slow-burning blues that opens with a chorus of ethereal voices singing "revolution of change" over and over, and you can almost feel the ache and desire for the change to come in a world turned upside down. Staton declares in her powerful way that "Nobody seems to have regards for human life / guns on the streets / we never know who has them / there's a war going on / it's the truth / I don't care who likes it." Even so, she urges, "We can make it happen if we only try / if we can just touch one life at a time / revolution of change." Staton's song should be required listening for politicians, preachers, activists, students, and teachers, anybody who cares about the state of our society and its future. It's a plea, and it's an anthem for our times. "Stand Up" follows "Revolution of Change" and shouts out to all of us striving for change to "stand up and be counted / stand up for what you believe / if you know you're right / you gotta stand up for morals / you gotta stand up for peace, for love." These two songs themselves energetically and passionately call to all of us to be unstoppable in our quest for justice, love, and peace.
There's certainly no stopping Staton now; her voice has never been stronger, and her lyrics pull no punches and challenge us to find our best selves, especially if it means leaving behind what we thought we loved or what was holding us back from being ourselves. Staton's fiercely passionate Unstoppable is a call to embrace the power within us and to work for change around us, but it's also one of the most moving albums of the year: It will have you moving across the dance floor and moving to do something about the little injustices you see around you every day.